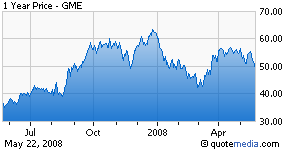 GameStop (NYSE:GME) reported earnings this morning (see earnings call transcript), and the stock is down right now (May 22, 3:24 p.m.) around 4% despite beating estimates and raising guidance. The same thing happened last quarter, and it proved to be a good opportunity to pick up shares. Is this another such opportunity? Let's consider the pro and con arguments.
Pro: GME's earnings and outlook are consistently better than expected.
Con: Who cares? The market is looking ahead. Consumers are in trouble, and the video game cycle is on the way down.
Pro: With the cost of traveling going up, people will stay home and play games. Besides, GME has high margins on used games, so it helps them when people look for deals. The video game cycle is not on the way down yet--there's no sign of a new console anytime soon, and it's still hard to find a Wii.
Con: What about game downloads? Won't that hurt GME?
Pro: Maybe someday, but you can't yet download the great games like Grand Theft Auto or Super Mario Galaxy.
Con: The market looks weak and all retailers will get punished.
Pro: Agreed, but GME has been punished already. In the mid-40s, GME is $20 below its 52-week high. With a PEG ratio around 1, GME is not expensive.
Con: The stock is broken technically, having sliced through its 200-day moving average.
Pro: No argument there.
As with any stock, there are arguments on both sides. I favor the pro side because I think GameStop is executing well even while expanding overseas, the video game industry is still strong, and the stock is cheap in the mid to low 40s. If it dips under 40, I would even use the "screaming buy" cliche.
If you are a pure technical trader, you'll want to wait for the chart to improve. As for me, I'm buying a partial position today, and really hoping to buy more lower. I think it's a good strategy to build the position through the summer, before the big fall game releases and the holiday shopping hype.
Disclosure: Position in GME