Nearly a month ago, I wrote an article on Northstar Realty's reopening of their preferred stock. In that article, I opined:
Bottom Line: The preferred security being offered (re-offered) by NorthStar Finance is attractively priced versus peers. The equity yield "give up" of 227bps is attractive versus the other mREIT preferred stock and the pick-up to peer debt is attractive. While the security has passed its call date, it is obvious it will not be called (although that would be a home run). Based on my pricing analysis (not an issuer analysis), the security is attractive and warrants consideration.
As the company released second quarter earnings on August 2, 2012, I thought it might be time for an update and deeper look at this commercial mREIT.
Issuer Description:
NorthStar Realty Finance's (NRF) primary business objectives are to make real estate-related investments in order to produce attractive risk-adjusted returns and generate stable cash flows for distribution. The company's primary business activities include the origination, structuring, acquisition and managing of commercial real estate debt, commercial real estate securities and net lease properties. NorthStar also engages in asset management and other activities related to these assets.
Second Quarter Results:
Result datapoints included:
Revenues for the quarter were $122,166, down 13% YOY due to a 27% decrease in interest income.
Adjusted funds from operations for the second quarter 2012 of $0.22 compared with $0.61 for the second quarter 2011. AFFO for the second quarter 2012 was $28.3 million compared to $55.6 million for the second quarter 2011.
Second quarter 2012 cash dividend increased to $0.16 per common share, representing a 60% increase over the prior year.
Balance sheet assets increased $251MM, while VIE assets decreased $247MM.
During the second quarter, NorthStar invested $77 million of equity in seven commercial real estate loans with a $171 million aggregate principal balance.
NorthStar Income (NRF's non-traded CRE REIT) raised $92 million in the second quarter 2012 and $362 million since inception, including $37 million in July 2012.
At June 30, 2012, NorthStar had two loans on non-performing status, which had a $15 million aggregate principal amount and a $4 million carrying value. This compares to two loans which had a $39 million aggregate principal amount and $29 million in carrying value at March 31, 2012.
As of June 30, 2012, NorthStar's core net lease portfolio was 96% leased with a 6.2 year weighted average remaining lease term. As of June 30, 2012, 100% of NorthStar's net lease healthcare portfolio was leased to third-party operators with weighted average lease coverage of 1.4x
NorthStar's assets under management have the following breakdown at the end of the second quarter: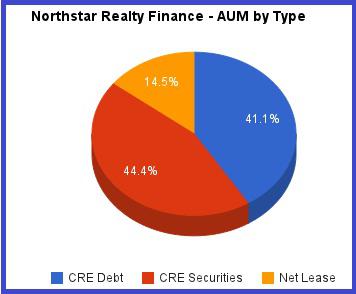 Current Market Conditions:
When speaking of market conditions, David Hamamoto, Chairman and CEO had the following to say:
Liquidity in commercial real estate debt market continues to improve amplified by $12 billion of non-agency CMBS issuance during the second quarter, which was double the $6 billion of issuance during the first quarter. And it appears we're on-track for full-year 2012 estimated issuance of $35 billion to $40 billion which is in line with expectation.
With this outlook in mind, the opportunities the REIT has been focused on capitalizing on, may not be as lucrative as originally thought. As a reminder, the company had the following in their June investor presentation: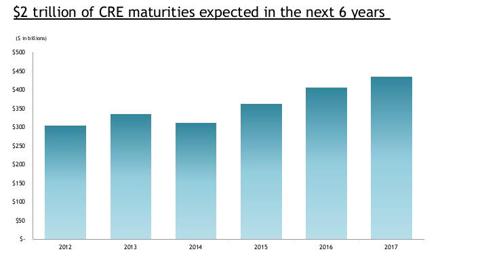 While I submit that $2 trillion in upcoming maturities is large enough for all players to find business and drive volume, the renewed strength in the CMBS market will adjust prices (rates) downward which, in turn, reduces the ROE and ROIC.
Leverage:
Like most mREITs, NorthStar in conservatively levered as it carries credit risk (agency mREITs such as Annaly (NLY) and American Capital Agency (AGNC) carry more leverage as they assume minimal credit risk).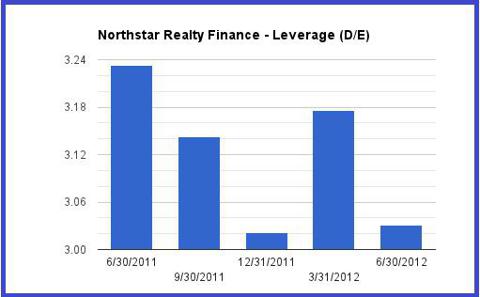 Concerns:
The reduction in interest income (and interest spread), as that is the return driver for mREITs. As CRE markets have stabilized and the CMBS market has re-opened rates paid by borrowers will be reduced, impacting all CRE mREITs.
The reinvestment period for two of NRF's CDO's (CSE CDO and N-Star CDO VIII) just ended in January 2012 and February 2012, respectively, while the reinvestment period for N-Star CDO IX ends in June 2012. Because NRF will be unable to reinvest principal in these CDOs after the reinvestment period ends, principal repayments after the reinvestment period ends will pay down the senior bonds, which will delever the CDO and negatively impact cash flow.
Sponsored non-traded CRE REITs. As the management team continues to build their non-traded REIT platform (consisting of
Advantages/Drivers:
As a specialty lender, NorthStar is able to retain some or all of the loans they originate, which is different than the conduit model of originate and sell the entire loan to third parties. This allows flexibility in design and risk control.
NorthStar is a rated special servicer for CMBS. This allows the REIT to become special servicer on their owned controlling class CMBS as well as third party controlled CMBS. This ability creates additional fee income and the ability to control the special servicer process.
NorthStar has been repurchasing their CDO bonds at discounts and expects that these investments will generate a 20% ROE.
In the company's investor presentation, they gave the following cash flow projection:

At the current equity price, that equates to an 11% yield (its current level). As a result, I do not see significant upside in the dividend yield from current levels.
Equity:
As one might expect, NorthStar has had negative performance over the last five years, courtesy of the financial crisis.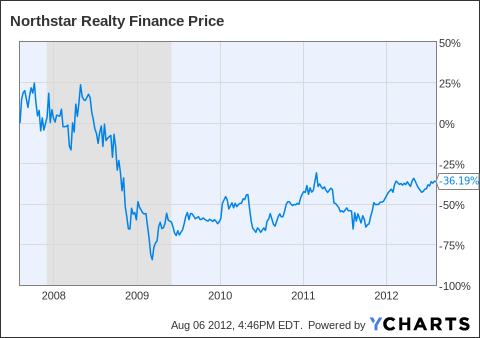 Post financial crisis however, NorthStar has treated investors to significant outperformance (albeit choppy):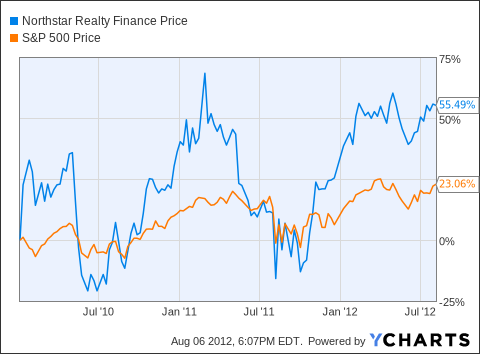 Equity Versus Agency mREITs:
When looking at mREITs, an investor has two categories to choose from and then multiple companies within each category. The most popular agency mREITs (with good reason) are Annaly Capital Management and American Capital Agency Corp while Colony Financial is a CRE mREIT peer. Lets see how they measure up: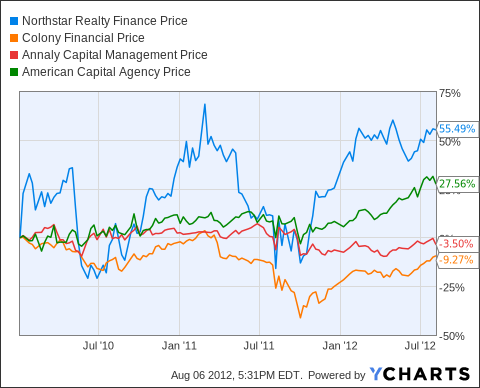 From a price appreciation standpoint, the NRF has done very well, as has AGNC. But of course, price return is not the driver of these stocks, the income component is substantial.
Using Morningstar's monthly total return calculations, here are the returns with the income component:
| | | | | |
| --- | --- | --- | --- | --- |
| Company | YTD Ret | 1yr Ret | 3yr Ret | 5yr Ret |
| Northstar Finance | 21.49% | 55.15% | 23.36% | -1.03% |
| Colony Financial | 21.20% | 11.93% | NA | NA |
| Annaly Capital | 16.10% | 17.40% | 14.15% | 14.82% |
| American Capital | 34.05% | 44.84% | 31.36% | NA |
| S&P500 | 11.01% | 9.13% | 14.13% | 1.13% |
As the table shows, all these mREITs have outperformed the S&P500 over the various timespans (with the exception of NRF in the 5 yr bucket).
Looking at dividends, the CRE mREITs have had stable to increasing dividends post crisis, whereas the agency mREITs have begun to reduce dividends.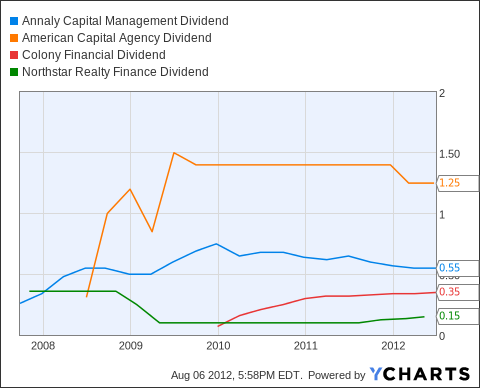 NLY Dividend data by YCharts
On a dividend yield basis, the agency mREITs have almost consistently had higher dividend yields.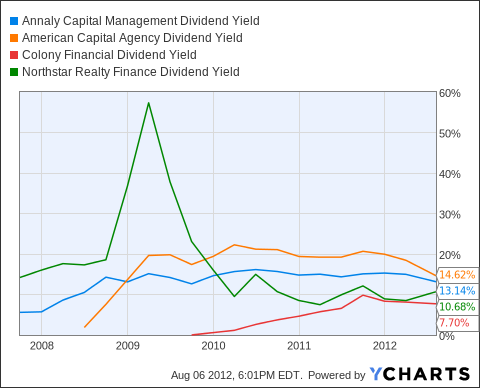 NLY Dividend Yield data by YCharts
Preferred Stock:
| | | | | |
| --- | --- | --- | --- | --- |
| Issuer | Series | Price | Yield | Call date |
| Northstar | Series B | $23.30 | 8.86% | 9/15/12 |
| Colony | Series A | $25.64 | 8.30% | 3/20/17 |
| Annaly | Series C | $25.85 | 7.37% | 5/16/17 |
| AGNC | Series A | $26.68 | 8.37% | 4/05/17 |
The obvious outlier in the preferred stocks listed is Annaly, which trades nearly 100 bps (1%) tighter than the other mREITs. This is, perhaps, because of their status as the 800lb gorilla in the space and the reputation and performance history or management.
Bottom Line: I like NorthStar's business and while I have concerns with their sponsored REITs and the tightening spreads on their portfolio products, I believe that they fit in an mREIT portfolio or an income portfolio. I continue to like their preferred stock and find the relative yield attractive and its first call (prior to equity) on the earnings of the REIT.
Disclosure: I am long NRF.
Additional disclosure: This article is for informational purposes only, it is not a recommendation to buy or sell any security and is strictly the opinion of Rubicon Associates LLC. Every investor is strongly encouraged to do their own research prior to investing.