By Brad Zigler
The folks at UBS just can't catch a break. Of course, there are plenty of people clucking that the Swiss gnome employer is just getting what it deserves for its deep involvement in the subprime mortgage mess.
Back in November, Moody's Investors Service downgraded UBS' financial strength rating from "A-" to "B+" on the heels of Standard & Poor's slashing the bank's long-term credit rating from "AA+" to "AA." If there were a bright side to this it was that Moody's continued to rate the bank's senior debt as "Aaa."
Things got worse in April when Moody's knocked UBS's financial strength down another peg, from "B+" to "B" and added the insult of a downgrade of the bank's senior debt from "Aaa" to "Aa1." Standard & Poor's followed suit, kicking UBS from "AA" to "AA-."
The downgrading of UBS' paper was, spot-on, the worst possible timing. April was set as the launch date of the bank's suite of exchange-traded commodity notes known as E-TRACS. The securities, which track the Bloomberg-CMCI benchmarks, are senior debt obligations of UBS AG. Not surprisingly, the ETNs were floated on April 4 to a less-than-enthusiastic market.
The debut of the E-TRACS CMCI Silver ETN (NYSE Arca: USV), for example, was marked by a single round lot-100 shares. I can only imagine who the initiator of the trade might have been. I'm thinkin' a sympathetic market maker kicked things off to avoid total embarrassment.
Since then, the silver market's swooned, giving speculators little reason to look at the E-TRACS offering. After all, there were more established, and liquid, alternatives, such as the DB Silver Fund (AMEX:DBS) and the iShares Silver Trust (AMEX: SLV) available.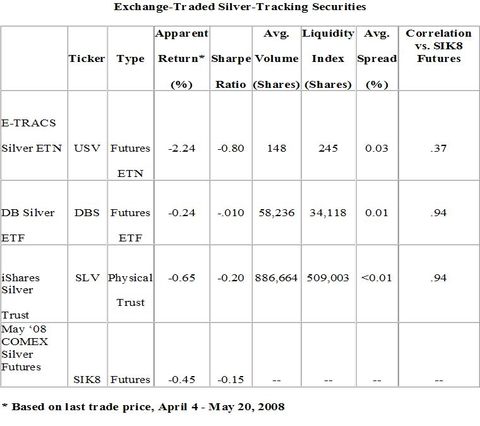 * Based on last trade price, April 4 - May 20, 2008
Less than a round-lot-and-a-half of USV notes, on average, trade on any given day. Compare that with the nearly 1-million-share daily swapping of the iShares trust. It's not that there aren't attractive markets made in the UBS notes, mind you. The contemporaneous spread between bid and offer is only 3 basis points (0.03%) wide. That's not too bad for a young security.
No, it's the appearance of the market, for one thing, that scares investors. The long gaps between trades, and their picayune size, keep traders away in droves. It looks like a 245-share trade can move the U.S. market a percentage point (as measured by the "liquidity index"), while the risk of moving the SLV market a similar amount wouldn't emerge unless you threw a half-million share order at it.
The correlation, too, to the underlying futures looks terrible. Only 37%? While competing products correlate at 94%?
Now, before I hear from USV's defenders (ARE there defenders out there?), let me say this: Yes, I know that more people trading USV would close the gap on these apparent faults. But to get more people into USV, there's that little credit thing to worry about. Holders of DBS and SLV have an actual portfolio of assets upon which they can claim. USV holders have only the promise of UBS, whose prospects, to put it bluntly, haven't looked very promising of late.
Fix that, and you get a fighting chance at market share in silver.
Oh, there's one other thing. Savvy investors will also price in the option embedded in USV (see "The Buried USV Option"). If the current volume trend continues, it's unlikely that critical mass ($10 million in market capitalization) will be attained, and that sets the stage for UBS or (dare I say it?) its successor to call the notes.
That'll continue to weigh down on USV's price.