We're still not fans of the solar companies. Despite receiving billions of dollars in direct and indirect subsidies, these companies have been largely spilling red ink. Our most recent published research report focused on First Solar (FSLR). We had expressed concern that the weakness in the solar industry was beginning to catch up to First Solar. We were concerned because we remembered that First Solar was one of the leaders of the industry as well as one of the few major U.S. based solar companies. We had also expressed our admiration for the fact that First Solar was probably the only solar company to be able to shift its focus from solar panels to large scale power generation projects. Notable companies who purchased First Solar's solar farm power plant projects include Berkshire Hathaway's MidAmerican Energy division (BRK.B), Enbridge (ENB) and Exelon Corp (EXC).
First Solar's revenue increased in Q2 2012 by 80% to $957M. This was due primarily to growth in the number and size of large scale solar power projects under construction in its Solar Systems reporting segment meeting revenue recognition criteria during the quarter. Although First Solar's gross margin percentage for the quarter has continued its downward trend, we note that it is still miles ahead of its peer competitors. First Solar's revenue mix is increased towards the percentage of completion method and once initial criteria for revenue recognition are met then revenue can be recognized on the percentage of completion method.
While First Solar's gross margin percentage for the second quarter showed its third straight significant decline, we noted above that it was still higher than that of its competitors. We can attribute the decline in the gross margin percentage to two factors. The first factor is the chronic oversupply and weak economic environment of the solar industry. The second factor is First Solar's shift in revenue generation from consumer oriented solar panels to industrial grade solar system power generation projects like the Topaz Solar Farm in California which First Solar sold to Berkshire Hathaway's MidAmerican Energy division and the Antelope Valley Solar Ranch, which Exelon bought with the aid of a loan program from the U.S. Department of Energy for this particular project. First Solar also delivered the Mount St. Mary's solar project in Maryland to Constellation Energy in Q2. Exelon acquired Constellation Energy and will be delivering the power generated to its Baltimore Gas and Electric subsidiary.
First Solar sold Topaz to MidAmerican last year and recognized revenue from Antelope Valley this quarter. First Solar also delivered the Silver State North Solar Project to Enbridge in May. This project was funded in part by $50M in "stimulus money" and was developed because Nevada's Government requires 25% of power generated in Nevada to be from "green energy sources". NV Energy (NVE) signed a 25 year power purchase agreement with Enbridge to purchase all the power generated by Silver State North at 13 cents per kilowatt hour. This is nearly three times the amount the company pays for natural gas and four cents more than it pays for geothermal.
We were pleasantly shocked that First Solar was able to generate $428.5M in operating cash flows for Q2 2012 and $328.5M in free cash flows. This was a vast improvement from the -$203M in negative operating cash flows in the comparable quarter. The company was also able to reduce CapEx by $65.5M, or 29% YoY. We were more pleased with the fact that First Solar reduced its outstanding indebtedness by nearly $350M in just one quarter and now has a net cash position of over $490M. This net cash figure includes $267.4M in restricted cash and investments, but is still impressive nonetheless. We believe that FSLR's net cash position will remain stable or see positive growth by the end of the year due to positive free cash flow as it meets milestones for payments on its projects and it completes and sells other projects. By contrast, most of its peers in the solar sector are in a net debt position and continue to generate losses, some at the gross margin level.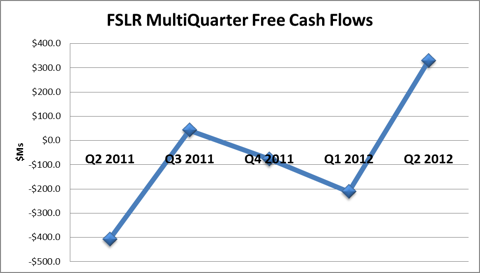 Source: First Solar Earnings Presentation
We also noted that Jim Hughes was named CEO of the company during the quarter. He replaced First Solar's Founder Michael Ahearn, who remains Chairman of the Board. Hughes was hired by First Solar in March to be its Chief Commercial Officer and was appointed to First Solar's Board of Directors in August. The company hired Georges Antoun as its Chief Operating Officer in June. Antoun was previously a venture partner at Technology Crossover Ventures, a private equity and venture firm. Prior to serving as a venture partner at TCV, he held positions at Ericsson, Redback Networks and Cisco.
In conclusion, we are still bears on the solar industry. However, we would be more likely to initiate a short position in the Chinese solar makers or solar ETFs like Guggenheim Solar (TAN) and Market Vectors Solar (KWT) than we would First Solar. As we previously discussed in our prior report, First Solar was typically the solar industry's leader when it came to profit generation. We would prefer to see if the company can generate continued revenue stability and growth before we initiate a long position with our seed capital for our portfolio book. We are also hesitant to enter into a long position in First Solar because of the nature of the deals associated with the solar power plant projects. We still see that the solar industry's ability to generate revenues is heavily dependent on government subsidies and usage mandate regulations, which have been cut back in the last year and are expected to continue to decline. With the expected weakness in the global economy, people are not going to be interested in feed-in-tariffs that are at least triple the cost of traditional, reliable electricity sources. This will be exacerbated by expected weakness in global oil and natural gas prices. Regardless of whether the Buffett acolytes James Chanos and Whitney Tilson are still shorting First Solar or not, we would prefer to short a solar ETF that way we are not exposed to the risk that a concentrated short in one or two stocks blows up if the company in question manages to hang on. We even pondered the idea of going long-short in the solar sector by taking a 2% long position FSLR and an up to 12% short position in a basket of FSLR's competitors or the solar ETFs.
Disclosure: I am long BRK.B.
Additional disclosure: Saibus Research has not received compensation directly or indirectly for expressing the recommendation in this report. Under no circumstances must this report be considered an offer to buy, sell, subscribe for or trade securities or other instruments.