Next Trend in LatAm Mining: Eat or Be Eaten
Tough times for mining stocks have evolved in equity markets since last September. Some issuance recovered in February and the best companies can always raise money but movements in prices are erratic and stocks are punished heavily at even the faintest whisper of a financing need.
The response to tighter financing and beaten down prices should be an M&A boom over the rest of 2008 and into next year.
The permutations that transactions might take will be far more varied than mere "big buys little". We note a long list of possible types of deals.
Things will not be as easy going forward for the Chinese buyers with their "all or nothing" approach. The "Softly, softly" tack taken by the Koreans is much more palatable to base metal miners in a relatively strong financial position.
The precious metals miners cannot depend on Asian interest. There is a need for combinations to match money with virtuous projects. Silver is more vulnerable than gold to a fallow period in investor sentiment.
Investors should be buying (or avoiding) based upon all the conceivable vectors of potential corporate actions that could interact with their holdings.
Corporates should tear themselves away from their core samples for a while to consider other actions available to them now that the ATM of perpetual private placings is starting to sputter and maybe "swallows" their card!
The Next Phase
Times have gotten tough in the mining financing business. It is not so much the metals prices (though gold and silver have retreated from their spike highs) that irk, it is more the generally tighter credit and flow situation for funds that is impinging on the ability to move stock. Ironically Latin markets are still looking very healthy and yet the Latin miners (at least the offshore ones) are 30-70% of their highs of last year. The worst hit seem to be the uranium plays (with good cause) while the least impacted (and sometimes even in upward motion still) are those going for a Lima Venture listing. The latter seems the only way to get a positive move irrespective of the metal price direction.
There are a number of financings going through, but if the recent slew of one-on-ones we have had, plus ad hoc conference conversations, are any guide there are a lot of companies looking for money and more than a few are down to their last few months of cash at their current run rates. Of course elements of one's exploration program can be put on hold, but the situation is more dodgy for those that are in the awkward pre-production phase and need the last few millions to get them to the cashflow phase when all will be sweetness and light. However financings are getting tougher. Seemingly money cannot be had at any price for some companies. The stock prices get slammed on the thought they might need an issue and then when the issue happens it is at a discount to the already damaged price.
This prompts us to the thought that "cash is king" and the winners are those who have husbanded their hoards well for the eventually rainy day. Ironically the rainy day hasn't come from underlying commodities but from factors outside the mining space. That is what has caught so many unawares. In response to this new funding solutions (or indeed survival techniques) must be probed. We see a new phase occurring in which M&A will be the new game.
The T-Rex's Shall Inherit the Earth?
It is simplistic to see the aggressors in this M&A phase as purely being the biggest players or even the "bigger" players. There are lots of slow moving bigger dinosaurs out there that could sorely do with an intellectual and energy infusion from some of the zippier miners we come across. However, the larger companies are more likely to have the cash on hand by dint of probably being already in production. The environment may not be good for microcaps but we are finding $100mn market cap companies that are finding it tough going to raise $5mn. However, we note there are companies out there with market caps of under $20mn who may have the much-needed $5mn in the kitty. Who has the whip hand in this scenario?
The type of deals that could there be:
Cashed-up miners subscribing placings to get themselves strategic stakes in others down on their financial resources
Mergers of small players where a great project (with no money) merges with a company with cash (but lesser quality projects)
Big miners buy smaller ones (getting a pipeline of new projects for a song)
Companies (either producing or non-producing) with strong valuations buy up those with cashflow but weak valuations
Companies in groups start to consolidate putting weaker players in the pack out of their financing misery
Mergers of equals amongst producers to start to put together a new generation of second tier miners to replace the names lost in recent years (e.g. Tenke, Cambior)
Private equity groups moving more aggressively into the space, demanding directorships in exchange for cash.
Sovereign wealth funds (or their proxies) grabbing strategic stakes to supply an upstream of production sources for industry back at the mothership. The Koreans buying into Baja Mining's El Boleo being a recent example.
Raiders/stakebuilders pushing for companies to be "put on the auction block"
Mergers of equals amongst smaller players to gain geographical or product diversity.
Takeovers by companies wanting to diversify from the precious metals space into a broader collection of commodities
Then there are the Chinese. They have had some easy pickings so far but vendors would do well to explore all options before submitting to a (seemingly) lucrative ravishing.
The possibilities are endless but we highlight above some of the alternatives that have struck us in recent weeks talking to a diverse set of companies. We note that the mining sector appears to be rather savvy at deal-doing over time, but that tends to be just the names that get lineage in the mainstream financial press. Alas, most companies are either run by engineers or geologists. Great for getting a project going but not good when the need is to think laterally, such as at the current time. Those with financiers and lawyers at the helm have a greater perception of the possibilities for extracting value. It doesn't always work but they do have an advantage. Sometimes they are almost too keen to do deals when holding out might pay off more.
We also note that the industry is investment-banker free. The Street firms in the US don't understand mining. "Ethnic cleansing" of the remaining mining companies from the NYSE and the analysts that follow them over decades has removed any skill sets for initiating or carrying through deals. The London crowd are solely interested in AIM listings after which their interest wanes rapidly.
So miners largely cook and carve their own M&A deals which might limit them to a small universe of the companies whose executives they are buddies with or where there are overlapping directors. Vancouver may not be a big town but the plethora of miners there does not seem to have encouraged companies to "know thy neighbour". We are amazed at how some miners don't know much about some of their major competitors. Everybody is a competitor for capital at the current time and one should know what they are all doing.
Capstone Mining (OTCPK:CSFFF) [CS.to]
Predator or Prey
An interesting example of the possibilities at this time is Capstone Mining. We dealt with this in a more extended comment in our recent Mexican Mining Review. This Toronto-listed company has a primary focus on the operation and expansion of the 100% owned Cozamin copper-silver-zinc-lead mine located in Zacatecas State. The progress of Capstone in getting into production reinforces the wonders of production for the share price; something we have noted eludes some Canadian mining figures that hoard reserves for a mythical rainy day.
And production is rapidly changing the profile of the company's balance sheet and earnings statement. Just last week the first quarter numbers came out showing operating profit of CAD$15.9mn on revenues Copper production more than doubled from the same quarter of the previous year. Average cash cost for cu (net of byproduct credits, and including all production and smelting costs) was 98 cts per lb while the company received $3.58 for its copper sold. The company is also sitting on a cashpile of CAD$56mn, has no debt and has the strategic stake of 22% of Silverstone Resources (OTC:SVRCF) [SST.v] that is worth around CAD$50mn. The current market capitalization is $345mn.
As can be seen from the chart below, the company has strong expansion plans, particularly in copper over the next year.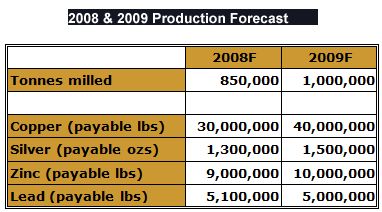 The company has a stated goal of doubling its market capitalization in the current year through an acquisition. There is no shortage of potential targets. At a current P/E of around four times the target had better be a very cheap buy, indeed a cheaper buy! There are not many cheaper than Capstone even in these beaten down markets. This prompted us to think that Capstone itself looks like a very juicy takeover morsel. Ideally, the buyer could be a company of a similar size or even a tad smaller that could put all that cashflow to work funding projects, and use the cash (nearly $110mn in liquid assets) in Capstone to defray the cash component in a cash/stock bid. An acquirer could pay a decent premium to the current price and still be walking away with an absolute steal.
Minera Andes (OTC:MNEAF) [MAI.to]
Surrounded By Opportunities Too Good to Refuse
We have followed this company forever. It's doing all the right things on the production front and yet its stock price is a giveaway in the $1.30s. Its recent high was $2.45 in May of last year before it had moved to production. Now that the gold and silver is being poured, the stock is one you cannot even give away. Part of the problem was the long anticipated AMEX listing didn't happen. However its not as if the AMEX is the magic wand of fortune anymore as it was for Wheaton River in its glory days. The problem here is that the company has become a serial offender at letting itself be backed into minority positions in its own projects, firstly with Hochschild at San Jose and now with Xstrata at Los Azules.
There is hope but it comes from financial thinking not from chipping at rocks with a pick. The company has a market cap of $220mn, the company has received an offer of around $250mn for its minority stake in San Jose. The buyer is cashed to the gills. Where is the problem? Sure the bid is lowball, it should be over $300mn and the bidder has that type of cash too. This would allow MAI to return a big chunk of change to investors (a la Global Copper) and still hang onto its Xstrata JV and go shopping in what is a prime hunting season for bargains with a very well padded war chest. The list of what it could buy is almost endless.
Amerigo Resources (OTC:ARGOF) [ARG.to]
Makings of a More Important Grouping
We met with this company recently too. It has been in our prototype portfolio for a while now. Its had its earnings travails due to the Chilean energy debacle but is extracting itself by bringing in generators to supply 100% of electricity needs at 50% of the current price. So the revenue problems are behind. Ahead is the addition of throughput form an old Codelco tailings pond that will double its copper production and possibly do even more for its moly output. What a dilemma! The company has cash, rising cashflow and a 13.5% stake in Candente (DNT.to - another fetish of ours) and a 5% stake in Los Andes Copper (LA.v - yet another that keeps us in permanent excitement). Candente is a brilliant prospect and sometimes mentioned as a target for the Chinese. Seems the time has come for Amerigo to break out of the $200mn market cap band it is currently in and move to a higher level by taking out minorities in both DNT and LA and tout de suite.
Too Many to Number
The host of companies that could be targets of deals is too broad to mention. The dynamic is that producers have held up relatively better than explorers or near-producers. All are still in "sticker shock" having briefly seen prices that boggled their minds and now these are used as their internal benchmarks for where they would cash out "if we had it all over again". Some will, many will not. Is it not better to buy a company for stock now when the target is off 60% and your own stock is off 30% than it would be when they were both at their highs? Many companies are now in the desperate search for that $2-$5mn that will tide them over until the next up-tick in the markets. The mere perception that they are down to their last brass farthings is enough to scare the stock price into permanent somnolence. Now investors are wondering how soon they will be back rattling their cup again with even greater damage to the stock price. Why subscribe now when it could be better on the second financing? The terms are frankly getting scary. One company we encountered was prepared to pay 12% for debt and then retire it when cashflow was good through an equity issue at a higher level in one of two years. But then they realized that they were paying 12% plus 3% organizing fee and then 5-6% in fees in two years to make it into equity. This adds up to a very expensive financing.
One party bewailed their stock price blaming Bay Street bankers for shooting down their stock price to get the stock in the deal super-cheap for the bank and its clients. Maybe true, but thems the breaks. As the number of companies reaching the desperation threshold grows there should be a realization that some creative thinking (i.e. M&A as per our previous list) is the way to go.
Yamana (NYSE:AUY)
A Lesson to Us All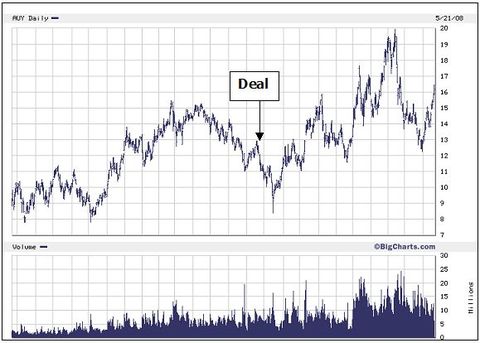 Above we have the price chart of Yamana. Once a Brazil-only largely gold miner it did an amazing deal in late June 2007 when it bid for Meridian (TMR) and Northern Orion (NTOWF.PK) on the same day. The deal was stunning to us in that Northern Orion, a do-nothing company with great assets and cashflow and a $250mn warchest could think of nothing better to do than sell out to Yamana for a peppercorn. AUY got the NTO money to pay an inflated price to Meridian. More fool Northern Orion. As the chart shows AUY, like everyone else had a stumble in July of last year as the subprime meltdown hit but since then the stock has been very healthy indeed powered by its original gold connection and now the copious cash flows from the copper/gold Bajo de la Alumbrera where they are in bed with Xstrata. The massive Agua Rica project nearby came along gratis because NTO were chronic foot-draggers on moving it forward. In the process it spread its geographical profile from Brazil to Argentina and Chile. Lundin Mining (LMC) did something similar last year with its roll-up of Tenke and Rio Narcea on two consecutive days. The race goes to the swift.
On the Chinese
When the subject of acquisitions comes up in LatAm the conversation drifts pretty fast to the Chinese buyers. The Chinese have an imperative to secure their upstream supplies after having been (in same schools of thought) the cause of the surge in prices for base metals, that they must themselves now pay. They have two big advantages in the form of unlimited cash and an ability to get a project to production without the long dragged out process of bankable feasibility studies etc. Nor do they need to work as much on speculative projections of future prices if they are ultimately their own consumers of the mine's output.
The headline deals that the Chinese have done are those in Peru with Northern Peru Copper and Peru Copper. Farther back Shougang Steel bought the Marcona iron ore mine. China's top nickel company purchased Tyler Resources in January 2008 for CAD$214mn. This was a mineral exploration company focused on the Bahuerachi project in Mexico, which boasts a potentially world-class copper-gold porphyry deposit. These deals were rather easy to do as the companies had subtle "For Sale" signs dangling already. Other transactions may not be so easy. The Chinese were late out of the starting gates because they first wanted to nickel and dime in transactions (Noranda being the worst example of missed opportunity). Then they have had reputation problems with the Marcona site in Peru having repeated industrial problems and relations in African sites being controversial. Still beggars can't be choosers and some companies might yet be forced into the arms of the Chinese.
We would note though that the Chinese aren't buying into precious metals and also that they aren't buying anything except producers or near-producers. Explorers and smaller-cap stocks are not getting their attention. Names that could see Chinese interest include Inca Pacific (OTC:IPRFF) [IPR.v], the aforementioned Candente (OTC:CDOUF) [DNT.to] and Chariot Resources (OTC:CHDSF) [CHD.to]. Ironically, the latter company is one that Amerigo sold out of (for a large gain) in order to enter Candente. In Mexico, Farallon [FAN.to] with its polymetallic asset profile looks a natural target for a needy downstream player. Aura Minerals (ORA.to) in Brazil would be a good way for the Chinese (or Koreans) to bag themselves a great position (though not at a cheap price) in iron ore in Brazil and copper in Mexico.
The problem that China and other trade buyers have is that this group of targets are not distressed at all at the current time and thus are more likely to learn the lesson of CUP and hold out for a better price.
Getting Aggressive
Even M&A like Vale/Xstrata seemed relatively gentlemanly. The bull market reoriented executives in the industry to the bad idea that paying up for a deal was better than getting nasty with a contested bid. In the current environment though, what is the point of bidding for a 50% undervalued company only to pay 80% above the market. This reduces your discount to only 10% from where it is fairly valued. I don't know about other miners but frankly if there are screaming bargains to be had we want them wholesale! If that means accumulating stock pre-offer to improve one's position (and lower average entry price) then all the better. Maybe it's our origin in the rough and tumble world of Australian finance with its take no prisoners approach. Maybe Canadian miners are too "nice". Dawn raids sound good to us! The age of the contested offer may be about to dawn.
Conclusion
The froth has been blown off the beer of so many speculative stories in the recent downturn. February brought a false dawn in which both prices and placing power returned. The metals held up well, particularly copper but fears returned that smallish placings would not be enough to tide companies over for the long term. Woes in the AIM market and the ongoing freeze-up of asset-backed commercial paper funds in Canada as a result of the sub-prime debacle have directly impacted sentiments towards the stocks even when the metals outlook remains undiminished. Retail investors are shell-shocked by events, even though the UK and Canada are less impacted then the US and the LatAm markets are still rocking. It's a paradox of prosperity amongst the hardship but the miners too are feeling like beggars, their mine production within sight but still too far to plug their cashflow needs in the short-term.
It's a bit of a case of "Doctor, heal thyself" though and the geologists and mine engineers are going to have to learn a better line than "Brother, can you spare a dime?". If the cash is not forthcoming and, even worse, outrageously expensive (or terminally damaging to the share price) then money at any price is not the way to go. Most also have some skin in the game even if it wasn't cash that they put in to earn their "management shareholdings". So it is thus in their interest too to ensure that swingeing falls do not punish the share price. At this point, doing a paltry deal that ekes out a few more months of drilling or gets a scoping study under the belt may not be as useful to the share price for future prospects than a piece of well thought out corporate restructuring which may involve a merger or some such permutation. Those who seize that nettle will control the process; those who do not may find themselves dragged to the altar by the hair for a shotgun wedding.
Disclosure: No part of the author's compensation was, is, or will be, directly or indirectly, related to the specific recommendations or view expressed in this research report. Hallgarten policy does not permit any analyst to own shares in any company that he/she covers. Additional information is available upon request.