It doesn't take much for stock markets to rev up their "risk-on" engines. For instance, European leaders have offered little more than verbal promises in their desire to push equity prices higher. Meanwhile, market-watchers celebrated the Bureau of Labor Statistics (BLS) Employment Report (163,000 net jobs gain), even though a variety of unemployment / underemployment measures degenerated in July.
In truth, European leaders have yet to agree on how to keep Spain from spiraling out of control, let alone whether or not to keep handing money over to Greece. What's more, roughly the same number of people left the labor force as those who earned a new paycheck last month; that is, the labor participation rate continues to lose ground.
Nevertheless, investors in the major averages — S&P 500, Dow, NASDAQ — are experiencing the rush of recent 3-month highs. And lately, cyclical sectors from technology to materials have led the pack.
So is risk really back on the equity table? At the start of 2012, the fastest flyers were the emerging markets, Europe and U.S. small caps. U.S. large caps performed well, but they were not the front-runners.
It follows that if we genuinely have an environment where investors are willing to wade into the most aggressive end of the stock pool, we would see Europe and the emergers and the smaller corporations outperforming the S&P 500… like they all did in the first 3 months of 2012. However, the Vanguard MSCI Emerging Markets-S&P 500 price ratio (VWO:$SPX) shows relative weakness for emerging markets, not relative strength.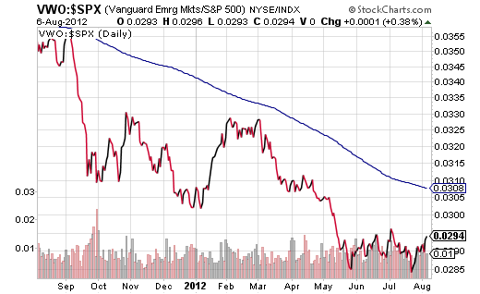 The Vanguard MSCI Europe-S&P 500 price ratio (VGK:$SPX) also demonstrates that European stocks – like emergers — are weak relative to U.S. equities.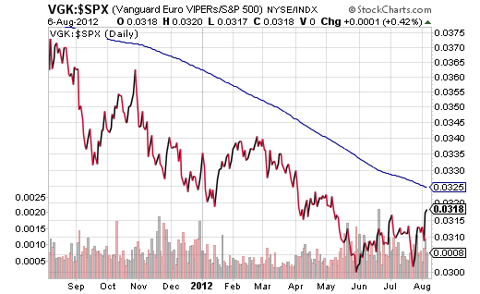 Granted, both VWO and VGK appear to have put in respective lows in June and July. On the flip side, if these foreign ETFs do not have the relative strength to climb above a 200-day trendline, then we may not be experiencing a genuine "risk-on" move; rather, we may simply be seeing increased comfort with large U.S. company stocks at the expense of "cheaper" foreign stock assets.
What about the smaller companies stateside? For the most part, we're still witnessing a preference for larger, well-known brand names over the perceived risks associated with the lesser-knowns. The iShares Russell 2000-S&P 500 (IWM:$SPX) price ratio may demonstrate a bit more "give-n-take" between large company stock and small company stock, but the momentum still favors the largest corporations.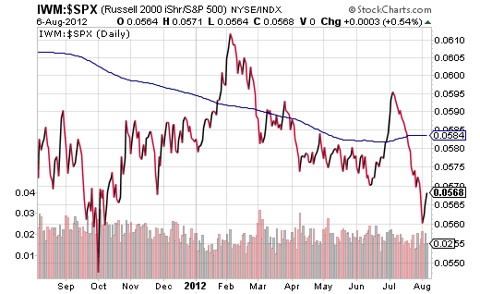 The take-home? If you're going to allocate more to stocks, don't get sucked in by an erroneous notion that money is pouring back into the highest beta, most volatile assets. Exchange-traded vehicles like SPDR S&P 500 (NYSEARCA:SPY), Vanguard Dividend Growth (NYSEARCA:VIG) and Vanguard High Dividend Yield (NYSEARCA:VYM) are still providing more reward for the volatility than the above-mentioned competition… and even there, I strongly recommend the protection of stop-limit loss orders.
Disclosure: Gary Gordon, MS, CFP is the president of Pacific Park Financial, Inc., a Registered Investment Adviser with the SEC. Gary Gordon, Pacific Park Financial, Inc, and/or its clients may hold positions in the ETFs, mutual funds, and/or any investment asset mentioned above. The commentary does not constitute individualized investment advice. The opinions offered herein are not personalized recommendations to buy, sell or hold securities. At times, issuers of exchange-traded products compensate Pacific Park Financial, Inc. or its subsidiaries for advertising at the ETF Expert web site. ETF Expert content is created independently of any advertising relationships.