We entered into a long position in Manning & Napier, Inc (MN) towards the end of February 2012 because we were impressed with the results of the company from 2006-2011. Manning & Napier is a well-respected, fast-growing asset management boutique headquartered just outside of Rochester, NY. We previously discussed the atypical structure of this company in relation to other publicly traded asset managers and we believe that investors may overlook this company because of it. We believe that's why its IPO did not increase much during trading hours and closed flat on the first day it was trading on the NYSE. At least it didn't go public on the BATS or NASDAQ exchanges. We think that because there was five guys named Vinnie overseeing the Manning initial public offering on the NYSE and none of those guys worked for Knight Capital Group, Manning's IPO didn't become an IPU like BATS or Facebook. Despite the hiccup in performance that Manning and other asset managers have endured recently, we believe that the company is undervalued at less than 12X expected 2012 earnings. We also believe that the 5.1% dividend yield is more than sufficient while Manning fights through these industry headwinds.
The company saw a 5% decline in Q2 2012 revenue versus Q2 2011 revenue, which was not far off from many of its competitors. We were disappointed in this because we know that MN can do better and has done better. Recurring operating expenses decreased faster than revenue and enabled Manning to record 2.45% growth in recurring income from operations for the period. We were glad that recurring compensation (excluding non-cash, non-recurring IPO share reorganization related expenses) expenses decreased by 10.45%. Compensation expenses declined due to reduced incentive compensation payments and this was partially offset by an increase in staff. MN's Q2 2012 shareholder servicing expenses decreased by 1.56% versus Q2 2011 levels. This was lower than revenue growth and was primarily due to reduced client AUM. MN also benefitted from reductions in other operating expenses, which declined by $441K (4.55%) versus the prior year levels.
We were disappointed to see that the company had seen headwinds due to the shift in investor asset class preferences. Recently investors have been shifting assets into income-oriented investments. Because Manning has 97% of its AUMs in equity and asset allocation vehicles, the company has seen headwinds to growth due to this shift in client preferences. We don't believe it to be a permanent trend, especially with historically low interest rates. MN recently launched a suite of actively-managed ETF-based target date collective trusts to provide advisors and plan sponsors with a product that meets the needs of fee sensitivity without giving up the flexibility for active management through asset allocation. On August 1, MN launched two new strategic income mutual funds to meet the needs of income-oriented investors in the current environment. The funds invested for underlying proprietary mutual funds with inception dates ranging from 2005 through 2009, and each provide diversified exposures to both income-oriented stocks and bonds under its top-down active asset allocation approach.
MN still achieved an adjusted operating margin of 45.7% for the quarter and 46.2% YTD. We were disappointed its adjusted EPS missed consensus analyst expectations by 10.71% (25 cents actual versus 28 cents expected). Cash and cash equivalents were $95.1M as of the end of the period. Client AUM balances saw year-to-date growth of 5.4% ($2.2B), which included $125M in net client principal deposits. Though the organic growth rate of 0.3% for the 6 month period was lower than what we expect from Manning, this growth rate still exceeded the majority of its peers including such august firms as Ameriprise (AMP), Janus (JNS) and Federated Investors (FII). Ameriprise saw its H1 2012 organic growth decline by 2.6%, Janus had a decline of 3.9% and Federated Investors had a 4.33% decline because Federated is primarily a money-market manager and no one wants money market funds in the Zero-Interest-Rate-Policy age. Adjusted net income increased by 1.3% versus Q2 2011 as the operating income growth was offset by an increase in non-operating losses and a higher tax rate.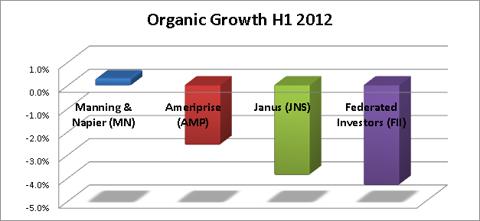 Source: Asset Manager Q2 Earnings Releases
In the first quarter, Manning hired five of the seven direct client representatives it planned to hire for 2012, which brought the total to 26 as of March 31, 2012, which is ahead of schedule compared to what management told everyone last year on the IPO road show. In the second quarter Manning hired two more client representatives which brought the total number of sales reps to 28 and completed training for all but one of them. MN continues to have a low cancellation rate on an annualized basis of only 5%, or stated differently, MN continues to see a very high client retention rate of 95%.
Last and most important is Manning and Napier's dividend. Manning began paying a $.16 per share quarter distribution to public shareholders in Q2 2012. Manning's ex-dividend cycle follows a January, April, July and October cycle. Manning's dividend represents a $.64/share annual dividend to shareholders and this represents a 4.8% yield. We believe that the company can certainly afford to pay it, as it has $95M in cash and equivalents on its balance sheet and this would only cost the company $57.6M in financing cash outflows annually. We also expect the company to generate $90-$100M of adjusted net income for 2012 and to grow it annually so we can bolster our confidence that the company will be able to afford to pay its dividend. MN's annualized dividend is 57-64% of its expected adjusted net income and we expect net income to be approximately equal to free cash flows.
In conclusion, we were pleased with the performance of Manning & Napier during the recent quarter and since the price of the stock as of May 18th ($13.31/share) is not far from where it was when we started following, we will be taking advantage of the market volatility to potentially add to our position. In our comprehensive research report about Manning and Napier, we elaborate further on why we believe it is an undervalued, high quality asset management boutique. The fact that the company offers a 4.8% dividend yield and we believe that is sufficient enough for us to wait while the market headwinds clear up.
Disclosure: I am long MN.
Additional disclosure: Saibus Research has not received compensation directly or indirectly for expressing the recommendation in this report. Under no circumstances must this report be considered an offer to buy, sell, subscribe for or trade securities or other instruments.