Following in the train of rising prices for virtually every agricultural commodity, fertilizer prices have continued to climb. Diammonium phosphate, potash, urea, sulfur and so on have all gone up.
Take diammonium phosphate [DAP], for example. In the first quarter of last year, prices averaged some $250 a ton. In the first quarter of this year, prices have gone as high as $1200 a ton. Companies that sell these products have seen their share prices rise alongside their products. Most of these will be well known to investors.
So, if one wants to invest in the fertilizer sector as a proxy for agriculture, where does one go? Potash (NYSE:POT), Terra (TRA), Mosaic (NYSE:MOS): all are at high prices and, while they may continue upward, they no longer look much like bargains.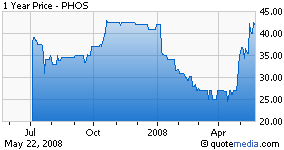 Phosphate Holdings (OTCPK:PHOS) is the sole owner of Mississippi Phosphates, a producer of diammonium phosphate. Earnings have been on a tear; results from continuing operations for the first quarter of 2008 were $8.9 million, as compared to $3.6 million for first quarter 2007.
Management is guiding to a second quarter net income of $38 to $44 million on EBITDA of $61 to $72 million. On fully-diluted 8.2 million shares out, and a current price of $42 per share, and assuming that the company continues its second quarter earnings for the foreseeable future, PHOS goes for a forward PE of about 2.
Why so cheap? One reason is that it's flying below the radar, trading on the pink sheets, with no analyst coverage. That's about to change. Management has indicated that it will seek SEC registration as well as an exchange listing.
Another possible reason for the cheap stock is that PHOS has no source of phosphates of its own, but must buy it from Office Cherifien des Phosphates, the Moroccan state phosphate monopoly. However, Phosphate Holdings has done business with them for years and sees no reason why the relationship will not continue. Also, Morocco is a relatively pro-Western state, whose king keeps a lid on things internally. While the price of phosphate rock will undoubtedly rise, supplies ought to be available. This is also the stock's main risk.
So, what it worth? Using comparable valuations of other publicly-traded fertilizer companies, such as TRA, MOS, or POT, shares of PHOS could be worth over $200, a five-fold increase from where they are today.
Fully-audited financial reports as well as management discussion are available at the company's website.
Disclosure: Long PHOS