I've always thought that "buy what you know" is a little shortsighted and should be flipped the other way around: "know what you're buying." As an investor, you should always strive to know what you're investing in.
It's not always feasible to fully examine the businesses you choose to invest in—while I own several computers with Intel (NASDAQ:INTC) processors, I can't exactly go explore an Intel fab. However, in certain sectors, like retail, it's pretty easy to literally know what you're buying.
Certain retailers like Wal-Mart (NYSE:WMT) are obviously competent just based on the brand name, but for others, call me old-fashioned, I think it's important to actually walk into a store before you buy one. Thankfully, there are multiple Kohl's (NYSE:KSS) stores near where I live, which helped me make up my mind to pick up some shares. Outlined below is my investing thesis; it combines personal experience as well as financial metrics. I'll start with valuation, shareholder-friendliness, and financial aspects, then move on to business strategy and competitive advantage.
Shareholder Friendly
One important consideration for me is always management's history of rewarding shareholders—I rarely, if ever, buy stocks that don't have either a strong dividend or buyback history. Kohl's has both. Kohl's has a great history of being shareholder friendly, and plans to return $1B of capital to shareholders in the upcoming year using share buybacks.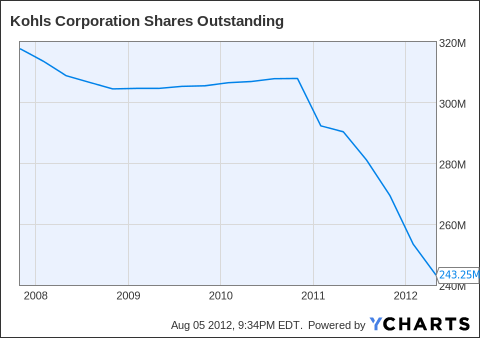 KSS Shares Outstanding data by YCharts
Kohl's also offers a 32-cent dividend, good for a 2.5% yield at current prices. Doesn't knock my socks off, but it's solid enough.
Valuation
Too often, people moan about "mismanagement" while paying attention to only the stock price, which, taken by itself, is a pretty useless determinant. Take Kohl's. Since about 2000, Kohl's share price has been pretty flat. But over that period, it's gone from a TTM P/E of 70 to a TTM P/E of 12. A $50 stock with a 70 P/E is worlds away from a $50 stock with a 12 P/E ratio. Kohl's, simply put, has gotten very cheap.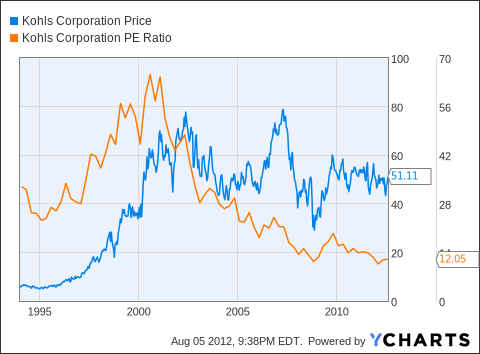 Strategic Management
This is where it gets interesting, in my opinion. Kohl's is obviously a pretty good value, given the P/E, dividends, and share buybacks, but the question is if management can execute.
In my opinion, that's a yes. First of all, EPS and FCF have risen dramatically over the past decade, and more tellingly, both statistics have seen strength since the recession and financial crash. Below is the data presented both quarterly and on a TTM basis.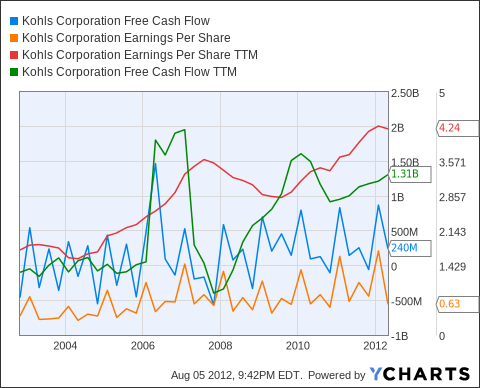 KSS Free Cash Flow data by YCharts
This speaks volumes about Kohl's management. I've shopped at several Kohl's stores, and I've noticed several strengths:
Pricing. In my personal experience, Kohl's tends to offer better prices on equivalent clothing than peers like Macy's (NYSE:M). With frequent sales and a program called Kohl's Cash, wherein shoppers can earn a $10 gift certificate for every $50 spent, it's simply the best mid-range value around, offering a good compromise between quality and price. Due to this factor, I do most of my clothes shopping—with the exception of suits—at Kohl's. The only downside I've noticed to its pricing is that it tends to price men's basics a little on the high side; I can find the exact same Hanesbrands (NYSE:HBI) for a lower price at Wal-Mart. That minor quibble aside, Kohl's has phenomenal pricing.
Customer service. The employees at Kohl's tend to be friendly and helpful; I really can't recall any bad experiences. Once, when they made a mistake in fulfilling an online order, they immediately corrected the mistake and refunded me a portion of my original order cost as an apology.
Traffic. Kohl's stores are always busy, which is reassuring from an investing standpoint.
In addition to these anecdotal strengths, it has several fundamental strengths over competitors from a business perspective. For example, in an April Barron's article titled Plucking Kohl's From The Bargain Bin, interviewed Morningstar analyst Paul Swinand noted that:
Kohl's doesn't have the structural issues, such as aging stores and legendary pension expenses, that have plagued rivals such as Sears Holdings (NASDAQ:SHLD) and J.C. Penney (NYSE:JCP). When the economy comes to Main Street, Kohl's will get the best pop [...] the company's strong balance sheet, brand assortment and hard-to-replicate cost structure will enable it to outperform peers.
The Barron's article also highlights another important point:
Kohl's plans to open 20 new stores in 2012, half as many as in 2011. Instead of more bricks and mortar outlets, it is diverting capital to its e-commerce business. Online sales grew by 40% last year, to $1 billion, and could see similar growth this year.
The hybrid approach seems like the right strategy. While e-tailing is certainly growing, for many reasons, online outlets can never fully replace physical stores. As I am sure many of you have experienced, sizing and fit can vary widely across brands, even given two "same size" articles of clothing. However, with internet shopping growing in popularity, it certainly makes sense to focus on growing an online footprint in addition to a physical footprint. This "hybrid" strategy includes the company's Kohl's Kiosk service, which allows customers in a Kohl's store to order any out-of-stock inventory and have it shipped to their home free of charge.
Miscellaneous Factors, Macro and Otherwise
Consumer spending is obviously one of the challenges facing the retail industry; the fate of retail is largely tied to unemployment and the general economy as a whole. Nonetheless, I believe Kohl's is well positioned. Its core business—mid-line clothing—isn't severely impacted by economic downturns, because after all, children (and waistlines) have an unfortunate habit of growing bigger, and clothes do tend to wear out after a while. In a down economy, Kohl's value pricing is especially attractive for consumers. However, as highlighted by Swinand earlier this year, if the economy does find stronger footing, Kohl's should see stronger sales in departments like housewares and jewelry.
Kohl's has experienced a run-up in price since the end of June, advancing an astounding 18%, and is up 3.57% on the year. While I believe it still represents a good long-term value at the current price (a little above $51), investors looking for a pullback might consider writing puts in anticipation of the results of the tax-free weekend and back-to-school-sales. Good numbers could spark a broad rally in the retail sector, while bad numbers could lead to another pullback and buying opportunity.