Shares of Joy Global Inc. (NYSE:JOY) have plummeted 47% from their 52-week high of $96.00 achieved in February. Trading at $50.58, a level very close to their 52-week low of $47.69, the shares are also valued at the lowest NTM P/E over the past 12 months (see below). I believe the plunge has created a very attractive buying opportunity, as the stock is being priced cheaply relative to the company's strong fundamentals.
Click to enlarge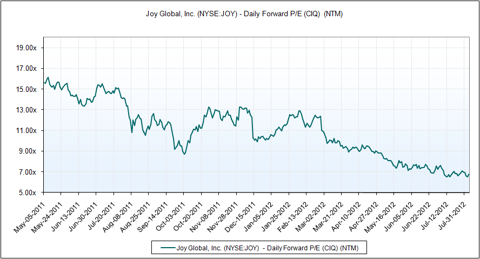 My value analysis includes a set of global industrial manufactures as Joy Global's comparable peers, as they all have a significant exposure to mining sector. The estimated stock value is then determined by equally weighting the valuations calculated by five peer average multiples.
The following comparable analysis is based on the table shown below:

In terms of growth potential, Joy Global is predicted to experience faster growth ahead with revenue, EBITDA, and EPS estimated to rise by a solid 2-year CAGR of 15.4%, 16.7%, and 15.6% over the current and next fiscal years.
Joy Global also has done a much better job in generating profits and capital returns. Joy Global outperforms its peers in all of the profitability margin and capital return measures listed above, especially for its net profit and ROIC, which are significantly higher than peer averages.
Moreover, Joy Global's liquidity is also excellent, as its LTM FCF margin almost doubles the peer average. With a below-average leverage level, the company is able to maintain a solid interest coverage rate. JOY's current and quick ratios are the only two metrics below peer averages. However, the difference is just marginal.
As such, one would expect the stock to trade at a solid premium. Nonetheless, the current price of $50.58 implies just an average of 22.3% valuation discount to the five peer average multiples (see below), which makes me believe Joy Global is substantially undervalued.

Assuming the stock is trading on par with the peers, the estimated stock value would be $67.14, representing 32.7% above the current price.
Additionally, according to the technical price chart shown below, the stock has been trading below its 30-day simple moving average since March 2012. It appears that the stock has been trying to break through the 30-day SMA ceiling for a couple of times since July 2012, and is currently poised very close to the 30-day SMA level (see below). I believe the pass-through of that psychological barrier would trigger solid upward momentum down the road.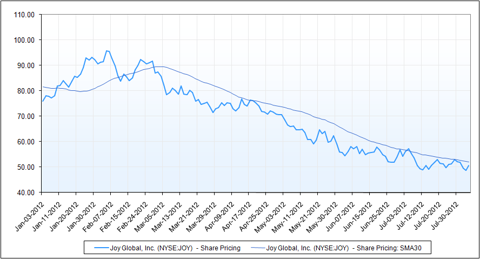 Bottom line, in the light of the attractive valuations relative to the company's robust growth prospects and fundamentals, Joy Global is poised for an upside. I would pull my trigger once the stock passes through the 30-day SMA.
Comparable analysis tables are created by author, price chart and P/E charts are sourced from Capital IQ, all financial data is sourced from Morningstar and Capital IQ.
Disclosure: I have no positions in any stocks mentioned, but may initiate a long position in JOY over the next 72 hours.