One of the big stories in retail surrounds the performance of Wal-Mart (NYSE:WMT) vs. that of Target (NYSE:TGT), with the latter reporting weaker than expected results and the former exceeding revenue and earnings expectations. The conventional wisdom is that the economic slowdown is driving people down market from Target, however the real story is markedly different once you consider who shops at each retailer and why.
First and foremost (as I've said numerous times), Wal-Mart and Target aren't direct competitors due to having sharply different customer demographics, with the former leaning towards low income and the latter leaning towards solidly middle class. Perhaps the easiest way to illustrate the socioeconomic differences is to note that Wal-Mart's financial services business revolves around check cashing, money transfers and money orders, while Target's is focused on credit cards. In other words (even though there is undoubtedly some overlap) Wal-Mart and Target aren't direct competitors because they're pursuing markedly different customer bases.
However this discussion isn't so much about customer demographics as it is about what people actually buy when they go into the stores, because primary product lines (those generating the most revenue) are an additional differentiator between the two retailers.
Target's strengths are household goods, clothing and electronics, and Wal-Mart's are groceries, pharmacy and entertainment (includes electronics). In fact recent earnings reports have stated that grocery comprises over 40% of Wal-Mart's business, with groceries pharmacy and entertainment comprising over 2/3rds.
In other words, Wal-Mart and Target are selling different items to different people, so the success of one retailer doesn't necessarily come at the expense of the other. Wal-Mart is basically a Grocery Store and Pharmacy with a strong entertainment business, while Target is primarily a household goods and clothing retailer. Their recent performance is an indicator of how the current economic slowdown is forcing consumers to adjust their spending patterns.
Wal-Mart is benefitting from people going down market from other grocery stores not Target, while the economic slowdown is causing people to cut back on clothing and household good purchases at Target. A slowing economy puts Target's financial services business at risk as people are less able to pay down their credit cards, while Wal-Mart's low cost financial services such as check cashing and money transfers are a godsend to their low income customer base.
So what does this mean moving forward?
Wal-Mart's key to success is in continuing to grow its strongest businesses and finding ways to retain its new customers. Target's focus needs to be on positioning itself to thrive when the economy recovers, and finding ways to mitigate the impact of the current economic slowdown on earnings.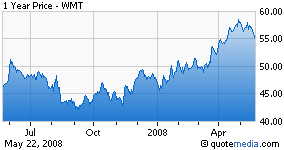 However, before you rush to invest in either retailer be aware of the impact of inflation on revenue numbers (especially for Wal-Mart), and try not to fall into the trap of confusing stock price performance with business performance as the two are not always directly related. In other words: despite the fact that revenue and earnings growth are stronger than they've been in awhile, Wal-Mart will face a challenging earnings environment for the rest of the year.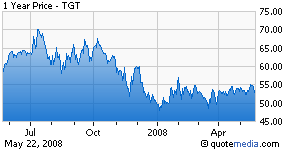 Target's problems will center on the combination of the slowing economy, energy and food inflation reducing the amount of disposable income, people have for the discretionary purchases they usually make at the retailer. Additionally their credit card business (that makes a significant contribution to earnings) is at risk in the slowing economy as well. Something which concerns me here is the possibility of people neglecting their Target cards in favor of their Visa, MasterCard or Amex credit cards, after all which credit card are you most likely to protect the one you can use everywhere or the one you can only use at Target?
Long-term I'm more in favor of Target as an investment as I think their business (and share price) will come roaring back as the economy recovers, while I think Wal-Mart's will see a slower rate of growth due to the doubled sword of some customers going back up market and others having more cash.
Finally, be wary of the coverage of either retailer in the media for the reasons I've mentioned in this article, and in a recent blog post around retailer earnings. Instead, seek to understand what is actually driving a retailer's business from an operational and economic perspective, and base your investment decisions accordingly.
Disclosure: at the time of publishing the author didn't own a position in either Wal-Mart or Target.