Zalicus (ZLCS) has proven to be a great stock to trade, if you know when to time your entry and exit. Still, the day may come when going long-long-and-longer may be the best option; I see that day quickly approaching. By and large due to the volatile nature of biotech trading, stocks like Zalicus, iBio Inc. (IBIO), Arena Pharmaceuticals (ARNA), and now recently Amarin (AMRN) swing up and down. These unnerving stock moves can be unsettling often defying what an investor wants to think about a favorite biotech. Even great companies like Antares Pharma (ATRS) -- a stellar firm in every way -- has been reloading for the fortunate ready to load up on more shares.
In this article, my attention returns to long-time favorite Zalicus that has a number of very exciting catalysts in the 2H 2012. While biotech investing is always risky and events may not turn out in favor of the investor, I have been studying the firm and the technical chart for some time and I think the stock is setting up for a significant pop. That however must be backed up by due diligence, otherwise that is just pumping a stock, but I will explain why I have initiated a position in Zalicus.
Mammoth Buy-Side Bidding
First, there is mammoth buy-side bidding (> 250K shares) that has extended well beyond the recent $15M Wedbush fund-raise. As they say, 'Follow the money!'
Unknown entities, as they often do, appear to be reassuming a significant position in the company. I interpret this as a very bullish sign. Keep in mind, Zalicus has encountered no problems raising additional capital and value-for-value has succeeded at remaining cash-infused above ~$40M. I expect the next quarterly report will confirm this as Zalicus is a research and development firm with a very attractive pipeline. Will the company report a loss? Of course, but if you understand the business plan and the progressive advancements at Zalicus, you'll applaud the firm.
Having followed CEO Corrigan from the beginning of his administration, I am of the opinion that he is very bullish about Z160, the reformulated pain medicament that has already equaled high-powered opioid morphine and/or another popular chemical entity called gabapentin; in my estimation, Z160 is destined for clinical phase 3, and it will be interesting to follow its T-type companion Z944.
Clinical Trial Ramp-Up
Second, counter-intuitive to the frequent angst that Zalicus' fund-raising activities have diluted shareholders or its executives earn outlandish salaries, the opposite view is understanding that the relative success of Zalicus' research pipeline, particularly its ion channel program (e.g. Z160 and Z944) has caused the firm to ramp up its clinical programs--all recently successful, by the way.
Stated another way, one could argue that CEO Corrigan's regime are building a strong firm witnessed by Z160, poised to launch into a phase 2 'proof of concept' clinical trial (August), and Z944 having recently entered a second phase 1 multiple dose clinical trial. In addition, I am expecting the research going on at Hydra Biosciences will yield a new sodium channel candidate within the next year. All told, Zalicus could have three interesting pain drugs in clinical development by 2013--they already have two and that is in a research environment that hasn't seen a powerful new pain drug in decades. Given the addictive nature of opioids, Zalicus is sitting in an enviable sweet spot including the company's unique relationship with Cubist Pharmaceuticals (CBST) where CEO Corrigan is a board member.
A Knowledgeable Outlook on Synavive
It fascinates me to read the outlook of others on Zalicus' drug candidate Synavive because I see so much misinformation. Currently, Synavive is completing a phase 2B clinical trial with a second on-going phase 2B extended safety trial.
While no one can predict the clinical trial outcome (to be reported sometime in September according to the company), Synavive, if it's successful will be a boon for Zalicus. Here's why:
Synavive will offer a low-cost advantage over steroids and most expensive DMARDS (Disease Modifying Antirheumatic Drugs). For cost reasons it would become the first line of treatment beyond NSAIDS (Non-Steroidal Anti-Inflammatory Drugs), postponing the need for rheumatologists to move an arthritis patient directly to a steroid such as prednisone or prednisolone.
The concept behind Synavive is that it will match or out-better the high side effect steroids such as prednisone or prednisolone. The phase 2B trial will either prove this or not, but the latest version of Synavive was reformulated to address its own minor side effect which is a common headache. There is good reason to expect that the slow-release formulation will help here, but that too will need to be proved.
The current treatment regimen for people with rheumatoid arthritis is to move them from NSAIDS to steroids to DMARDS. Not only could Synavive postpone the need for steroids and/or DMARDS, there is some thought at Zalicus that Synavive could postpone the need for much stronger, much higher side effect, and much more costly drugs for a medical indication that affects millions around the globe. However, the synergistic chemistry must be proven.
If the phase 2B proves that Synavive offers a synergistic mechanism that out-betters the common steroids, that will be a grand slam for Zalicus' cHTS Chalice technology -- the same technology that has Novartis (NVS) filing multiple patents of synergistic combinations for the treatment of cancers, among them multiple myeloma.
Investors are warned that no one knows how Synavive's phase 2B trial will turn out and articles that claim omniscience into this matter should be promptly aimed at the nearest trashcan, but so should articles that appear to have no grasp as to how Synavive could be a very marketable drug for millions of rheumatoid arthritis sufferers.
Share-Price Moving Catalysts
While success cannot be guaranteed, savvy investors may benefit from knowing that Zalicus has multiple shots on goal:
Synavive
Z160
Z944
Sodium candidate at Hydra
Novartis oncology program
Prednisporin at Sanofi (SNY) or FOV1101
While I cannot confirm this yet, Zalicus may also have another drug candidate that will soon emerge from its own cHTS-Chalice research; if so, that will deepen the company's already flush pipeline. One thing though is certain: 2H 2012 is going to pop and/or drop the share price.
Chart Looks Bullish
I know some Zalicus long-termers dislike reading coverage on the technical indicators since day-traders have often under-cut visions of long-term greatness, but from what I'm seeing this may be the time when Zalicus is about to make a significant move to the upside going into September hedging on Synavive's outcome.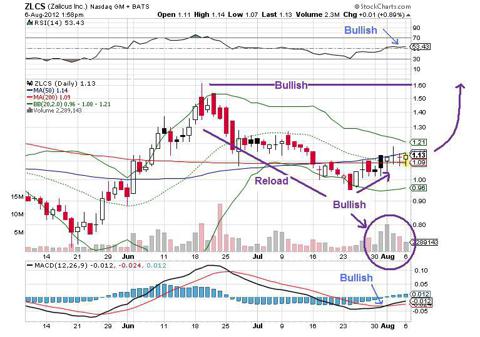 Notice these indicators:
RSI = bullish room
Sitting at the middle of Bollinger Band = bullish
MACD = recent bullish move
Retest $1.60/share = bullish
Reload complete and bullish move up
200 MA moving to the upside
Touching 50 MA turning bullish
It's a Wrap!
Buying Zalicus may not be for everyone and risk is assumed, but there may be good reason to assume a position. I rate Zalicus a STRONG BUY based on the above discussion. However, late Monday evening I pulled this article to inform Zalicus investors of SIGNIFICANT NEWS--
The Phase 2 trial for Z160 is out! Ahead of a Zalicus news release, shareholders will be excited to learn that the 'proof of concept' clinical trial will: "...compare Z160 and placebo in patients with Lumbosacral Radiculopathy for safety and efficacy for a period of 6 weeks." What is Lumbosacral Radiculopathy? The Laser Spine Institute explains:
Lumbosacral radiculopathy is a broad term referring to a range of symptoms associated with the nerves of the lumbosacral plexus in the lower back. The lumbosacral plexus encompasses the nerves that exit the spinal cord at the lumbar, sacral and coccygeal regions of the spine. Radiculopathy occurs when an anatomical abnormality has caused one or more of these nerves to become irritated, pinched, or impinged.
Zalicus plans to enroll 140 patients and to complete the study within one year (August-September 2013). If you don't think Zalicus is about to make a bullish move, think again. SA readers, depending on when this article is released, will be ahead of the upcoming news release. It is no wonder that Pfizer recently honored Dr. Snutch with a neuropathic pain research award. Yes, the same Pfizer that bought Icagen for its ion channel program. Things are definitely looking bullish at Zalicus.
Happy investing.
Disclosure: I am long ZLCS.
Additional disclosure: Investors buy and/or sell at their own risk. I declare that I may day-trade any stock at any time mentioned in this article. For me 'long' is until I sell. I do not 'short' stocks. I receive one penny per view from SA, and other than my private stock account and publication by SA, I have zero connection to Wall Street. Investors are strongly encouraged to seek the advice of a professional.