Not that long ago, financial firms accounted for 21% of the S&P 500's value. As of the market close on 5/22/08, it only accounted for 16% of the S&P 500 SPDR (NYSEARCA:SPY) basket.
At the same time that financials have become less of a factor in major indexes and popular mutual funds, Warren Buffett is finding plenty of value. According to the CNBC Berkshire Hathaway Holdings Tracker, roughly 30% of Warren Buffett's company is comprised of financial firms. That's nearly double the broader market's exposure.
Where has Warren concentrated? Approximately 11% is in American Express (NYSE:AXP), 12% is in Wells Fargo (NYSE:WFC) and another 7% is in miscellaneous financial firms like US Bank Corp (NYSE:USB), Wesco (NYSEMKT:WSC-OLD) and Moody's (NYSE:MCO).
With the Federal Reserve confirming a period of slow growth Wednesday, 5/21/08, a turnaround seems far from imminent. (See my April column on an upcoming period of stagflation.) Yet icons like Warren Buffett don't seem to mind waiting for a recession to play itself out.
Indeed, one explanation for forging a large commitment to beaten-up banks like Wells Fargo might be the brand loyalty that the company has with the retail consumer. Moreover, Wells Fargo maintains one of the "widest moats" in the financial services industry.
What is a wide moat stock? One that keeps competitors at bay... away from its castle... for an extended period. Companies like Wells Fargo, then, have a large share of the market, provide services at lower costs, may have an implicit backing by the government, possess a unique corporate culture and/or provide services that are difficult for customers to walk away from.
It's true that Warren Buffett investors are big fans of the "wide moat" concept. But what about exchange-traded investments? Are there ETFs or ETNs that capture the same idea?
Indeed there is the ELEMENTS Morningstar Wide Moat Focus ETN (NYSEARCA:WMW). The exchange-traded note tracks an index comprised of 20 companies that have sustainable competitive advantages vis-a-vis the wide moat concept. The companies also trade at discounts to Morningstar's determination of their fair value.
Although I was not able to locate a more recent list of the Wide Moat Focus Index holdings, nearly half of the companies listed in Q4 2007 were made up of financial companies. The list included Citigroup (NYSE:C), Capital One (NYSE:COF), Moody's, Bank of America (NYSE:BAC), Legg Mason (NYSE:LM) and JP Morgan Chase (NYSE:JPM).
While the ELEMENTS Morningstar Wide Moat Focus ETN is only 4% off its initial offering price of 10 on October 19, 2007, the exceptionally low volume on WMW is troubling. It would appear that the idea hasn't captured investor imagination... and may not be around for the long road.
In contrast, Warren Buffett's Berkshire Hathaway (NYSE:BRK.B) is likely to be around for the long haul. What's more, the holding company acts very much like an exchange-traded investment; specifically, it's a diversified basket of company stocks and trades throughout the day on a major exchange.
It follows that wide moat investors should probably consider BRK.B. In particular, they might want to consider how badly it's been beaten down over the last 3 months, giving opportunists a lower-risk entry point. After all, Berkshire has out-muscled the market quite handily over the last 5 years.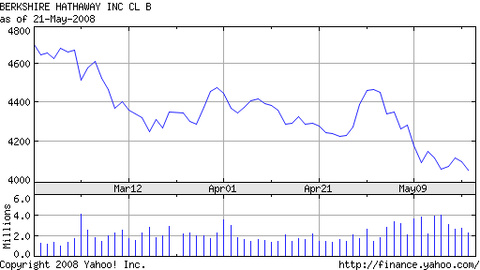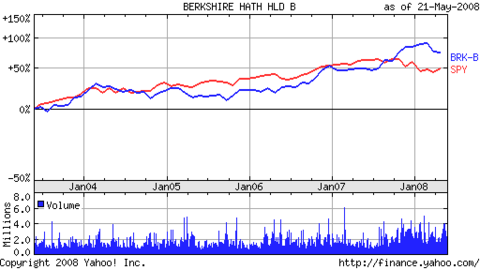 Disclosure Statement: ETF Expert is a web log ("blog") that makes the world of ETFs easier to understand. Pacific Park Financial, Inc., a Registered Investment Advisor with the SEC, may hold positions in the ETFs, mutual funds and/or index funds mentioned above. Investors who are interested in money management services may visit the Pacific Park Financial, Inc. web site.