If NRG Energy Inc.'s (NYSE:NRG) unsolicited bid for Calpine Corp. (NYSE:CPN) is any indication of the true value of an independent power producer in North America, then TransAlta Corp. (NYSE:TAC) appears to be very undervalued, according to Desjardins analyst Daniel Shteyn.
Following Wednesday's confirmation that NRG wants to buy all of Calpine's outstanding shares at an exchange ratio of 0.534 NRG shares per Calpine share, or approximately $9.5-billion, Mr. Shteyn got busy crunching the numbers and concluded the deal valuation could – at least on paper – substantially impact TransAlta's share price given TransAlta is Canada's only comparable IPP to Calpine.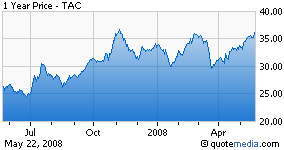 According to Mr. Shteyn, the NRG offer for Calpine implies an EV/EBITDA valuation of 11.2 times, based on Calpine's 2009 estimated EBITDA, and price/earnings of 34.9 times. TransAlta currently trades at only 9.3 times Mr. Shteyn's estimated 2009 EBITDA. When applying an 11 times multiple, Mr Shteyn calculated an equity value per share for TransAlta of roughly C$45, representing about 30% upside on the stock current price.
From a trading perspective, we believe that TransAlta's shares could react positively [Thursday], based on a potential valuation pickup," he wrote, adding the stock could also benefit today from the apparent derailment of the BCE privatization deal as investors flee BCE to find a home in other dividend paying equities.
Nevertheless, Mr. Shteyn remains convinced that any run up in TransAlta's share price will likely fall short of his calculations. He maintained his "hold" rating and C$33 price target.
We note that the offer price represents a private market valuation of TransAlta, not public market value. Given the limited likelihood of a takeover bid emerging for TransAlta in the immediate future (despite LBO speculation in the past), we would not expect TransAlta's shares to reach their full private market value at the present time.