After the market closed on May 21, Harbinger Capital Partners ("Harbinger") revealed that Calpine Corp. ((NYSE:CPN) or the "Company"), of which Harbinger owns 24%, received an offer from NRG Energy Inc. (NYSE:NRG) that valued CPN at roughly $11.3B or $22.60 per share. This represents a paltry premium to CPN's current share price and investors should realize this move is simply an attempt by NRG to steal the Company from investors who may have difficulty in assessing how valuable the reorganized CPN and its fleet of power generating assets will be.
Unfortunately, Harbinger appears willing to sell CPN sooner rather than later. Harbinger holds a significant chunk of the Company's warrants which expire in August. In order for those warrants to generate value for Harbinger, CPN stock must exceed $23.88 by August 25th. Second, since Harbinger was involved in the reorganization of CPN, its cost basis for the common shares it owns is probably extremely low, making a sale in the $24 range more than acceptable. In addition, SPO Advisory Corp. ("SPO"), which owns 15% (or more) of CPN, appears to be aligned with Harbinger, which means nearly 40% or more of the shares is controlled by these two entities. This would be similar to Harbinger's push to sell Northwestern Energy (NYSE:NWE) once it emerged from bankruptcy a few years ago. Nonetheless, discussing why NRG's offer makes little sense for those that did not receive shares through debt for equity swaps may help sway the remaining investors and Board.
Before discussing why NRG's offer is a joke, it's important to note that CPN's Board made a serious mistake by not disclosing the NRG offer. CPN is owned by the shareholders and those shareholders should determine what price the Company will sell for. While the NRG offer is a pittance, the Board should have immediately notified shareholders when the offer was made on May 14, rather than be upstaged by Harbinger. Since that time, CPN has retained Goldman Sachs ("GS") as an adviser, but shareholders should be aware that GS will have every incentive to see a deal through and "earn" its fee as a percent of the deal value, likely debt refinancing, and other asset sale assignments that would accompany this merger as opposed to earning a small retainer from CPN. Irrespective of what GS advises, the Board and investors should note the following as reasons why NRG's offer is laughable and why CPN should remain independent:
Young and Modern Fleet: The weighted average age of the Company's power plants is under 10 years. In contrast, NRG's plants are over 35 years old. In fact, the second youngest fleet is held by Dynegy (NYSE:DYN) which has an average age of over 20 years. Construction costs for new power plants are very costly due to raw material costs and longer lead times, yet in this $11B proposed deal, NRG would be able to double its power generating capacity and acquire the most modern fleet of power assets available in one fell swoop.
Green Power Generation: With the exception of 17 geothermal plants in California's geyser region, CPN's entire fleet of assets uses natural gas ("NG") which is far cleaner than coal and oil-fired production. It's also important to note that CPN's combined cycle fleet consumes less fuel to generate electricity compared to older boiler and steam turbine facilities, making it cutting edge in regards to even NG power production. In fact, out of the top 25 power generators, CPN generates the lowest amount of SO2 and NOx and ranks sixth in terms of lowest CO2 emissions. In comparison, NRG is in the middle of the pack for both SO2 and NOx and is in the bottom third for CO2 emissions.
NRG and CPN produce roughly the same total MWs but NRG relies on coal for about 40% of its power production. Based on increasing carbon legislation, it's likely that coal-produced energy will face greater scrutiny and higher emission cost controls relative to NG. Table I compares CPN's emissions against industry averages, clearly illustrating how clean CPN's power generation is.
TABLE I: AIR POLLUTION EMISSION RATES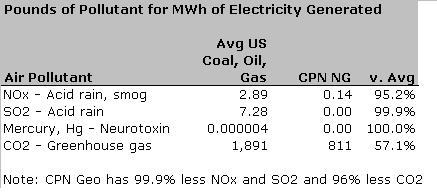 CPN's geothermal plants are virtually zero emission and benefit from regulations that promote green energy. As carbon legislation ratchets up, the Company's geothermal plants should also benefit as the market for renewable energy credits ("RECs") increases. By trying to steal CPN, NRG can basically phase out its older and less viable plants that will carry the burden of costly emission controls with virtually brand new, clean energy plants.
Geographic Concentration: The bulk of the Company's production is located in the West and in Texas. These two regions tend to get extremely hot during the summer and capacity has tightened such that reserve margins for Texas are expected to decline from 13% to 8% from 2008-2012 while reserve margins in California are projected to decline from 18% to 11% from 2008-2016. Reserve margins reflect how much total power capacity exceeds peak demand.
This means the lower the reserve margins, the higher the price for electricity because intermediate and peaking power sources like NG, which have higher variable costs than baseload sources like coal and nuclear, experience greater demand. Basically, it's the marginal demand over baseload that drives energy prices and CPN is perfectly situated to capitalize on this. Western states like California are becoming increasingly focused on green energy and legislation which should further enhance CPN's asset value relative to higher emission power sources. Furthermore, California and Texas are both transitioning into nodal pricing schedules which should benefit CPN.
Peak Season Ahead of CPN: CPN's operating results are seasonal with its strongest quarter being fiscal Q3 (also calendar). Given that gas prices are higher than last year, the summer season could be very strong for CPN. This is not much different than selling Marvel Entertainment (MVL) before the release of Iron Man. Investors are basically selling on the cheap, ahead of what could be a very favorable summer for the Company, allowing NRG to capture that benefit for a song.
Net Operating Losses ("NOLs"): CPN has $5B in NOLs in the U.S. and $650MM in Canada. IRC Section 382 usually doesn't allow NOLs to be carried over in an acquisition, meaning that the Board should value the Company in the context of a standalone that provides these tax benefits to shareholders, as opposed to letting CPN be sold on the cheap for shares in NRG that may not be able to preserve these NOLs.
Exiting Bankruptcy Dynamics: Charts I and II illustrate the performance of NRG and Mirant Corp. (MIR), two CPN peers, upon emerging from bankruptcy. These charts should be considered by the Board and CPN investors because, while there's no guarantee that CPN performs in the same fashion, exiting from bankruptcy provides similar dynamics to those offered in spin-offs and NRG's weak offer robs CPN investors from experiencing those benefits.
CHART I: MIR HISTORICAL PERFORMANCE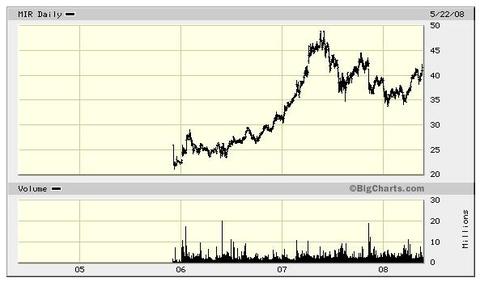 CHART II: NRG HISTORICAL PERFORMANCE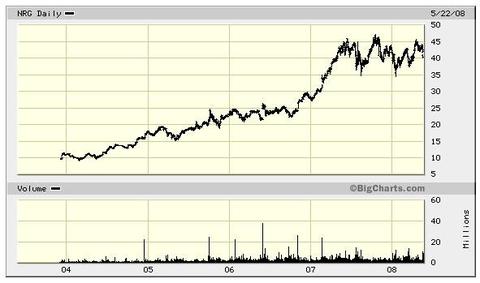 CPN's historical operating figures are difficult to discern unless one accounts for the variety of charges and expenses recognized over the past few years related to the Company's struggles. In addition, CPN exited bankruptcy with a considerable debt load which now stands around $10B based on its latest quarterly filing. This results in very tight interest coverage with a Debt/LTM EBITDA multiple over 6.0x. While that leverage may be a cause of concern, CPN is well positioned to actually utilize that debt to drive shareholder returns, provided the Board and CPN investors elect to have CPN remain independent.
During bankruptcy proceedings and since reemerging in the public markets, the Company has trimmed its fleet of plants and is focused solely on its core markets. As CPN anniversaries these benefits, operating results should improve relative to historical figures. As CPN continues to monetize its non-core assets, it can use those proceeds to pay down the principal on its debt load.
CPN also trimmed its workforce and overhead costs and will continue to find ways to rationalize overhead to further boost operating margins. The Company should also benefit from tailwinds such as tight energy markets, lower reserve margins, and improving commodity margins. Today's power market is much different than it was a few years ago with overcapacity that led to slackening energy prices. With tighter capacity, CPN should generate stronger results than those experienced in less favorable time periods and reflected in historical figures.
The historical figures also ignores three new projects (2 in California, 1 in Canada) that will contribute another 2,200MWs, or boost CPN's total power generating capacity by almost 10%. These projects have all secured production contracts, with the first plant coming online in 2008. Once one begins to account for these catalysts, it should become clear that CPN stock could have a very impressive track to run if provided the opportunity.
Valuation: Since CPN has hired GS to coerce itself into a merger and perhaps over 40% of CPN shares are in favor of a deal with NRG, a rudimentary overview may be more beneficial than a long drawn out valuation analysis. NRG's current market capitalization is about $10B and its proposal values CPN at approximately $11B.
NRG and CPN have roughly the same power generating capacity but CPN is superior to NRG in terms of its asset portfolio. The average age of CPN's plants is under 10 years while NRG plants are over 35 years old. CPN uses clean NG and even cleaner geothermal for its power while NRG relies on a mix of sources including nearly 40% from coal. In the face of greater scrutiny in regards to emissions control, coal power generation could face costlier emission controls that NRG would have to allocate for. NRG's assets that utilize coal would decline in value while CPN's should rise. CPN is also entrenched in some of the best geographies in terms of power demand due to hotter summers relative to the rest of the country, as well as changes in regards to nodal pricing. CPN also has three new plants that will come online in the coming years that will boost its production capacity by roughly 10%.
Despite these differences, NRG believes CPN is worth just $1B or so more than its current valuation, implying the two are worth virtually the same even though CPN's asset base is incredibly superior to NRG and in fact, all independent power producers ("IPPs"). Just a quick review of the asset differences should make investors and the Board question why NRG is offering such a low price.
The answer is tied to a few factors. The first is that CPN was restructured under Robert May's leadership and May will not remain as permanent CEO. NRG is trying to seize on the lack of permanent leadership at CPN through this lowball offer. The second factor relates to NRG expecting investors and the Board to rely on the noisy historical financials that, even once scrubbed for one-time items and restructuring charges, belie where CPN's operating results can be in the coming years.
As previously discussed, the Company is poised to benefit from a variety of industry tailwinds and company-specific drivers. These factors, combined with a leaner company that is not burdened by poorly performing non-core assets, should result in CPN producing operating results that exceed its historical performance by a wide margin. In January 2008, CPN revealed that it expected to generate about $1.75B in adjusted EBITDA for 2008 which is a 25% increase over its 2007 adjusted EBITDA and probably did not account for the spike in gas prices that is currently being experienced.
IPPs with high debt loads such as DYN and MIR trade for 17-18x EV/EBITDA, which is where CPN currently stands based on its LTM adjusted EBITDA. However, CPN is poised to increase EBITDA by 25% if not more. Assuming shareholders hold out for the next 12 months, shares in CPN could be valued at $35 per share. Given the discrepancies in capital structures among IPPs, valuing CPN off EV/Revenues could provide a useful tool. Peers such as NRG, MIR, and DYN trade for 3-4x EV/LTM Revenues. Using CPN's LTM revenues as of March 31, 2008, the Company would be valued between $30-$45 per share on a fully diluted basis (500MM shares) based on its peer's comparable range.
Disclosure: Author manages a hedge fund that is long CPN.