At the end of last week, shares of Green Mountain Coffee Roasters (GMCR) jumped after their third quarter earnings report. Revenues for the quarter missed analyst expectations, for the third quarter out of the past four. Earnings per share beat a little. Green Mountain lowered guidance for the current fiscal year, ending in September, and announced guidance that was well below expectations for the fiscal year ending September 2013. I covered the earnings report that afternoon.
However, shares rallied heavily, mostly due to short covering, thanks to an announced stock buyback of $500 million. As I was writing my above mentioned article, Green Mountain shares, which closed that day at $17.91, had fallen to an after-hours low just above $15 per share. But as I was finishing the article, shares were rallying back to even, and eventually went positive, then spiked above $20. The next day (Thursday), shares closed at $22.66, the highest close since July 9th. Shares retreated a dollar on Friday, but still remained about 40% above the after-hours low on Wednesday. But despite the huge rally, serious questions remain, and I'm here to discuss some of them today.
Growth has hit a wall:
Green Mountain was known in recent years for its impressive growth rates. There were several quarters where year over year revenues increased by more than 60%, 70%, even three quarters where revenues more than doubled. But things have started to cool off, and extremely quickly. It's not surprising to see some sort of percentage decline, but this quickly is scary. The following table shows revenue growth rates for each fiscal year.
| | | | | | |
| --- | --- | --- | --- | --- | --- |
| Year | 2009 | 2010 | 2011 | 2012* | 2013* |
| Growth | 58.75% | 72.59% | 95.38% | 44.00% | 17.50% |
*Projected based on midpoint of given guidance.
In just two fiscal years, the company is expected to go from 95% revenue growth to under 20%. That's quite dramatic.
Now I might remind you, that in late April of this year, just over 4 months ago, analysts were still expecting more than 61% revenue growth this year. Green Mountain reaffirmed its forecast when it reported in early February. Now, the company has stated that it has reworked the methods used to forecast future growth and give guidance, but since they've done that, they've issued what has amounted to two massive profit warnings. Last quarter they took down this year's forecast, and they did it again here. They also issued guidance for next year that was well below street estimates. Given the fact that this company has missed analyst expectations for revenues three out of the past four quarters, I wouldn't be surprised to see another revenue miss or two, and guidance lowered again at some point (unless we get an acquisition of some sort).
A good comparison here is to Deckers Outdoor (DECK). As I covered recently, Deckers reported its second quarter results. Deckers has been plagued by a warm winter, high sheepskin costs, and some other issues. But some questioned whether Deckers flagship brand, UGG, has hit a wall. In the year ago second quarter, UGGs represented 70% of Deckers sales, and have represented close to 90% of sales in some quarters. That's not a very diversified business, and Deckers knew that. They went out and bought a new brand, Sanuk, and that acquisition closed in July 2011.
Now, in the second quarter of 2012, Deckers reported overall sales growth of 13.1%. However, if you take out the Sanuk sales, Deckers' overall sales would have been down 5%. Deckers realized that growth was slowing, and made a well-timed acquisition to keep revenues growing overall. Green Mountain might want to do that, although as I'll discuss later, they might not have the money for it.
Inventory Issues Still Exist:
Green Mountain has always been accused of having inventory problems, and they still seem to be there. The company has said that it was having problems with labor and capacity that it expects those issues to be resolved this year, but these high inventory levels have been here for years. The company also stated that a fiscal Q3 inventory build up is natural as they must start to get products to retailers for the upcoming holiday season.
But if you look at the inventory turnover ratio for the first nine months of the fiscal year, you'll notice it has plunged in recent years.
| | | | | |
| --- | --- | --- | --- | --- |
| Year | 2009 | 2010 | 2011 | 2012 |
| Turnover | 4.26 | 4.22 | 3.79 | 2.93 |
A company must find the right balance. A turnover rate too high could lead to stock shortages and lost sales. However, too low a rate suggests that the company is overstocking its inventory. I'm not questioning where the rate is currently. I'm questioning the trend. A lower rate implies it is taking longer to sell the inventory, and that Green Mountain may be stocking up way too much. That means that they are probably spending too much (on rent, insurance, other costs of producing and holding the inventory), as well as the fact that too much of the balance sheet is held up in inventory. You can't sell what you don't have, but Green Mountain seems to have too much inventory on hand, and the trend is getting worse.
The stock buyback:
There are several issues regarding the buyback, so first, I'll start with the overall total. A $500 million buyback over two years was announced. At Wednesday's close of $17.91, I mentioned that the company could buy back about 28 million shares. At Friday's close of $21.63, they can buy back about 23 million shares, and that's only up because Friday saw a 4% plus decline. Investors who are now looking to get into the name won't realize that the benefit has been dramatically reduced.
But the second issue is that it won't be a complete buyback, not that many shares anyway. Green Mountain's share count has risen dramatically in the past three years, as seen from the following chart. Green Mountain has made multiple acquisitions, leading to secondary offerings, and has also seen executive option dilution raise shares. Just in the past three years, the outstanding share count has risen from just under 129 million to over 155 million.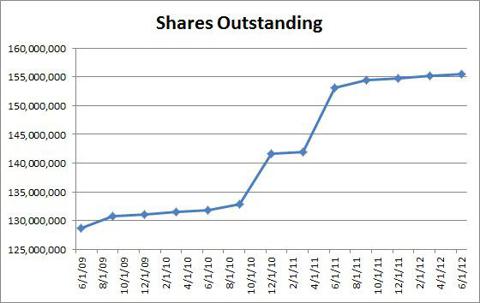 Now, the share count hasn't risen as much in the past few quarters, but it is still up 2.5 million shares over the past year. If it were to rise at that rate over the next two years, Green Mountain would use up 5 million shares of that "buyback" just to stop the share count from rising. So they aren't buying back as many shares as you would think.
But the real question with the buyback is how are they going to pay for it? They expect to buy back $500 million over two years, but this company had less than $140 million in cash on the balance sheet at the end of the recent quarter. So where is the money coming from?
Well, it's coming from reduced capex! Yes, the company has decided to reduce the amount it will invest in the business! The company announced on the conference call that they have reduced expected capex for this year from $525 to $575 million, to a new range of $475 million to $525 million. But for next year, they only expect to invest $380 to $430 million. So instead of trying to grow the business, something they really need to do, they will reduce capex, which will save some cash for buybacks. While that "might" help shareholders in the short term, it really is hurting the long term prospects of the business, which are in trouble to begin with.
This buyback just seems really sketchy to me. Remember, this is a company where two board members, including the founder of the company, were forced to resign from the board due to margin calls that forced them to sell stock, violating company trading policies.
Conclusion - Too many issues here:
Whether it is the rapidly slowing growth, extremely high inventory, or the questionable buyback, there are just too many issues here for my liking. This company will have a hard time growing in a rapidly competitive environment, especially when they aren't spending money to invest in the business.
As for shares, while they may continue to rise on some short covering over the short term, most of the move has already been made. The next big move will be made when this company reports their fourth quarter and full year results, about three months from now. For investors looking for a big move, that will be the time to look for, and there's no guarantee it will be a positive one. If Green Mountain warns again when they report, nobody will care about the buyback. This name will hit new lows.
Disclosure: I have no positions in any stocks mentioned, and no plans to initiate any positions within the next 72 hours.