VMware (NYSE:VMW) hit a high of $125/share in October last year after his hyper-hyped IPO, and fell to $90 in November. I had recommended investment in the stock on a bargain day. With the stock trading at $65 levels, it has already risen 12% since the announcement of its results. It might still be the right time to buy.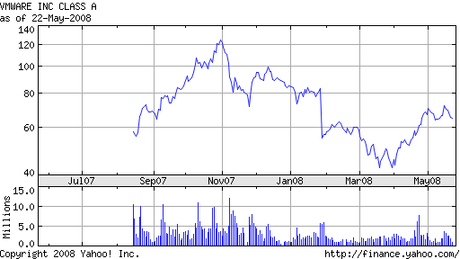 VMWare announced its Q1 results with revenues of $438 million, beating the market's expectations of $422 million, and recording an impressive 69% annual growth and a 6% sequential growth. The EPS of $0.22 met the market's expectations and grew by 38% over the year even though it dropped 15% sequentially.
U.S. revenues grew 65% over the year to $225 million, contributing 55% of the overall revenue. International revenues grew by 74% over the year. The company is experiencing tremendous growth in emerging countries like India and China.
License revenue was $294 million, registering an increase of 73% over the year while support maintenance and professional services revenue grew by 62% to $144 million. According to the management, there are only two other enterprise software companies which have grown at or more than 50% annually after reaching $1 billion revenues. As of now, VMWare was on the same growth track. It reaffirmed its 50% guidance for the year and 55% growth for Q2.
Goulden's market estimates of "only about 1 million servers so far are running virtualization software out of an installed base of about 25 million servers" definitely supports such potential.
The company, along with Lenovo recently announced a world record for exchange scaling by hosting 16,000 mail boxes on a single server. Its value potential is evident from the fact that, more than 100,000 customers - including 100% of the Fortune 1000 – have deployed VMWare as their server virtualization infrastructure platform.
EMC's Q1 results say that that revenue grew by 17% over the year to $3.47 billion beating the market's expectations of $3.45 billion. Its EPS grew by 14% to $0.16, which is in line with the street's view.
Its international revenue grew by 21% over the year and the U.S. revenue grew by 14%.
Segment-wise, Information Infrastructure revenues contributed $3 billion growing by 12% for the year. Storage revenues grew by 12%, RSA Information Security revenues grew by 13% and Professional Services grew by 30% over the year.
During the quarter, the company repurchased 36 million shares at a total cost of $557 million. The company also spent $338 million on acquisitions of Pi Corporation, Iomega Corp. and Infra Corporation which will give them entry into market spaces such as cloud computing infrastructure and services, IT service management, document output management, and extended VMware's desktop virtualization capabilities and services.
Despite mounting economic pressure, the company had a positive outlook as it reaffirmed its double-digit profit and revenue growth for the year. The company claims that the clients are now looking for better returns from investments and are realizing the importance of implementation of new technologies to improve their IT efficiency. It is seeing interest in storage tiering and consolidation, data de-duplication, virtual provisioning, server virtualization, content management and security.
One of the companies on our radar that would eventually be an acquisition target for EMC is Ocarina. You can read my interview with Ocarina's CEO Murli Thirumale for further details. In particular, read this segment where Murli discusses the storage related pains faced by the CIOs at large corporations.
The stock is trading at $17.29, which is 8.8% higher than the $15 levels it was trading at before the announcement of the results.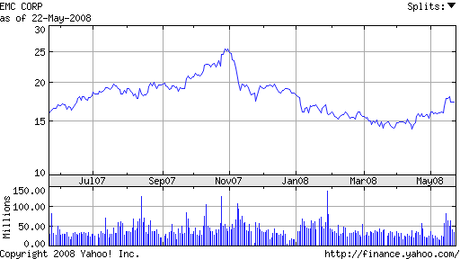 Disclosure: None