As Apple's much-anticipated release of the iPhone 5 rapidly approaches, investors may be looking for other ways to play the release than buying shares of Apple (AAPL), which are currently trading at $618. Believe it or not, Apple's suppliers could be a great way to play the new iPhone; however, not all of its suppliers are created equal. Let's break it down to see which suppliers hold the most investment potential.
Skyworks Solutions (SWKS): This chipmaker has great exposure and success outside of Apple. In addition to being speculated as one of the main chip providers for the iPhone 5, Skyworks supplies chips to the Samsung Galaxy SIII as well, putting the company in a great spot. It is important to note that Skyworks also had big exposure to the iPad 3 as well, further bolstering its success potential. The company also reported solid earnings back on July 18. Here is a quick look at some fundamentals:
P/E: 27
Forward P/E: 13
PEG:1.82
P/B: 3
P/S: 3.5
P/FCF: 19
EPS Next 5Y Growth: 14.5%
Debt/Equity: 0
As you can see, Skyworks is currently overvalued when you look at the fundamentals. It is suggested that you wait for a pullback to get into this name, however as the iPhone 5 release rapidly approaches, pullbacks may become scarce.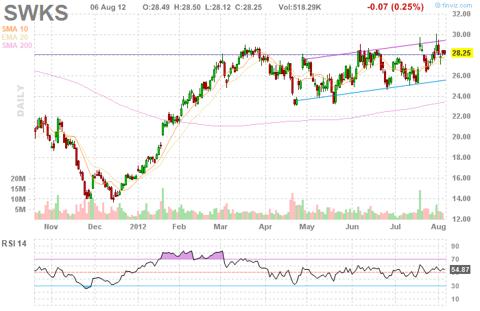 Cirrus Logic (CRUS): The audio component provider relies on Apple for 60% of its revenue, which could be risky for someone who is looking for a more conservative way to play the iPhone 5. That said, the company was recently confirmed to be supplying the iPhone 5, combined with a solid earnings release and the stock has skyrocketed in recent weeks. It is definitely suggested that you wait for a pullback before jumping into this name. In addition to supplying the new iPhone, Cirrus has components in iPads and Macs. If Apple's iPad mini is a success, as it is expected to be, then Cirrus could get another bump there. The main risk here is that the company relies very heavily on Apple. When Apple reported that earnings miss, analysts were determining the effect on Cirrus. Six days later, Cirrus reported a phenomenal quarter and gave investors hope for future growth. That being said, here are some fundamentals:
P/E: 30
Forward P/E: 13
PEG: 1.5
P/B: 5.13
P/S: 5.66
P/FCF: 97.08
EPS Growth Next 5Y: 20%
Debt/Equity: 0
According to the fundamentals, Cirrus's recent run up has caused shares to be overvalued, especially if you look at the price to book, price to sales and price to free cash flow. It is recommended that you wait for a pullback before jumping into the stock.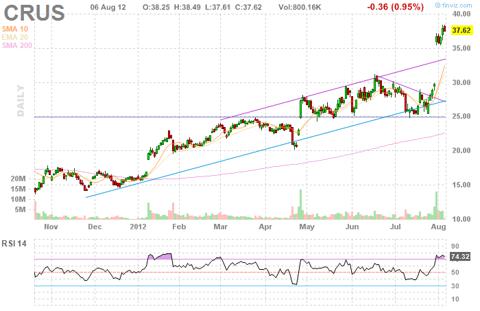 ARM Holdings (ARMH): This company has an interesting edge that has allowed it to survive headwinds. ARM is not responsible for the actual manufacturing of the chips they sell but they do receive royalties every time a chip is sold. This has allowed the company to not face the higher costs that come with manufacturing your own chips. Additionally, the company is well positioned itself for success in the mobile industry. ARM has chips in Apple's iPhone and iPad, Samsung's Galaxy line up and Microsoft's (MSFT) new Windows 8 tablet. Its valuable lineup of customers will help propel future growth as it well positioned in the smartphone/tablet industry. Here are some fundamentals:
P/E: 55
Forward P/E: 29
PEG: 3
P/B: 7
P/S: 15
P/FCF: -
EPS Growth Next 5Y: 19%
Debt/Equity: 0
While ARM has no debt, the company is considerably overvalued by its fundamentals. However, future earnings growth look solid at 19% estimated and no debt certainly helps its situation. Bottom line, wait for a pullback before entry.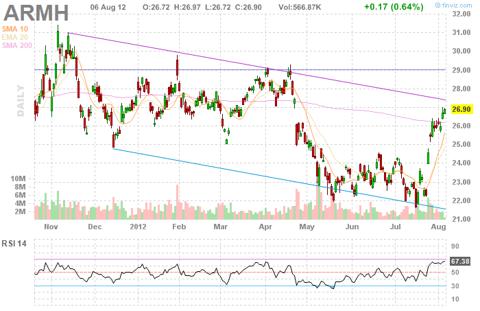 Qualcomm (QCOM): Here is, arguably, the most conservative way to play the iPhone 5 and the smartphone industry as a whole. Qualcomm is a solid company and they continued to prove that with the release of its Q3 FY 2012 earnings, which showed revenue was up 28% year over year. While Qualcomm certainly relies on Apple a certain degree, the company also has exposure to the wildly successful Samsung Galaxy SIII. Expect this trend to continue but in the meantime, here are some fundamentals:
P/E: 20.28
Forward P/E: 15
PEG: 1.42
P/B: 3.17
P/S: 5.59
P/FCF: 28
EPS Growth Next 5Y: 14.3%
Debt/Equity: 0
Easily the best fundamentals out of the companies we mentioned. Qualcomm is well positioned in the industry and it will continue to succeed even during difficult economic headwinds. While the stock is in no way a bargain, it is a reliable stock that continues to outperform.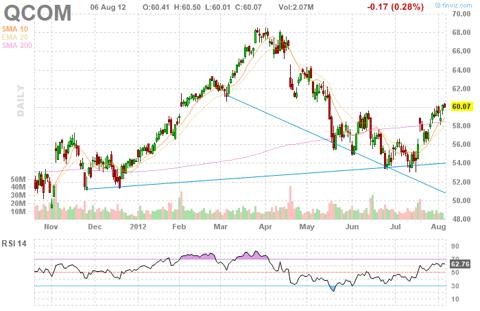 The bottom line here is that there are many other names that could have been used in this article, but these four are my favorite picks and the best options to playing the iPhone 5 other than buying Apple shares. While these stocks have overvalued qualities, they will certainly continue to outperform with the success of the iPhone 5 and continued success with the Galaxy SIII.
Disclosure: I have no positions in any stocks mentioned, and no plans to initiate any positions within the next 72 hours.