By Brendan Gilmartin
Overview
Walt Disney (NYSE:DIS) is scheduled to report 3Q 2012 earnings after the closing bell on Tuesday, August 7. The release will be followed with a conference call at 5:00 p.m. EST. The media and entertainment giant is also a member of the Dow Jones Industrial Average and could therefore influence direction of the index futures and other broad market gauges.

Outliers And Strategy
Walt Disney is expected to earn $0.93 per share (range is $0.85 to $0.98), up from $0.78 a year ago, while revenues are forecast to come in at $11.3 billion, up 5.9% from the prior year. (Source: Yahoo Finance)
Following the 32.72% YTD run-up, Walt Disney shares are now trading at 17.8x trailing earnings, a premium to the 5-year average of 15.1x. With valuation at these levels and the shares just off the recent 52-week high of $50.54 (July 27), Walt Disney shares are vulnerable to even the slightest misstep. Therefore, look for EPS and revenues to come in at the high end of the Street's forecasts in order to sustain the uptrend.
Recent News
08/06: According to a post on Barron's, Caris & Co. remains comfortable with its 3Q 2012 revenue estimate of $11.38 bln for Walt Disney and earnings of $0.96 per share - near the high end of consensus forecasts. The firm cited the positive response to the Avengers and related consumer products from the theatrical release. The firm reiterated an Above-Average rating and $54 target.
07/27: Morgan Stanley reiterated an Overweight rating on Walt Disney and raised the price target from $51 to $56, according to a post on Benzinga.com. The firm also upped its FY2013 earnings estimates based on share repurchases and improvements in theme park margins.
07/17: Bank of America Merrill Lynch upgraded Walt Disney from Neutral to Buy and raised the price target from $45 to $58, according to Barron's. Renowned Media Analyst Jessica Reif Cohen cited several reasons for being positive, according to the article: 1. Improvement in operating margins at its parks and resorts; 2. Rising free cash flow; 3. Strong studio results; 4. Solid growth in media networks, and 5. Profitability in the Interactive Division by 2013.
Technical Review
Walt Disney shares are up more than 30% YTD, well outpacing the broader market, en route to a 52-week high of $50.54 on July 27. With the shares right at that level ahead of earnings, the Street is looking for earnings and revenues at the high end of estimates to push the shares through that level. Should results disappoint, look for support just above the 20-Day SMA near $49.00, followed by $48.00, and $46.00. (Chart courtesy of StockCharts.com)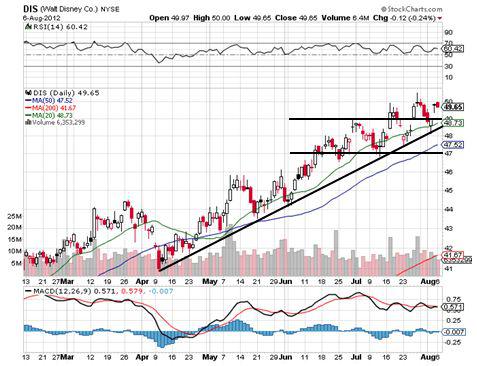 Summary
Walt Disney shares are just off the 52-week high of $50.54 established at the end of July in anticipation of a solid 3Q 2012 earnings release. The media and entertainment giant is seen benefiting from the success of the Avengers, strength in the theme parks business, valuation (14.3x forward earnings), and share repurchases. Against this positive backdrop, look for earnings at the high end of consensus forecasts (EPS Ex-Items Est. id $0.93; High number on the Street is $0.98) on a stronger than expected revenue figure. Anything less may be seen as a disappointment, considering the recent market strength.
Disclaimer: By using this report, you acknowledge that Selerity, Inc. is in no way liable for losses or gains arising out of commentary, analysis, and or data in this report. Your investment decisions and recommendations are made entirely at your discretion. Selerity does not own securities in companies that they write about, is not an investment adviser, and the content contained herein is not an endorsement to buy or sell any securities. No content published as part of this report constitutes a recommendation that any particular investment, security, portfolio of securities, transaction or investment strategy is suitable for any specific person.
Disclosure: I have no positions in any stocks mentioned, and no plans to initiate any positions within the next 72 hours.