Intuitive Surgical (NASDAQ:ISRG) was up Friday on news that it will be added to the Standard & Poor's 500. This will increase demand for shares of the medical device maker because all of the index mutual funds, exchange traded funds and other investors that focus on S&P 500 stocks will buy the shares.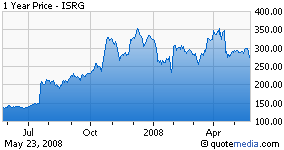 The big news, however, is that Eli Kammerman, an analyst at Cowen & Co., reported that ISRG has cut its revenues forecast for 2008 by about 2.3% to $850 million, which is a disappointment to shareholders. Based on previous guidance from the company, the average projection by analysts was $873 million. The AP says Kammerman maintains his outperform rating on ISRG.
For some time, I've been questioning ISRG's ability to make its projections, given the impact of tight credit markets on hospitals' capital spending budgets and the rather long paybacks that ISRG's da Vinci surgical system offers users. The device appears to be great for patients but not so profitable for hospitals. I have blogged on ISRG here and here.
Morningstar.com continues to give ISRG one star out of a possible five and continues to estimate the stock's fair value at $175. ISRG's daily and weekly charts are bearish, and the $283.40 stock's bearish price objective is $240. Price objectives should be used as guides and not as predictions. A month ago, when ISRG was trading around $288, its price objective was $272.
Full disclosure: I don't own ISRG.