Forget a potential $46-billion takeover by InBev NV (INBVF.PK), it will be Bud Light Lime that gives shares of Anheuser-Busch Cos. (NYSE:BUD), the world's second-largest brewer, a much-needed lift. This from Deutsche Bank's Marc Greenberg, who told clients:
Summer's here: Bud Light Lime's the beer.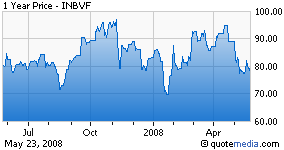 InBev is the world's biggest brewer by volume and was created through the merger of Interbrew and AmBev. It makes beers like Brahma, Stella Artois and Beck's, which has some dubbing the potential tie-up "Bud and Beck's."
Mr. Greenberg raised his 2008 domestic volume estimate for Anheuser-Busch from 1.5% to 1.8%, taking earnings per share up a penny to $3.05, after 25 of the brewer's major distributors responded positively to Bud Light Lime in a recent survey. He maintained his "buy" recommendation and boosted his price target by $1 to $56 per share.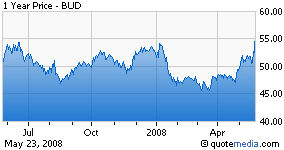 The new beer's late April launch is on track to be very successful, with retail penetration at 70% to 80% in less than four weeks, the analyst told clients. It also has demonstrated the ability to capture non-beer drinkers, he noted.
As far as the potential takeover by InBev, Mr. Greenberg said the necessary premium of at least 20%, or more than $65, is hard to justify given the limited geographic overlap and scope for revenue synergies. He said InBev would need at least $600-million in annual pre-tax savings to make the deal work.