Liquidity Services, Inc. (NASDAQ:LQDT) operates leading online marketplaces for surplus and salvage assets and has been growing revenue at a consistent 20% clip during the past seven years. Earnings growth has been stable over the same period but has been picking up steam over the past two years.
This year, estimates have been revised higher after the second-quarter performance last July 31st and Liquidity is on pace to grow earnings over 600% year-over-year.
How can a company growing as Liquidity, be in such a volatile whirlwind over the past few months? And more importantly, does Liquidity Services have the potential to grow into an eBay, Inc. (NASDAQ:EBAY) or Amazon.com, Inc. (NASDAQ:AMZN)?
Recent Volatility
All it takes is a quick snapshot of Liquidity's one-month chart to get a sense of this stock's volatility.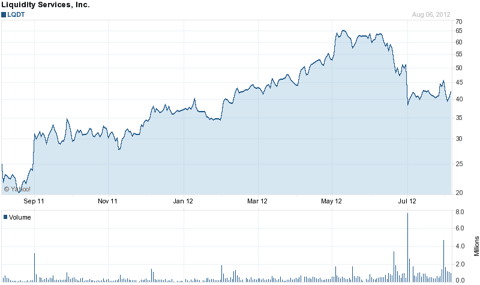 Consider a longer-time frame chart such as a three-month period and it gets even uglier.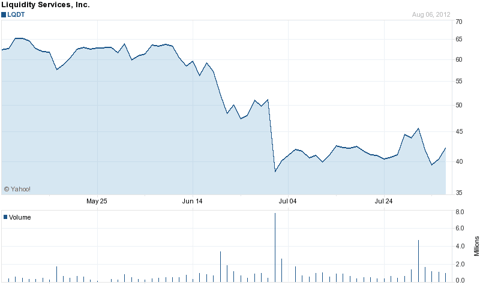 We know that prior to the past six trading days, Liquidity had three events that sparked a significant sell-off for the stock leading up to the July 31st announcement.
First, William P. Angrick, Chairman and CEO, disclosed plans in mid-June of this year to sell a significant portion of his stock. The Securities and Exchange Commission filings disclosed this on June 15, 2012. Additionally, soon after Mr. Angrick's stock sale disclosure, competition remarks from eBay, as well as additional comments from Liquidity's CFO regarding slower growth emerged into the public.
It was very unfortunate that Mr. Angrick's filing was publicly misinterpreted. If we read closely, the filing stated that the plan could be terminated prior to any action being taken and also that there were minimum sales price thresholds significantly above the June 15th closing price, which was $56.41. Consequently, Mr. Angrick issued another filing terminating the plan to sell the his stock shares on August 3rd.
Concerns over Ebay competing against Liquidity are just that, concerns. While eBay may be able to compete to some extent on the retail wholesale side, Liquidity has established a significant presence and reputation with respect to retail, industrial capital assets, and the public sector.
Comments made by the CFO were basically taken out of context to the extent that long-term growth prospects could potentially be compromised. Mr. Angrick clearly expressed that Liquidity's objective is to focus on maintaining long-term growth prospects, which have historically trended near the 20% level.
Can Liquidity Scale to the Level of eBay or Amazon?
The recent acquisition of GoIndustry DoveBid puts Liquidity in an excellent globally significant strategic growth position. Through the acquisition Liquidity has gained access to customers including Alcoa, Pfizer, Proctor & Gamble, Honeywell, among others. Liquidity's market now reaches North America, Latin America, Europe, Africa, and Asia, with a presence in 25 countries.
Additional acquisitions of the Jacobs Trading Company and TruckCenter.com in 2011 have added extra leverage with respect to access to U.S retail salvaged goods as well as global capital assets. Liquidity now possesses the following professional seller base:
- 139 of the Fortune 1000
- 7 of the top 10 U.S. retailers
- 2 of the top 3 Online retailers
- 3 of the top 4 warehouse clubs
- 8 of the largest industrial multinationals
- U.S. Department of Defense
- Manufacturers and OEMs
- 4,700+ state and local government agencies
- Middle market retailers
- Service companies
- Distributors and VARs
Based on this information we know that Amazon.com, Inc. is a customer of Liquidity as Amazon is the number one online retailer.
The North American reverse logistics market estimate for 2015 is just over $63 billion, the global capital assets 2012 market opportunity is $100 billion, and the U.S. public sector 2012 market opportunity is roughly $3 billion. Judging by these numbers, Liquidity has plenty of room to grow in a fragmented offline-dominated market.
Estimates for the end of 2013 put revenue for Liquidity close to $600 million. Analysts have just recently revised 2012 and 2013 earnings up 9% and 7% respectively. Liquidity's market capitalization as of August 6th market close was just over $1.3 billion (closing stock price of $42.28).
As Liquidity continues to improve its operating platform and scale its business to gain wider leverage in the online wholesale market, its long-term growth potential is on track to continue at similar historical levels. Assuming that margins improve to the mid-teens, Liquidity could soon be approaching $1 billion in revenue and $150 million in earnings.
For a company growing at these levels a valuation between $3-$5 billion would not be extreme. That would give Liquidity a stock price in the $100-$150 range.
While no where near the levels of eBay and Amazon in the near term, Liquidity's future seems bright, and over the next decade, who knows where its business model will take the company.
Disclosure: I am long LQDT.