Billions of people start their mornings off with a cup of coffee and no company is more closely associated with coffee as Starbucks (NASDAQ:SBUX). When my wife and I travel in Europe we cringe at the coffee they call Americano over there and within a few days we are asking the desk were to find the nearest Starbucks. Between the store sales, grocery stores and K-Cups they are making a 3 pronged attack on my need for caffeine and I predict some future growth for the stock. Lately investors have not been kind to the stock and there has been some recent earnings weakness causing the stock to be down a bit as evidenced by this hourly trading chart over the last month provided by Barchart: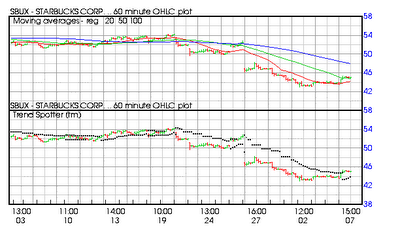 Earlier in the year the stock was doing well but lately it hasn't kept pace with the market as measured by the Value Line Index. In the last 6 months the market was up 1% but the stock was down 7%: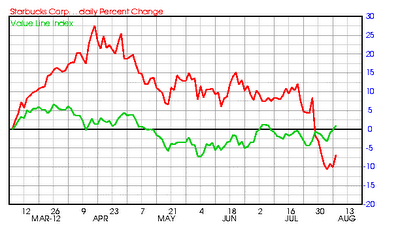 Starbucks Corporation purchases and roasts whole bean coffees. It operates 6,705 company-operated stores and 4,082 licensed stores in the United States; and 2,326 company-operated stores and 3,890 licensed stores in Canada, the U.K., China, Germany, Thailand, and internationally. The company provides regular and decaffeinated coffee beverages, Italian-style espresso beverages, cold blended beverages, iced shaken refreshment beverages, premium teas, packaged roasted whole bean coffees, and soluble coffees. Starbucks stores also offer various fresh food items, including pastries, prepared breakfast and lunch sandwiches, oatmeal, and salads, as well as juices and bottled water. In addition, it sells bottled Frappuccino beverages, Starbucks DoubleShot espresso drinks, and Discoveries chilled cup coffee, as well as markets and distributes Starbucks super-premium ice creams.
Further, the company provides various coffee and tea products, and licenses its trademarks through other channels, such as licensed stores, grocery, and national foodservice accounts. Its brand portfolio includes the Starbucks, Tazo tea, Seattle''s Best Coffee, and Starbucks VIA Ready Brew. Starbucks Corporation was founded in 1971 and is based in Seattle, Washington. (Yahoo Finance profile)
Factors to consider:
Barchart technical indicators:
Weakness in technical indicators can signal a buying opportunity if the underlying fundamentals of a stock are sound
88% Barchart technical sell signal
Trend Spotter sell signal
Trading below its 20, 50 and 100 day moving average
16.83% price decrease in the last month
20.24% price decrease in the last quarter
27.27% off its 1 year high
Relative Strength Index 35.91%
Recently traded at 45.06 which is below its 50 day moving average of 51.73
Fundamental factors:
24 Wall Street brokerage firms have assigned 30 analysts to follow the stock
Analysts project revenue will increase by 13.80% this year and 11.50% next year
Earnings estimates are for an increase of 17.10% this year, an additional 20.20% next year and for the increases to continue at an annual rate of 18.89% for at least the next 5 years
These consensus numbers result in 12 strong buy, 11 buy, 6 hold and 1 under perform recommendations for clients
Analysts think investors should see an annual total return of 10% - 14% over the next 5 years
The company has an A+ financial strength rating
The P/E is 25.83 which is above the market P/E of 14.80 but in line for a double digit growth stock
The dividend rate of 1.35% is about 25% of projected earnings and below the market dividend rate of 2.40%
Coffee costs are dropping so margins should improve
Same store sales projections are positive
Grocery sales projections are positive
K-Cup sales projections are positive
China sales growth projections are positive
Tata Global Beverages will begin opening Starbucks locations in India
Investor interest:
As noted above 24 firms and 29 analysts are positive with just 1 giving an under perform
TheStreet staff gives the stock an A- rating
On Motley Fool 7,871 readers have the stock on their watch list with 79% voting for the stock to beat the market
The more experienced All Stars are more positive with an 87% vote for the same result
Firms recommending hold or better: Banc of America Securities, Credit Suiss, Oppenheimer, UBS and Deustche Securities
Columnists with positive comments are Wayne Rogers, Pat Dorsey, Jim Cramer and purchases by George Soros
A lot of analysts like to compare Starbucks to restaurant stocks but I'll compare it to some other "coffee" stocks. In the past year while Starbucks was up 25%, McDonald's (NYSE:MCD) was up 4%, Tim Horton (THI) was up 21%, Dunkin Brands (NASDAQ:DNKN) ws up 11%: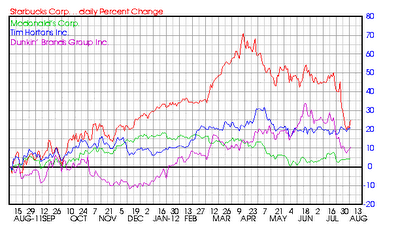 Conclusion: I think that investors should look at the recent price weakness in Starbucks as an opportunity to enter the market if you've been sitting on the sidelines or add to your position if you already own it. The bottom may not have been reached and a close look at the moving averages and turtle channels can signal the bottom and the time to push the buy button: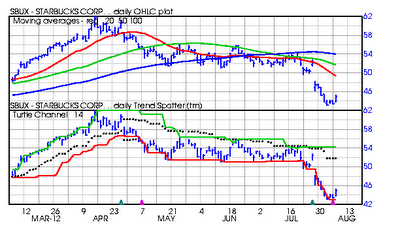 Disclosure: I have no positions in any stocks mentioned, but may initiate a long position in SBUX over the next 72 hours.