The 125-year-old healthcare giant Johnson & Johnson (JNJ) is favored by many investors, including Warren Buffett, who holds more than $2 billion worth of JNJ shares in his portfolio. Johnson & Johnson is led by Alex Gorsky, who took over the reins from William Weldon. The New Jersey-headquartered company employs close to 117,000 employees all over the world.
The Business
JNJ operates through three business segments: Consumer Healthcare unit, Medical devices and Diagnostics unit and Pharmaceuticals unit. JNJ is a well diversified company. It's diversified to the extent that whenever the profit dips, there are talks about spin-offs.
Click to enlarge.
Segment Sales

Geographical Sales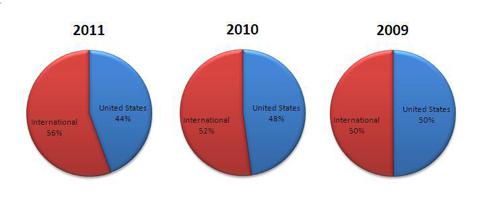 Consumer Segment
With $14.9 billion in 2011 sales, JNJ's consumer unit is the sixth largest consumer healthcare business in the world. The consumer segment sells baby care, skin care, nutritional products, over-the-counter pharma products and wellness products. The segment hasn't been doing great in the past few years. The operating profit margin of the unit hovers around 15% and is the lowest of all three units in JNJ. Sales have declined steadily in the past four years, as the unit was plagued with quality control issues.
JNJ is yet to completely recover from the suspension of production at McNeil Consumer Healthcare's Fort Washington, Pa., facility. McNeil had dozens of product recalls in the past few years costing JNJ heavily. With over the counter products contributing more than $4 billion to the consumer unit, it is very important to get the Fort Washington plant back on track. Fixing these issues will take time and bottom line profits will be affected in the immediate future.
Sales in Millions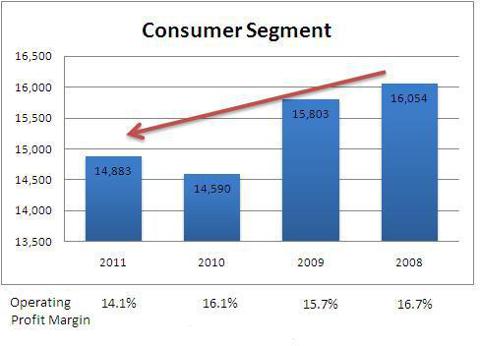 Pharmaceutical Segment
JNJ's Pharma unit, with $24.4 billion in 2011 sales revenue, is the eighth largest pharma business in the world. The Pharma unit manufactures and sells drugs. Unlike other drug majors, JNJ is past the patent cliff. Remicade, the blockbuster drug that brought in more than $5 billion in 2011 is safe till 2018 and most of its billion dollar drugs are safe for the next few years. Concerta and Levaquin patents expired in 2011. Together these drugs made $1.8 billion in 2011, and some of that revenue will be eroded in the next few years. Pharma sales have been up and down in the past few years due to increased competition and patent expiry. What's great about the pharma segment is the high operating margin. Any addition of a blockbuster drug will quickly add more money to the bottom line.
Sales in Millions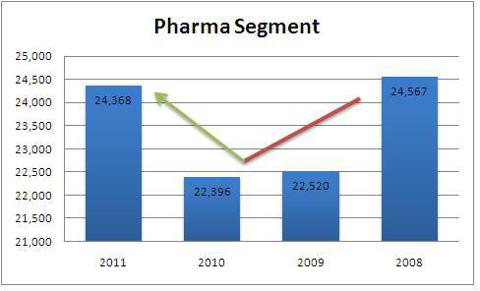 Drug Revenue in Millions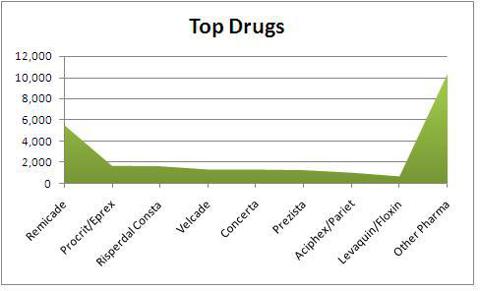 Medical Devices and Diagnostics Segment
JNJ's Medical devices and diagnostics segment is the world's largest medical devices business. The Medical Devices segment manufactures and sells medical devices used by physicians, hospitals, labs and clinics. The unit has steadily increased its revenues in the past four years and become the top earning business unit for JNJ with $25.8 billion in 2011 sales. Operating Margin was extremely good at 30% during 2008-2010 but it fell to 20.4% in 2011 mainly due to product liability and litigation expenses, and costs associated with DePuy Hip recall program.
JNJ announced recently that it will acquire Synthes, a leading manufacturer of orthopedic devices, a move that further consolidates JNJ's position at the top of medical devices business. JNJ has merged its Orthopedic unit DePuy with Synthes, making the division a comprehensive orthopedic business in the world. The merged unit will play a significant role in increasing JNJ's market share in the $37billion Orthopedic market.
Sales in Millions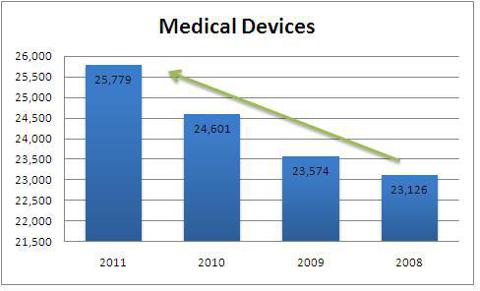 Ten year analysis
JNJ's past ten year growth is a two-paced story. The revenue grew 75% in six years, from $36 billion in 2002 to $63 billion in 2008. After 2008, sales were flat in 2009 and 2010, before continuing to grow in 2011 with $65 billion in sales. Average net profit margin is at an impressive 18%, better than most drug majors. JNJ's return on equity is more than 20% for all years except for 2011. It has raised dividends for 50 consecutive years, a record, impossible to replicate by most companies listed in our exchanges. Except for 2009 and 2010 the financial numbers are impressive for a company that is 125 years old. This is a company that still has enough fuel to keep growing.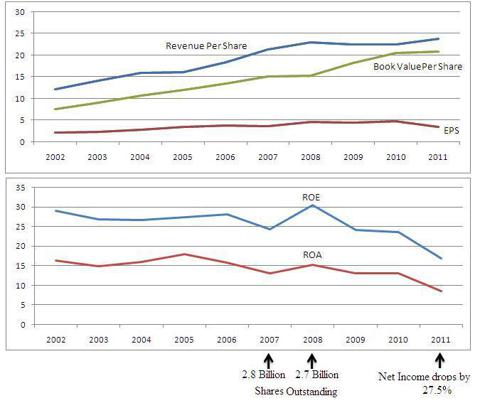 Discounted Earnings Analysis
JNJ is now trading at 21 times its earnings, which is higher than most comparable drug majors. The reasons are quite evident in the article. Strong fundamentals and ability to come out of sales declines, litigation and patent cliffs make JNJ a very attractive company in which to invest. I used a discounted earnings model to find out how the market values JNJ. (Using 2011 JNJ EPS 3.49)
| | | | | |
| --- | --- | --- | --- | --- |
| Share Value | 66.62 | 56.94 | 52.50 | 49.69 |
| Earnings Growth Rate (Next 7 Yrs) | 4% | 4% | 5% | 4% |
| Terminal Growth (Earnings) | 2% | 2% | 2% | 2% |
| Discount Rate | 8% | 9% | 10% | 10% |
The model values JNJ share price at $66.62 at 4% growth discounted at 8%, and $56.94 at 4% growth rate discounted at 9%, clearly showing that the share price is either fairly valued or overvalued.
Disclosure: I have no positions in any stocks mentioned, and no plans to initiate any positions within the next 72 hours.