On August 7, 2012 after the market closed Priceline.com (NASDAQ:PCLN) reported Q2 earnings, and it gave disappointing Q3 guidance. Excluding items, the earnings for Q2 2012 were $7.85 per share. This beat the analysts' expectations for $7.37 per share. However, PCLN missed on revenues of only $1.33B versus an expectation of $1.35B. Plus, PCLN guided below analysts' earnings expectations for Q3 with a range of $11.10 to $12.10 per share excluding items. That guidance was significantly below average analysts' expectations of $12.79. PCLN's stock dropped roughly $100.80 per share to $579.00 after hours. Ouch!
With PCLN's history of great performance one might expect PCLN to rebound from this fall in the near term; and it could do just that. However, there are other factors an investor needs to look at before deciding to buy or hold PCLN. First, there are competitors that are seemingly doing better. Expedia (NASDAQ:EXPE) beat revenue estimates by 16.9% and the 14% sales revenues increase to $1.04B beat analysts' expectations for $988.7 million in revenues. EXPE derives approximately 58% of its revenues from the US. This gives it a big advantage over PCLN, which books approximately 60% of its rooms in Europe.
Plus, PCLN's earnings are further exposed to losses by the current downtrend in the euro versus the USD. Travelzoo (NASDAQ:TZOO) beat on earnings, and like PCLN it missed on revenues. However, TZOO's FY2012 earnings are expected to rise 600% to $1.40 per share from just $0.20 per share in FY2011. Some might think TZOO is showing better growth than PCLN. I could go on, but the real point is that PCLN is seeing tougher competition in 2012 than it often has in the past.
Since PCLN is so heavily dependent on Europe, it is appropriate to look carefully at European tourism. Italy reported on June 6, 2012 that 10 million fewer holidays had been booked in 1H 2012 compared to 1H 2011. Other Southern European countries are experiencing similar downturns. It is easy to understand this after seeing violent Greek riots on television. The graph below from a European Travel Commission publication gives excellent overall European Occupancy Trends comparison data for the last three years.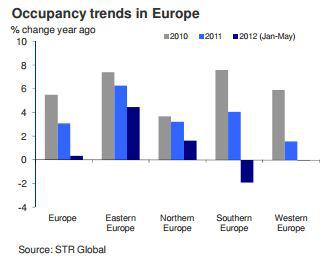 The Occupancy trend in Southern Europe is negative by about -2% for January through May in 2012. The Occupancy trend for Western Europe is minimally negative for 2012. Overall, the Occupancy trend for Europe is only up about +0.3% for the January through May period of 2012. This does not agree at all with PCLN's estimates for its own growth in 2012. It makes one think that PCLN's estimates for later this year may still be too high. Given that the overall EU economy is still worsening, even the figures cited by the European Travel Commission may be too optimistic.
The European Travel Commission has also provided a European airline load factor chart for 2012 (see below).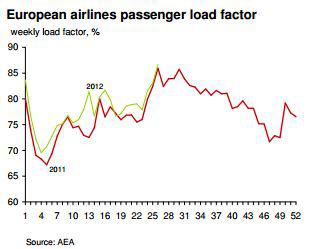 This chart shows that there is little difference between the load factor chart of 2011 and the load factor chart of 2012. Again, this does not agree well with PCLN's 2H 2012 estimates, especially with the economic situation in the EU expected to worsen this fall. Don't forget the credit crisis issues are worsening. Don't forget that many of the austerity measures are only starting to be implemented.
On top of all this there is the issue of sentiment. German residents spent 640.6 million nights in collective accommodation establishments outside of Germany in 2010. UK residents spent 504.3 million nights outside of the UK. Between the two they accounted for 49.4% of the total number of nights spent abroad by EU-27 residents. You might say great. The Germans have the best economy. That should be good for PCLN. What you probably are not considering is that there is a lot of antipathy for Germans throughout much of the EU at this time. Just ask the Greeks how they feel. If you were a German, would you want to go to any of the PIIGS right now? It might be a big downer to be sneered or grimaced at for your entire vacation. I would not do it.
The UK residents are probably not as disliked currently. However, their singular position as independent of the euro makes them able to control their finances in ways the hard hit EU countries must envy. They are probably not the favorite neighbors of many of the EU countries. This could decrease their desire to visit many EU countries. With Germany and the UK accounting for approximately 50% of the visits from countries within the EU, even the psychological factors determining the likelihood of their visiting other EU countries are important to consider. Again, this argues against PCLN's estimates being valid.
In sum, PCLN is a sell currently. If you are a PCLN fanatic, you might try to play for a near term rebound. You might get one. I will not speculate on how advisable this is. Market psychology can be a very difficult thing to gauge. In the longer term PCLN is a sell until the situation in the EU turns around. PCLN has already built up its network. It cannot grow as quickly as it did in its run up from its 2008 low. Rather, it will see a downturn first. Then it may see a much slower run up. Near term, PCLN looks like it could fall to near term support at approximately $500 per share (see the five year chart below).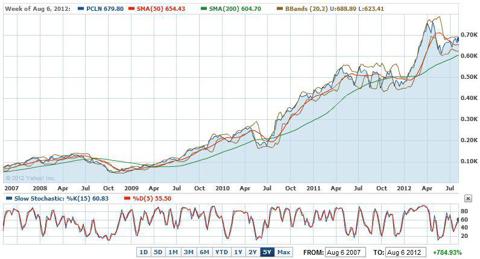 Longer term PCLN could fall even further. I don't see the EU economy turning around any time soon. The earliest it can probably turn a positive corner is mid 2013. Bill Gross of Pimco has recently said stay away from investments in Europe. Their debt problems are too great, and there is no immediate good solution. Gross' comments apply to investing in PCLN with 60% of its room bookings in the EU. You want to sell PCLN until the EU economic situation starts to improve. If you are aggressive (and you have the money) you may want to short PCLN.
NOTE: Some of the above fundamental fiscal data is from Yahoo Finance.
Good Luck Trading.
Disclosure: I have no positions in any stocks mentioned, but may initiate a short position in PCLN over the next 72 hours.