Main Street Capital Corporation (MAIN) remains my favorite Business Development Corporation (BDC) entity. Their recent conference call confirmed the company's positive progress. I prefer monthly dividend income securities. A dividend paid 12 times a year provides personal cash flow funds to offset monthly expenditures. I refer to my portfolio as my "monthly free cash flow dividend". Main Street Capital announced a monthly dividend increase to 15 cents per share. This will take effect in October. Monthly dividend stocks can provide the solution to a monthly cash flow to pay incoming expenses. In this article I highlight 5 monthly dividend stocks with yields ranging from 4.2% to 16% per year.

Main Street Capital
Main Street provides financing to third parties for financing. A BDC will survive based upon the quality of its management team. Lending to third parties provides capital for loans, equity, buyouts, recapitalizations, and growth financings. Lenders want clients who will repay the contractual financing terms. Lenders must be astute to know who to do business with and who to say "no go". This one element is 90% of a successful BDC.
Net Asset Value
Main Street Capital's June 30th net asset value increased to $16.89. This is a sequential increase of $1.17 per share from the prior quarter. The increase is due to an accretive secondary and a strong 2nd quarter performance.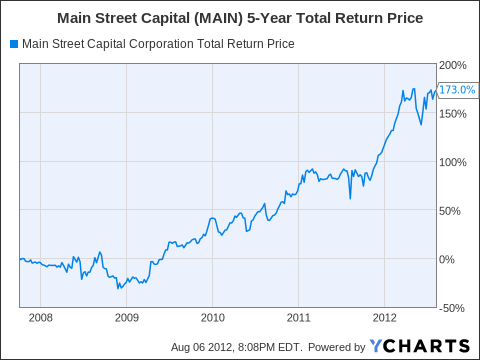 MAIN Total Return Price data by YCharts
Main Street Dividend
Main Street Capital increases their annual dividend to an annual dividend of $1.80. This dividend increase equates to a 7.3% annual yield. In addition, management stated a 25 cent special dividend is expected by year end. The Internal Revenue Service has a spillover taxable income level. Main Street Capital expects this amount to increase from a current $27 spillover taxable income to $30 spillover taxable income total by year end. Currently the level amounts to 87 cents per share.
Income investors should expect an extra 1% special dividend, 25 cents per share, paid out at the end of the year. The tax rate on spillover taxable income varies by one's unique tax circumstances.
Realty Income Corp. (O)
Realty Income has my favorite corporate trademark: "The Monthly Dividend Company". A monthly dividend is what I seek out as an investment. A monthly dividend check is suitable for living expenses matching up with monthly income.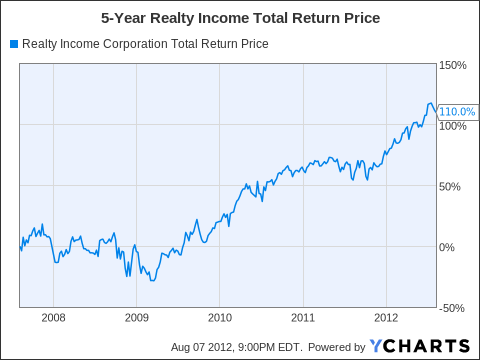 O Total Return Price data by YCharts
Realty Income presented a positive 2nd quarter conference call. Paul Meurer, Chief Financial Officer, stated tenants were in good shape. He believes the 3rd quarter is likely to be absent of any tenant problems. Tenants who pay their bills are the perfect client.
The company redeemed "7.375% preferred B" shares. The preferred F offering proceeds were, in part, used to redeem the higher yielding preferred B shares. The $1 million in annual cost savings drops down to the bottom line.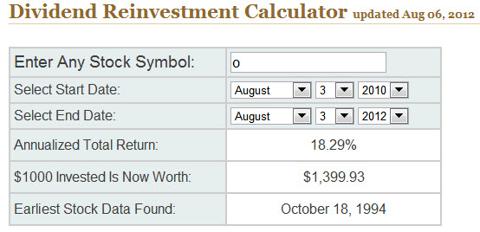 Realty Income reported 2nd quarter revenues of $114.7 million. This is a 17.3% increase compared to 2011's 2nd quarter revenues of $97.8 million. The 2nd quarter net income per share was 25 cents, down 1 cent from 2011's 2nd quarter net income per share of 26 cents.
The annual dividend is currently 14.6 cents per month. The company has increased, fractionally, its quarterly dividend by 59 consecutive quarters. This equates to a 4.3% annual yield, assuming an August 7th stock price of $40.75 per share.
The Gabelli Global Gold, Natural Resources & Income Trust (GGN)
The Gabelli Global Gold closed end fund invests in gold and natural resource stocks. Per the below data, the annualized total return has been 1.87%. The SEC N2 Filing shows the current holdings. The goal is to sell covered calls against long positions. The fund's net asset value can be found, after hours, with the symbol 'XGGNX'.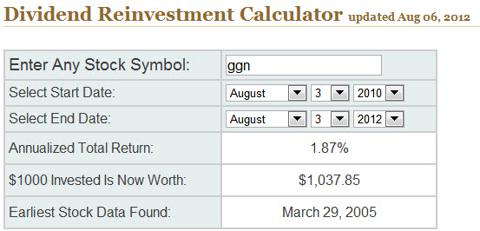 Investors should purchase a closed end fund trading near or at a discount to net asset value. The above table shows the Gabelli Global Gold shares, with dividends reinvested have yielded an unimpressive 1.87% per year on an annualized basis.
The closed end fund invests in gold and natural resource stocks. The fund has paid a monthly dividend of 14 cents per share. The fund's net asset value is $13.51 and the equity is trading at $13.80. This is a 2.1% premium over net asset value. The current yield is 12.17% per year.
ARMOUR Residential REIT (ARR)
ARMOUR has produced an outstanding 29.31% annualized return over the past two years, assuming the investor reinvested the dividends. ARMOUR is an agency mREIT. They borrow via repurchase agreements and other short term lending securities. ARMOUR management then buys longer duration Government Sponsored Entity (GSE) Mortgage Backed Securities (MBS). The difference is a gross yield margin. Management hedges the positions (e.g. swaps, derivatives, hedges) to mitigate negative book value per share distortions.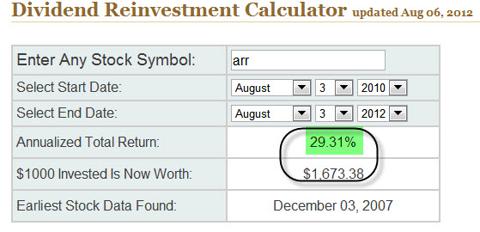 ARMOUR currently pays 10 cents per share every month. This is a 16.1% annualized dividend yield. The current book value per share is $6.79 per share.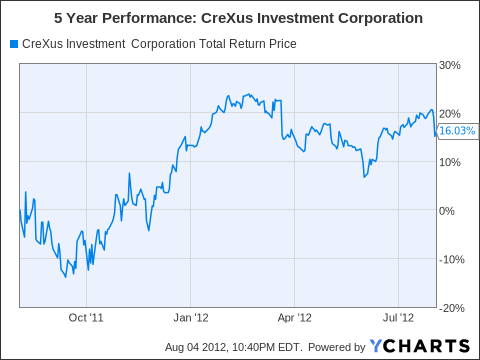 CXS Total Return Price data by YCharts
Baytex Energy Corp. (BTE)
Baytex Energy is an oil and gas production company focused in the Western Canadian Sedimentary Basin and light oil wells in North Dakota. The company's focus is to grow internally. Baytex retains a portion of its earnings for growth projects.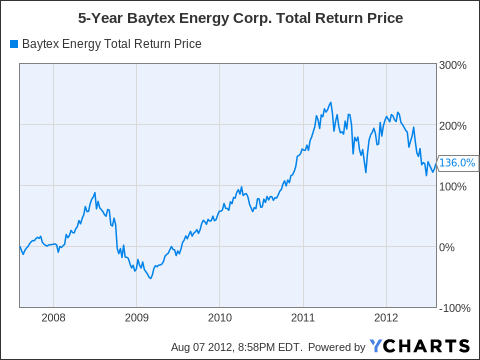 BTE Total Return Price data by YCharts
Baytex Energy offers a 6.4% annual dividend yield. The Canadian entity has a growth and income focus. Investors should be aware the ex Baytex Chief Executive Officer left due to differences with the board of directors. July's monthly dividend was 21.8 cents per share. Tony Marino is now Chief Operating Officer (COO) at Vermilion Energy Inc.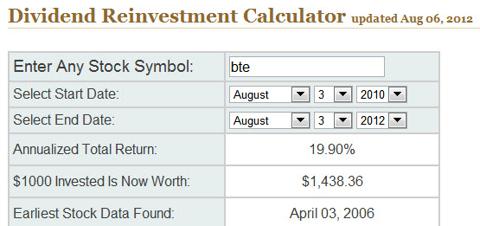 Baytex has returned an annualized 19.90% return over the past 2 years, assuming dividends were reinvested into new shares.
August 1st: New CEO
Baytex is currently in a "show me" stage. As Mr. Marino left, the Chief Executive Officer was finally filled after 3 months. James Bowzer was announced, on August 1st, as the new Chief Executive Officer. Mr. Bowzer is a former vice president of North American production for Marathon Oil Corp.
Action
Monthly dividend stocks can provide steady income to match income versus expenses. The key is to identify sustainable monthly dividends. This is easier said than done.
Every quarter presents new challenges and new opportunities for income investors. My goal is "return of invested capital". Secondly, I focus upon "return on invested capital". As always God speed and Caveat Emptor.
Disclosure: Longrundata.com, and the terrific owners, have provided access to their DRIP calculation charts. Todd