Cott Corp. (NYSE:COT) shares rose 13% on Monday after New York-based hedge fund Crescendo Partners said it has acquired a significant stake in the struggling soft drink maker and plans to shake things up in the boardroom.
Crescendo has purchased an 8.7% stake in Cott, stating in various reports that it plans to meet with Cott executives to discuss possible changes to the management team and board of directors.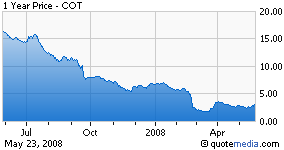 Cott shares have been hit hard in recent months, falling to a low of one-year C$1.74 in March, after its prized relationship with Wal-Mart (NYSE:WMT) appeared to fizzle when the latter announced in February that it is reducing shelf space and merchandising support for its private label carbonated soft drinks in the U.S., including Sam's Choice, the retailer brand produced by Cott.
While Cott shares have rallied of late and now trade at C$3.60, up C$0.43 on the day, the stock's value pales in comparison to the 52-week high of C$17.56 reached on May 30, 2007.