O, what a tangled web we weave.
In a turn of events that is becoming disturbingly familiar, another British bank has been accused of illegal activity. Standard Chartered Plc (OTCPK:SCBFF), which up until now has been the golden boy of analysts, has until 10 a.m. on August 15th to explain why it should not be cut out of the herd and slaughtered by the New York Department of Financial Services.
Standard Chartered denied the charges, but the damage has been done. Some $17 billion has already been erased from Standard's stock value, and the celebrated bank only has further to fall in the days to come.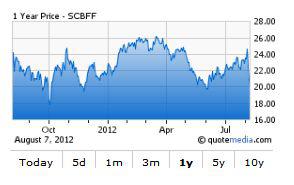 The language of the NYDFS order is peppered with phrases like "staggering cover up", "helped to sustain a global threat to peace and prosperity", "motivated by greed", "by any definition, any bank that engages in such conduct is unsafe and unsound", "programmatically engaged in deceptive and fraudulent conduct", and "all manner of criminal activity."
Brutal. And the NYDFS has the documents to back it up.
Even the most cursory glance at the order filed Monday by the Department of Financial Services makes it abundantly clear that Standard is up a very foul smelling creek without a paddle - or hands, for that matter.
Superintendent Benjamin M. Lawsky and the NYDFS have emails from SCB's Compliance Manager.
They have memos with code names like "Project Gazelle" from high level bank executives in the United Arab Emirates to the Executive Director for Risk and Group Head of Global Markets.
They've got an email from SCB's Legal Advisor to its Product Manager, Group Head of Audit, and Global Head of Business Segment, stating:
...our payment instructions [for Iranian Clients] should not identify the client or the purpose of the payment.
The NYDFS has an email from an SCB Manager in London to the Head of Cash Management Services detailing how to alter identifier codes in order to hide the source of the funds from authorities in New York. One such manual is actually entitled, "Quality Operating Procedure Iranian Bank Processing." It directs SCB London employees to "repair payment[s] by making appropriate changes" to transacting party codes and provides step-by-step wire stripping instructions for any payment messages containing information that would identify Iranian Clients.
One directive reads:
"[e]nsure that if the field 52 of the payment is blank or displayes [sic] any SWIFT code that it is overtyped at the repair stage to a..." "This will change the outgoing field 52 on the MT103 to a field 52D of..." "Or, in the case of a "normal" MT202 instruction change the field 52 on the outgoing MT202 to [SCB's New York branch] to a..." (Note: if this is not done then the Iranian Bank SWIFT code may appear - depending on routing - on the payment message being sent to [the New York branch]) (emphasis added)
It gets worse. The NYDFS has a "panicked message" from the top SCB official for business in the Americas, whom the regulator did not name, warning that the Iranian deals could cause "catastrophic reputational damage" and "serious criminal liability." They also have an email detailing SCB's response:
You f----ing Americans. Who are you to tell us, the rest of the world, that we're not going to deal with the Iranians.
British Reaction
British newspapers are desperately trying to give Standard the benefit of the doubt, citing the "mercantilist instinct in American regulation".
Labour MP John Mann is requesting a government review into "an increasing anti-British bias by U.S. regulators and politicians aimed at shifting financial markets from London to New York".
Richard Blackden in the U.K. Telegraph writes that "British banks have badly misread how the politics around anti-money laundering have changed in the U.S."
Further:
For those who work in the anti-money laundering (AML) business in the U.S., the note of panic from the executive in New York is telling.
D-Day
So what happens on August 15th, at 10 a.m.? That's the day when, pursuant to Banking Law § 39, representatives from SCB are ordered to appear before Benjamin Lawsky at the NYDFS offices at One State Street Plaza, New York, NY 10004, to explain,
these apparent violations of law and to demonstrate why SCB's license to operate in the State of New York should not be revoked; and

IT IS HEREBY FURTHER ORDERED that, on August 15, 2012, SCB shall also

demonstrate why, pursuant to Banking Law § 40(2), SCB's U.S. dollar clearing operations should not be suspended pending a formal license revocation hearing (emphasis added)
The Fallout
How much could this cost Standard Chartered? The reason it has a U.S. office is to clear global U.S. dollar transactions for China and other emerging markets.
How much does Standard clear? Courtesy of its website:
Standard Chartered was one of the first foreign banks to be invited to join the Clearing House Interbank Payment System (CHIPS). Standard Chartered currently ranks seventh in volume on the CHIPS system, clearing about US$195 billion on an average day.
Worse is the hit to Standard Chartered's formerly impeccable reputation. If Standard Chartered is found guilty of laundering money for Iran, it is doomed. Game over. Nothing but an acquisition, complete with a new name, can save the bank.
As for the notion that Standard Chartered does business with over 70 countries and can survive without its U.S. subsidiary?
Remember what happened to a company named Drexel Burnham Lambert when it was exposed to the possibility of a RICO indictment? Everyone thought Drexel could survive, too.
It didn't.
Conclusion
If you can still short Standard Chartered, now is the time. By August 15th, the market will have priced in a guilty plea. If you own Standard Chartered, you have three options:
You can try to ride it out with what you have.

You can increase your stake at a huge discount. After all, many of these infractions appeared to have occurred years ago, before the U.S. declared a worldwide financial intifada against Iran.

You can take your chips off the table and sell. (They've got emails!)
I'd pick c.
Disclosure: I have no positions in any stocks mentioned, and no plans to initiate any positions within the next 72 hours.