Not too long ago we saw a move upward with respect to retailers. This was based on the fact that most of the bad news had been baked into these stocks. This was shown as they reported earnings last quarter and no matter how bad the news, most of the stocks held their ground or moved upward. The oversold positioning of these stocks gave them additional support at their levels and continued to for some time.
I believe that this sector is headed downward in the short term. My basis for this argument is easy - oil. When the numbers were placed in these stocks last quarter, it was on the thesis that oil was "toppy" and would not move higher. Well, oil did and many of these stocks have not pulled back to their lows. I would stay away from any of the high end retailers, as oil does not affect people who buy $150 t-shirts, but it does affect the middle class and even into the upper middle class. Basically, anyone who has the ability to overextend themselves with homes or vehicles that they cannot afford. This keeping up with the Joneses is the area that I am focused on.
The reason I say this, is that when things get tight for a family, they still spend money on their children (don't want them to not be cool), and even the family dog, but not those nice items for the wife to add to her walk-in closet of expensive sweaters or slacks. Stores that fixate on this will be hit harder than others. They already have, as I have walked through Macy's (NYSE:M) and seen tons of garments, such as Tommy and DKNY, that have already begun to hit the clearance racks. I am not just talking about winter hold over, but shorts and tanks already have 40%-50% off. The same is seen in Herberger's.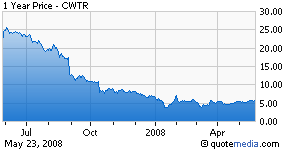 Most of these companies will continue to see o.k numbers as they have teens and other garments sections to fall back on. Coldwater Creek (NASDAQ:CWTR) may be another story. This company pursues females over the age of 35. As gas has become more expensive, many of these women will scale back on their wants. Family vacations are still going to happen, although they will not be as far or extravagant, and these women will have to cut back on clothing costs to to finance their vacations. Another interesting aspect of this company is their spas. This is important as these treatments and other frilly wants are the first to go when the money isn't there.
The first thing I focus on with stocks is their trend. Before earnings, some stocks will trend down or up. This generally, but not always, says where the smart money is going. Coldwater Creek has experienced a bearish trend. On May 19th, this stock had a high of $5.76. On May 22nd, there was another move at this level and a quick double top occurred that day. The stock hit $5.83 twice on heavy volume and pulled back quickly. It found a level of resistance at $5.50 and rested there to end the week. Looking at the chart, the last high area of volume seems to be around $4. I believe the stock will pull back to these levels if numbers are as bad as I project.
Coldwater Creek was one of the darlings of the stock market for some time. This retail environment has changed things. They swung from profit to loss in 2007, and on April 21st stated that they would reduce its quarterly fixed charge to its $60 million, 5 year credit facility. The company also had to promise not to buy back stock until May of 2009. Their fourth quarter loss was blamed on reduced traffic and increased clearance sales. They still hit earnings estimates but missed revenue by 6%. Look for this trend to continue, although I do not believe they will hit earnings estimates.
I believe management is also making a mistake with reference to opening more stores, especially in malls around the country. This company looked much better as an internet only company. It opened 65 stores last year and 50 are expected to be opened this year. I would like to have seen their acknowledgment of difficulty and an opening freeze throughout the year. Their plan as of March 5th was to decrease inventory and to lower advertising 70% and lower catalog circulation by 20%. It may have been a better idea to lower openings and focus on the current stores that are having difficulty.
Current analyst estimates are eye-popping. This quarter earnings will plummet 233% year over year. Next quarter's decrease is 177% year over year. Full year is estimated to be down 366%. I still believe these numbers are far too low as this group of consumers are tightening their belts further and will for some time as energy prices continue to increase, not to mention food pricing. Look for Coldwater to get pummeled. It won't be long before they are looking for additional credit and announcing massive store closings. It would not be surprising if there is a delisting in the near future. This one can be shorted long term.
Disclosure: none