As I scanned the stock charts this week, I didn't find any suitable low risk/high reward long trade setups. I did find a bunch of short sale candidates, I'm sorry to say for those who are looking to go long for some reason.
The "trend is your friend", and long term the trend still looks down to me as many fundamental reasons will attest. And just because prices look cheap now, doesn't mean it's time to buy. Those low prices could still go lower, for the opposite reasons as those prices went higher and higher before.
Actually this stock pick of mine here has been going higher and higher since December 2007 unlike most of the US stocks heading south since New Years, although we've had an upward correction, which I would call a dead cat bounce. My opinion, it's back down from here for awhile, but we'll have to let time play it self out and see. Don't you just love this speculation business? Buy sell, and don't forget to use stop-loss to trade and invest another day.
Short Sell Fomento Economico Mexicano SAB de CV (NYSE:FMX)
FMX Trade Setup:
- Accumulate sell positions at current prices of $46.70 up to $51.00.
- Stop-Loss at $52.15 to $56.90.
Take Profit Areas:
- Short Term $44.66.
- Intermediate Term $42.93.
- Long Term $39.65.
- Longer Term $37.93.
FMX Company Profile
Foment Economico Mexicano SAB de CV [FEMSA] is a Mexico-based holding company engaged in beverage sector. It operates through subsidiaries, including Coca-Cola FEMSA SA de CV, FEMSA Cerveza SA de CV, FEMSA Comercio SA de CV. Coca-Cola FEMSA SA de CV is engaged in the production, distribution and marketing of certain Coca-Cola trademark beverages in Mexico, Guatemala, Nicaragua, Venezuela, Colombia, Brazil, Costa Rica, Panama and Argentina. FEMSA Cerveza SA de CV produces, distributes and markets various beer brands in Mexico and Brasil. FEMSA Comercio SA de CV is engaged in the operation of the chain of OXXO convenience stores. As of December 31, 2007 FEMSA Comercio SA de CV operated 5,563 stores in the main cities of Mexico. The Company is headquartered in Monterrey, Mexico.
My Analysis to Short Sell FMX
On a fundamental basis, FMX price to earnings ratio is 123.49 and the industries PE is 41.91. I know the emerging markets are growing strong, but this PE is excessive in the short and intermediate term in my opinion. I would be a possible buyer when earnings increase or the stock price decreases, or both. Right now that magic point for me would be under $40.00 a share. If earnings to catch up, the raise that buy price target proportionally.
On the hype basis, when I see most of the analysts recommending buying this stock, I start to get interested in selling it. Remember when some big brokerage was recommending a buy on a stock, and the price started heading south right after you bought it? I do. Live and learn or go bust.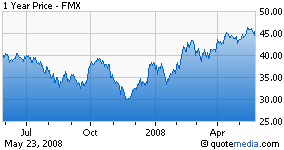 On a technical basis, I see FMX completing its 5th wave in the long intermediate and short term. So my main reason for selling it at current prices, and if the price keeps going up, accumulating more sell positions at higher prices in this stock. See my FMX Trade Setup information above. For those who don't know "The Waves" thing, I'm speaking of Elliott Wave Analysis. Its trading based on human emotion and psychology. History repeats it itself people, and you can book profits on it all the way to the bank.
Disclosure: Short