Warren Buffett recently said that the US is already in a recession and I totally agree with him.

Buffett added that it is "perhaps not in the sense that economists would define it" with two consecutive quarters of negative growth, "but the people are already feeling the effects," said Buffett. "It will be deeper and last longer than many think."
There are 3 main reasons behind this recession:
Demand pull inflation due to rising oil and food prices (the main thrust behind the recession)
When people spend more money on food and oil, they will have to spend less on other consumerable goods.
Take a look at the consumer confidence survey: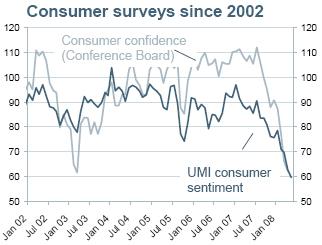 Cost push inflation affecting the transport, courier and airline industry due to rising oil prices
Many stocks in these industries are already trading near their 52 week lows while they continue to absorb the high costs of oil.
American Airlines (NASDAQ:AMR) is at $6.32. Its 52 week low is $6.00 while its 52 week high is $29.32.
Delta Air Lines (NYSE:DAL) is at $5.50. Its 52 week low is $5.37 while its 52 week high is $21.80.
Federal Express (NYSE:FDX) is at $86.83. Its 52 week low is $80.00 while its 52 week high is $119.10.
Aftermath of the sub-prime crisis and the ensuing credit crunch
Although many analysts believe that the credit crunch is easing, they are still taking write downs and I believe that it will continue for some time
It seems that an economic slowdown during the 2nd half of 2008 seems increasing likely.