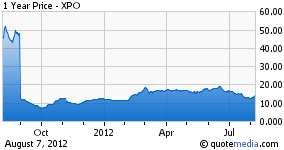 XPO Logistics (XPO) announced its Q2 earnings after the market closed on Monday, and on Tuesday its stock closed higher by more than 9% in reaction to the report. The company, led by former United Rentals (URI) and United Waste Systems founder Bradley Jacobs, had lost nearly 30% of its value ahead of earnings. The reason for its decline was due to questions of whether or not the high-profile CEO and his executive team could meet such high expectations. And although the company's revenue was just $54.5 million, 23.7% gain year-over-year, it reflected significant improvements and once again showed that there is more to XPO earnings than just top and bottom line numbers.
Monday after the market closed I had the privilege of speaking with CEO Bradley Jacobs and Scott Malat, who joined XPO as the chief strategy officer from Goldman Sachs (GS). My goal was to break down the company's earnings, and ask some of the questions that have led to debate among investors and the decline of its stock.
The first question I wanted to ask was in regards to the performance of freight forwarding. This particular segment of the business had previously posted year-over-year loss (past five quarters), therefore I asked Jacobs "what has led to the turnaround or gains from the freight forwarding segment?" I felt as though it was an important question seeing as how it is vital to the growth of the company. He responded by saying:
"Freight forwarding's performance reflects the investments we're making in new company offices" He explained, "We announced new offices in L.A., we also announced Charlotte, Atlanta, and then Newark which are all responsible for driving these gains."

I then asked Jacobs to explain such aggressive expansion with company offices and he said, "We like company owned businesses because we can really push through our marketing, our initiatives, our metrics, and the way we look at business, conduct monthly operating reviews, and then improve performance, which is what has been happening here at XPO."
The good news is that freight forwarding is growing, and judging by Jacobs' response it looks to be moving in the right direction long-term. However, the number one question in the minds of all investors is the economy, and how the economy impacts the environment for acquisitions. Therefore, I asked Jacobs to explain how the economy is impacting new acquisitions, and how XPO is navigating through a rough economy (this question was provided by investor Brad Loncar).
"The general economy is sluggish and flat and the amount of spot freight out there is scarcer than a year ago. Having said that our business plan is somewhat insulated from the macro conditions because we are still so small that we can grow really fast by doing cold starts, acquisitions, or by hiring sales people, which is how we're navigating through a challenging economy."
Jacobs then went on to talk about the latest acquisition Kelron:
"In terms of Kelron, it was a great deal!" He explained, "This is a $100 million truck brokerage, with offices in Toronto, Vancouver, Montreal, and Cleveland. Kelron has been in business over 20 years and has great relationships with over 1000 customers, 500 carriers, and we've already started connecting the Kelron team to our national operations, which are in Charlotte, to give them access to our capacity (our trucks)."
He continued to say, "And with our capacity we are seeking to earn a significantly larger share of Kelron's long-term customers, and we are migrating them to our technology platform which will give them greater efficiency, greater productivity, and we're going to grow the business by adding salespeople at each of their four locations."
"And that's why we bought Kelron, that's how we're going to improve Kelron, and that's how Kelron is going to improve us (by bringing their history, their carriers, and lane history into our IT database)" And it also enhances XPO's system in terms of pricing and in price discovery in terms of finding trucks. There is a lot of synergy between Kelron and XPO."
After hearing his response to how this acquisition was going to help XPO, and how XPO was going to help Kelron, I couldn't help but to think "Wow, this is a game changer for XPO!" And in my opinion, this acquisition is the first that will bring significant and noticeable changes to the company's sales therefore making the company a house hold name. Because at first, I was a bit skeptical of this business, and the financial well-being of Kelron, seeing as how $100 million in sales increases XPO's revenue by about 50% and was acquired for just $8 million. Therefore, I asked Jacobs about any possible issues with the company, and if there were any negatives to the purchase (just to clear up any concerns) and Jacobs responded by saying:
"Each and every acquisition requires operational excellence, focus on the integration and growing the business. But with any acquisition there will be risk, and we are comfortable with that risk, and we think it's a business that we can improve the profitability by quite a lot. We think the professional management that we bring to the table can improve Kelron quite a bit allowing XPO and Kelron to benefit from each other."
Since we were talking about acquisitions I brought up the next step of the long-term goal and asked Jacobs what we should expect in terms of acquisitions and how it relates to the company's long-term goal.
He said, "We are looking at 100's of deals and are being very selective, methodical, and disciplined regarding which ones we are buying. We had a goal of $250 million for the year and we're sticking to that goal. We are right where we want to be, at about $123 million, and feel that we will get to $250 million in acquisitions by the end of the year."
I think the above statement is important, as the company is right where it wants to be in terms of acquisitions. It's growing at a steady yet rapid pace having acquired two companies with over $120 million in revenue over the last four months, and purchased both of these companies for less than $12 million total. This shows that XPO is getting the best deals, as you rarely see a company with $100 million in revenue being purchased for $8 million. However, I suppose it shouldn't be too surprising, these are the deals that Bradley Jacobs and his team seek, and it's because of proper execution that Jacobs has succeeded at building multi-billion dollar companies throughout the course of his career.
After discussing the acquisition strategy and where the company stands with its plan, we turned our attention to the other piece of the puzzle, which are cold starts. Back in February when I spoke with Jacobs he told me that the company had a goal to open five cold starts in 2012. Yet after the second quarter the company now has seven cold starts, and it's only August. Below is what Jacobs said in regards to cold starts:
"We met four strong cold-start managers who wanted to do cold starts for us in different areas of the country, who were industry veterans that knew what they were doing and who had the same kind of ethics and values that we were looking for, and we were able to make a deal with them. It was great! We were only looking for two but found four, so it made sense to take all four of them." He also said, "We're still looking for additional strong operational people with track records of growing brokerage operations and if we find more great people we'll go ahead and hire more. We don't feel pressure, but if we find the right people we will hire."
Jacobs went on to say, "We are now up to 50 locations, which is a pretty significant number, with 25 being company owned and 25 being agent locations, which have nearly doubled since I joined XPO Logistics.
Finally, before the conversation ended, I asked Mr. Jacobs to comment on the operations of the company, which include margins new hires, etc. and he said:
"We are starting to see significant improvements in the operations. The revenue and gross margin dollars are both higher." We hired four great people, Dave Rowe is our Chief Technology Officer who reports to CIO Mario Harick. Rowe is a legend in the industry, previously as the CTO of Echo, which has marvelous IT, and he led the design and development for their platform."
I then asked Mr. Jacobs what we could expect to see in terms of growth and acquisitions for the remainder of the year, and he responded by saying:
"Our goal all along was to do about 5 cold starts for the year and purchase $250 million of acquired companies. We are a little ahead of schedule on cold starts but are on pace with acquisitions. I don't think we'll do a whole lot more or a whole lot less than the $250 million in acquisitions that we've been saying that we are going to do for the year. That's or goal. We are trying to be as methodical and disciplined as possible, and sticking to our plans that we set out. We're looking to buy another $125 or $130 million in revenue by the end of the year."
Conclusion:
Personally, as a long-term investor, I feel this quarter was a transitional quarter, from XPO being a speculative value play to a true growth value investment. The company has completed two significant acquisitions and still has over $190 million in cash and no debt therefore allowing the company to maintain its aggressive growth plan. In the past, some had speculated as to whether or not Jacobs had gotten too far ahead of himself by saying that he would turn XPO into a multibillion dollar business and that it would reach a revenue run rate of $500 million by the end of 2012.
With this latest quarter, that includes yet another acquisition and a total of seven cold starts, there is now no reason to question his word. He has succeeded in every step of the way. He is a CEO who does not panic when the stock trades slightly lower, and does not manage his business on a quarter-to-quarter basis. He is growing the company aggressively, and has an all-star team in place with expertise in mergers & acquisitions, transportation, and business, with companies such as C.H. Robinson Worldwide (CHRW), FedEx (FDX), and General Electric (GE). Jacobs has the IT platform in place to integrate the acquisitions, and I feel that in the next few years the long-term $70 price target of Jefferies will be an afterthought. Because with such aggressive revenue growth this company will soon catch the eye of a larger audience and will trade significantly higher, and when it happens, it will be just as aggressive as Jacobs' growth strategy, which is working to perfection.
Disclosure: I am long XPO. The conversation between Bradley Jacobs and Brian Nichols has been edited for length, grammar, clarity, and readability.