It has been an annus horribilis for Telefonica (NYSE:TEF) shareholders who have seen more than $80 billion of shareholder value destroyed with the company's share price almost halving over the last year. For this reason investors are now looking at the company as a value opportunity, yet in my first article I concluded that Telefonica is a "value trap." In this article, which is a followup to my recent review of Telefonica's second-quarter earnings, I have taken a deep dive into its valuation metrics in comparison with its peers to determine whether it does offer value for investors.
Share price performance
The outlook for the global telecommunications has been growing particularly somber of late and this has had an impact on the price performance of telecommunications stocks. However, Telefonica over the last year has substantially underperformed the majority of its peers, including those that like it have significant operations in European and Latin American markets.
The chart below compares Telefonica's share price performance over the last year with its primary Latin American competitor America Movil (NYSE:AMX) as well as European competitors including Telecom Italia (NYSE:TI),Vodafone (NASDAQ:VOD) and France Telecom (FTE).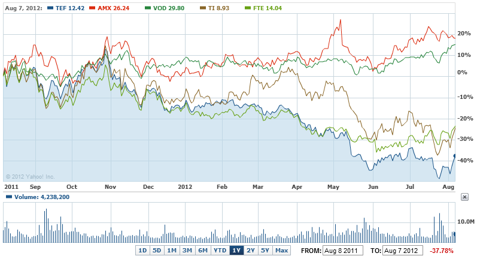 source: Yahoo Finance
Risks
The telecommunications industry in Europe and Latin America is currently facing a number of industry wide risks including:
Economic headwinds, predominantly as a result of Europe's financial crisis and a slowing global economy.
Regulatory risk and uncertainty with changes already in place in Europe that have seen mobile network termination costs reduced and similar moves afoot in Latin America.
For those operating in Latin America there is increasing political and regulatory risk with the recent spate of nationalizations and increasing government economic intervention in the region.
These risks to a varying degree affect each of the companies discussed in this article particularly as all but Vodafone and France Telecom operate in multiple markets across both regions.
Valuation
Often, investors complain of mismanagement, while only paying attention to the share price, which on its own is not a particularly accurate means of measuring the value of a company. In the case of Telefonica, over the last year its trailing twelve month price-to-earnings ratio has not changed significantly, moving in a range between 7 to 13 despite its share price falling by around 40% in that time.
This can be explained by the company's cumulative trailing earnings-per-share falling in value over the same period with second quarter 2012 EPS of 38 cents, 14% lower than for the same period in 2011.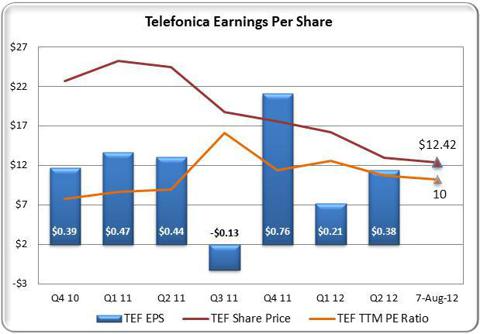 source data: Telefonica financial filings 1Q 2010 to 1H 2012, Yahoo Finance
As the table below illustrates, Telefonica's PE ratio does make it appear cheap in comparison with its peers. But with a recent history of declining EPS, which is likely to continue for the foreseeable future, the sentiment driving down the substantially lower share price is justified.

Of further interest is that despite Telefonica's price having fallen so significantly it is still trading at a premium to its book value of around 60%. For a company that has almost seen its share price halve in a year I would be expecting it to be trading at a slight premium or even a discount to its book value. This is the case when the share prices of France Telecom and Telecom Italia are considered with each trading at a discount of 4% and 20% to their book values respectively.
Enterprise Value to EBITDA also indicates that Telefonica is a better value than some of its peers but unlike Telecom Italia or France Telecom it doesn't indicate that Telefonica is cheap. This can be attributed to the significant amount of debt being carried by the company.
Based upon these measures Telefonica overall appears to be fairly valued by the market. Of the telecommunication companies compared only America Movil appears expensive, with Vodafone fairly priced.
Debt profiles
One of the most significant issues facing Telefonica, which is also a key risk for investors, is the company's significant level of debt. As the table below illustrates the company has a debt-to-equity ratio of 265%, which is far higher than many of its peers including those compared in this article.

Telefonica's debt-to-equity ratio is almost double the industry average of 147% and more than one and one-half times Telecom Italia's and America Movil's, which are the next heavily leveraged of the companies listed.
The company's increasing debt is having a significant impact on the company's performance and as Mike Terry highlighted in his article latest article on Telefonica;
Telefónica currently has approximately €69 billion in debt that it has accumulated throughout the years as it has expanded its operations globally. Debt is currently 3.3x OIBDA, which is high for the ratings and will be difficult to sustain if growth continues to slow and the business and regulatory risks stay in effect.

In his article Mike goes on to point out that Telefonica is reaching a crisis point with regard to its high leverage when he states;

. . . the company continues to add leverage on both a multiple of OIBDA and as percent of capitalization basis. Debt is high, and over the next few years, OIBDA will not be able to cover debt maturities, which means the company will have to rely on asset sales (and IPOs of various subsidiaries) and bank lines to pay down debt.
Telefonica's debt issues are also highlighted by its high debt to EBITDA, which is higher than the peers listed except for Telecom Italia, as well as its debt to capitalization, which is the highest of those companies compared.
As a result, as discussed in my previous article, Telefonica has embarked on an aggressive deleveraging program composed of cost cutting and asset sales, including the suspension of the company's shareholder remuneration program. While this will allow the company to reduce its degree of leverage it will see the disposal of productive assets and a reduction in capital expenditure, both of which will more than likely cause EPS to fall further over the short to medium term.
Financial outlook
A key problem when relying upon using ratios to value a company and predict its future performance is that much of the data is historical and the rations and indicators used are lagging rather than forward-looking indicators.
In this section I am going to wrestle with that issue while trying to determine how Telefonica's valuation compares with its peers based upon its future outlook. The key ratios that I have considered are set out in the table below and include forward price to earnings, price-to-earnings growth, return on equity, profit margin and EBITDA margin.
Overall Telefonica's future growth in comparison to its current share price appears cheap to the peers listed, when it is considered that the company has a one-year forward PE of 7.5 and a PEG ratio of 0.5.

However, when considering a company's forward PE it is also important to consider whether that company is capable of delivering the forecast earnings. In the case of Telefonica this ratio was calculated using its current share price and consensus 2013 EPS of $1.86.
Given the current risks and headwinds faced by the company combined with the pressure being applied by its debt position, I believe it is unlikely that Telefonica will achieve its 2012 or 2013 consensus estimates of $1.65 and $1.86 respectively. Already quarterly revenues have declined since the full-year 2011 and EPS has fallen both on a quarter-on-quarter and year-on-year basis as the chart illustrates.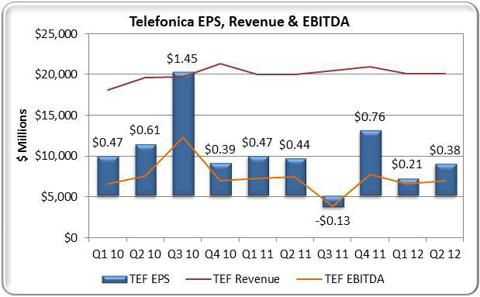 source data: Telefonica financial filings 1Q 2010 to 1H 2012
Of further concern is Telefonica's inability to convert its high degree of leverage into a stronger return on equity and much of this I believe can be attributed to its low profit margin. As the table illustrates America Movil is delivering a superior return on equity with a debt-to-equity ratio that is almost half of Telefonica's with a superior profit margin.
Bottom line
Telefonica has seen a significant run-down in its share price and this in some respects has made it appear cheap, particularly in comparison with some of its competitors. But all indications are that it is close to being fairly valued by the market at its current price. On this basis and for the reasons discussed in my previous articles I would not expect a significant recovery in the company's share price. It is also clear that the market has priced in the reality that growth in Latin America will not meet expectations, along with the macro issues now affecting Europe and the company's challenging debt burden.
Furthermore, based on the performance and valuation ratios explored in this article, no individual company analyzed stands out as particularly compelling value. America Movil appears to be over-valued in comparison with its peers, whereas Vodafone looks to be fairly valued. The cheapest valuations even in comparison to Telefonica are Telecom Italia and France Telecom. But like Telefonica both companies are cheap because they are struggling to maintain earnings in the current operating environment. In addition, they are also facing similar macro and operational risks as well their own issues concerning earnings and debt.
Disclosure: I have no positions in any stocks mentioned, and no plans to initiate any positions within the next 72 hours.