Q2 2012 was another terrible quarter for the global telecom equipment industry. China's Huawei, the last of the leading firms to report, posted a 22% percent decrease in net profits for H1 2012. Huawei's local rival ZTE (OTC:ZTCOY) published preliminary half-year profits that were down 60-80% year-on-year.
The global market leader, Ericsson (NASDAQ:ERIC), saw net profit fall by 61% in Q2. Alcatel Lucent (ALU) and Nokia Siemens Networks, the joint venture between Nokia (NYSE:NOK) and Siemens (SI), continue to struggle, both reporting losses.
While a sluggish global economy is partly to blame for the poor results, deteriorating industry profitability is not a new development. The sector has struggled for more than seven years. The main contributing factor: the emergence of Chinese competitors Huawei and ZTE on the global stage.
In this article we look at how the new Chinese competition completely altered the competitive dynamics of the sector and the impact this had on the profit margins and share price developments of the global incumbents.
The Emergence of Chinese Telecom Equipment Vendors: From the Chinese hinterland to developing markets
The telecom equipment industry was the first industry where private Chinese companies successfully expanded overseas. Beginning in the late 1990s, Chinese firms began to establish a presence in foreign markets. After more than a decade of growth, Chinese firms now account for more than 30% of the global market.
The first firm to successfully expand internationally was Shenzhen-based Huawei. Huawei was followed by ZTE, which has lagged a few years behind in terms of technology, perceived quality and market share.
Huawei started as a sales agent of fixed line telecom equipment in 1987. In 1990 the company began researching and developing its own products, targeting customers in small Chinese cities and rural areas. ZTE, which began as a semiconductor company under the Ministry of Aerospace in 1985, transformed itself into a telecommunications equipment manufacturer in the early 1990s, also focusing on rural markets in inland provinces.
Both Huawei and ZTE made their first steps outside of China in other developing markets. In 1998 Huawei built a mobile network in Kenya. The same year ZTE won a $95m project in Pakistan.
Huawei expanded most rapidly. In 2005 international sales exceed domestic sales for the first time. By 2006 African sales exceeded $2 billion across 40 countries. By 2010 it had overtaken Nokia Siemens Networks to claim the global number two spot behind Ericsson.
Global Growth Strategies
From the start, both ZTE and Huawei competed aggressively on price. For example, ZTE often undercut Joint Venture companies such as Shanghai Bell by 50% when bidding for projects in China (source: China's Telecommunication Revolution).
In addition to competing on price, Huawei's and ZTE's global growth strategies shared the following five characteristics:
'Good-enough' products developed for the local, low-end Chinese market. Often re-engineered from those of market leading competitors.
Expansion into developing markets outside of China with a product portfolio well suited for local needs and budgets (often very similar to that of China).
First inroads in mature markets mainly by offering basic solutions to cost-focused operators.
Strengthened product and service quality through R&D, joint ventures and acquisitions.
Head-on competition with leading global players in all markets.
Today, Huawei has reached the final stage, and is considered a global technology leader. Even Nordic operators (the home market of Ericsson and Nokia) admit that Ericsson's product and technology advantage over Huawei has all but disappeared.
Impact on the Global Industry
The entrance of Huawei and ZTE on the global stage completely altered the competitive dynamics of the telecom equipment sector. In combination with the global financial crisis, centralized purchasing among operators, and technology shifts, the new competition resulted in a major industry shakeout.
Out of the seven largest equipment vendors in 2004 - the year Huawei won its first major contract in Europe - only one, Ericsson, is still operating in the same corporate structure.
The need to reduce costs due to price pressure was the key rationale when four companies merged into two, with Alcatel and Lucent as well Nokia and Siemens' network business joining together.
Two other players have exited the sector completely: Nortel filed for bankruptcy in 2009; Motorola sold its struggling networks business in 2011.
Profit Margin analysis
Huawei and ZTE's main competitive advantage was products with sufficient functionality at very low prices. Combining reverse engineered technology and low labor cost, production costs were up to 70% below those of incumbents (according to A.T. Kearney analysis). Competing aggressively on price continued to be the hallmark of the Chinese telecom players as they moved into more advanced markets and product segments.
Increased competition and the aggressive pricing of the Chinese firms led to major price deterioration. Over the past seven years, the unit price of telecom equipment has, on average, fallen by more than 10% annually, and companies have found it difficult to charge for software and features that increase network capacity and functionality.
The fast technological 'catch-up' of the Chinese firms soon led to the price pressure spreading to products at the technological forefront, such as high speed mobile broadband products. Having recovered from the dot-com bubble, the industry was having average net profit margins in the 10-15% range between 2004 and 2006. Following the entrance of Chinese firms net margins dropped significantly.
Out of the top three incumbents, Nokia Siemens Networks and Alcatel-Lucent fared worse. Alcatel-Lucent has battled for survival, making significant losses between 2007 and 2010, barely returning to profitability in 2011 after aggressive cost cutting. Nokia Siemens Networks has reported losses every year since 2007, almost reaching break-even in 2011.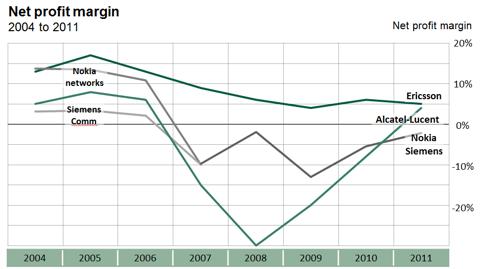 Graph sources: Company quarterly reports, adjustments for non-recurring items by Stenvall Skoeld & Company
Ericsson, the industry leader and the company that handled the technology shifts and the emergence of the Chinese competitors the best, has strengthened its position in terms of market share, growing its top line by 50 percent over the last seven years. But Ericsson's net profit margin has decreased by two thirds; net income in 2011 was only half of that in 2005. Margins have continued to slide during 2012, and the company reported a net margin of 2% for Q2.
Impact on stock prices
The collapse in profits has been hard felt by shareholders. The S&P North American Technology Multimedia Networking Index, tracked by IGN, which is the index closest benchmark for telecom equipment manufacturers, is down by 24% from January 2005 to July 2012.
The telecom equipment firms have been some of the worst performers in the index. Between January 2005 and July 2012 Ericsson's share price is down 45%. Alcatel-Lucent, which has the worst record, has seen its share price fall by 93%. During the same time, the NASDAQ index gained 32%.
Motorola saw its price fall by 54% from the beginning of 2005 to July 2010, when it announced the sale of its network business.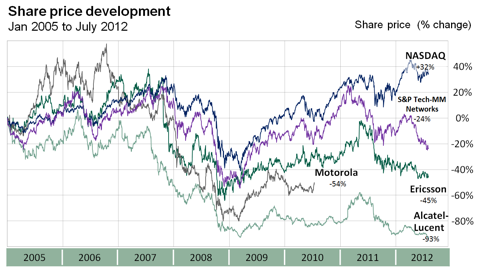 Graph data sources: Yahoo finance, YCharts
What's next for the telecom equipment industry?
We see two key factors driving long-term industry profitability and share prices for the sector. First, despite the shake-out, there are still too many players in the sector to support healthy industry margins. We think more companies are likely to exit the sector. Secondly, we believe the Chinese firms will increase their prices as their market shares increase.
Long-term, this development could significantly reduce industry competition and allow the 'survivors' to achieve more attractive margins.
Emerging Chinese competitors in other industries
While foreign multinationals have been quick to realize the importance of the Chinese market as a source of profits, most seriously underestimate the competitive threat posed by leading Chinese companies.
Internationally competitive Chinese companies are emerging in a range of different industries. In the construction machinery sector, for example, Chinese companies such as Zoomlion (1157 HK), Lonking (3339 HK), and Sany Heavy Machinery (600031 CH) are emerging as a strong competitors to established makers such as Caterpillar (NYSE:CAT), Komatsu (OTCPK:KMTUY), Volvo (VOLVB SS), Atlas Copco (OTCPK:ATLKY), Sandvik (OTCPK:SDVKY) and Joy Global (NYSE:JOY). In International Construction's 2012 ranking of the world's large equipment manufacturers, seven Chinese firms made the top 25.
The medical device industry is another industry where Chinese companies are starting to be competitive in a growing number of niches. Companies such as Golden Meditech Co. Ltd. (HK listed), Shandong Weigao Group Medical Polymer Co. Ltd. (0801 HK), Mindray Medical International Ltd. (NYSE:MR) and Yuyue Medical (002223 SH) will challenge incumbents such as Boston Scientific Corporation (NYSE:BSX), St. Jude Medical, Inc. (NYSE:STJ) and Medtronic (NYSE:MDT), especially in emerging markets. But given what we have seen in the telecom equipment sector, it can affect home markets faster than expected.
The strategies employed by many of the emerging Chinese multinationals have a lot in common with those of Huawei and ZTE. Intense competition on price is combined with offering good enough products focusing on other developing markets. And then, head on competition with incumbents in their home markets.
In order to avoid a fate similar to that of the telecom equipment vendors, multinational companies in other industries must not underestimate the speed and increasing competitiveness of their leading Chinese competitors. Instead they need to acknowledge the threat, understand their Chinese competitors, and quickly devise strategies to deal with the new competitive environment.
Investors, in turn, need to scrutinize growth forecasts which often rely on demand from developing markets. Many firms will struggle to achieve their often ambitious growth targets as a consequence of new competitors from China and other developing markets.
Disclosure: I have no positions in any stocks mentioned, and no plans to initiate any positions within the next 72 hours.