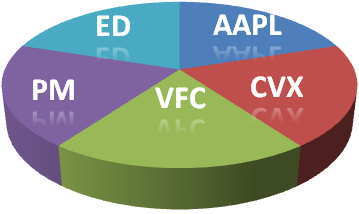 I created the Great Recession II portfolio in August 2011, when I felt that the global economy was deteriorating at an accelerating rate. My objective was to select five companies that would "serve you well today and for years to come." The investment objective is to own well-managed companies that will not only weather the downturn, but will also be poised for growth after the recovery begins. The five selected companies are from diverse industries with a definite defensive tilt that is not overly reliant on consumer spending. The economic recovery still has not taken hold, but that has not stopped the portfolio from outperforming the S&P 500 by 17.5% the past year. The portfolio also has a current yield of 2.8% versus approximately 1.9% for the S&P 500.
For simplicity's sake, the returns utilized reflect equal-weighting of the equities, as I received feedback saying that they would like this portfolio to remain passive. I called for you to reduce your weighting in VFCorp (NYSE:VFC) and to acquire Apple (NASDAQ:AAPL) in November 2011 to capitalize on VFC's strong performance in Summer 2011 and Apple's lagging performance. Since November, VFC 'only' appreciated by ten percent, while Apple skyrocketed nearly seventy percent. If the weighting of Apple were shifted in November 2011, the overall portfolio performance would have been closer to 40% rather than 34%.
(Source: Google Finance)
I continue to recommend the five core stocks in the Great Recession II portfolio, but that could change at any time. I envision these equities as a great way to initiate a diversified portfolio, but I believe that each could complement your current investments. The information presented below should simply be a starting point for further research in consultation with your professional financial advisor and accountant before you make any investment decisions. Next, I will analyze the recent developments for the five companies.
Apple (AAPL): Up 67.0%
Apple has been one of the best performing stocks over the past year, as its market cap has ballooned to $585B after briefly surpassing the mythical $600B point in April of this year. The iPhone 4S and New iPad both broke sales records for Apple, while the refreshed MacBooks continue to impress. Despite missing analyst's earnings estimates twice in the past year, the stock has held onto its gains from early 2012, but has offered astute investors numerous entry points. The company has shown signs of stumbling with the European crisis, but Apple's customers remain highly loyal, and the company should continue to grow, even in this environment. I maintain my $720 price target on the stock, indicating upside in excess of 15%. The New iPhone and iPad Mini should juice the stock in the later half of this year, while the iTV and other breakthrough products will keep Apple firing on cylinders going forward. Essentially, you need to ask yourself if you can afford to not own Apple during the critical holiday shopping season - the answer is no. For further details on Apple please see my weekly analyses and option strategies.
Consolidated Edison (NYSE:ED): Up 21.6%
The utility industry continues to be one of the most popular sectors, as investors value the stability and income potential they offer. I recently wrote a detailed explanation of how I analyze utility companies, and in brief, I focus on the number of customers and geographic location. Larger companies enjoy scale benefits and are able to profit more from smaller rate increases.
Con Edison is one of the largest utility companies in the United States, and serves over three million customers in the Northeast US. Utilities pay generous dividends, and have their rate increases mandated by law so they are proverbial cash cows. This type of company is great to own in all economic climates, but is even more valuable when the economy suffers. Even if consumers are cutting back on other expenses, it is difficult to not turn on your lights or use your air conditioner. The smart money recognizes a safe investment when they see it, so you should buy into this strength.
There continue to be concerns that dividend stocks are starting to bubble, and Con Ed would be a prime candidate, as the stock continues to rise, and the dividend yield falls. The dividend tends to be increased slightly each year, but the growth is quite negligible. I have been long Con Ed for years, but I may consider swapping it out for a cheaper utility with a higher yield, such as Exelon (NYSE:EXC), but I plan on holding Con Ed until its PE approaches twenty (currently 17.9).
Philip Morris International (NYSE:PM): Up 33.5%
Tobacco is the perfect industry to invest in during an economic downturn, as demand for tobacco is relatively inelastic. Philip Morris International ("PMI") is the company behind Marlboro, the most popular cigarette brand, as well as other brands that span price points. US cigarette volume is declining, but tobacco is still a strong worldwide seller, and analysts believe that emerging markets could drive PMI above $100. UBS went so far as to label Philip Morris as one of its ultra-safe equities. Furthermore, declines in cigarettes are being partially offset by demand for smokeless tobacco and other products. As a mature industry, there is a great opportunity to return money to shareholders via dividends and share repurchases. In June, the company announced an $18B three-year repurchase plan which piggybacks on the $12B plan that was recently completed. Since PMI was spun off in 2008, it has returned a staggering $40B to shareholders, and there is no indication that the trend will slow. PMI is still growing at a greater rate than its domestic sister, Altria (NYSE:MO), but Altria actually outperformed PMI in the past year, with 38.2% return and a 4.6% yield. Both are safe bets, but I believe that PMI offers enough growth to make up for the lower dividend.
Chevron (NYSE:CVX): Up 14.7%
Chevron is still a long-term inflation play on the price of oil, and pays a respectable dividend while you wait. The stock lagged the S&P slightly in the past year, but the gap narrows after considering the dividend. There are sufficient growth prospects in developing markets that cause me to prefer Chevron over rivals, but the company's fortunes are clearly still tied to the price of oil. Crude oil has appreciated by six percent in the past year, but has been trending lower for the last half-year. With benchmark crude futures currently trading in the low $90s, I would bet that prices are higher by this time in 2013. With a P/E around 8, 3.4% yield, and commitment to repurchasing approximately 5% of the outstanding shares annually, I think you can sleep well at night owning this company.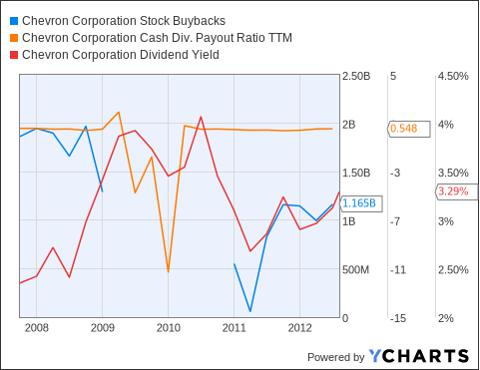 (Source: YCharts)
Chevron is the focus stock of this article, as it is the one stock that I believe is most attractively priced regardless of if you are seeking to emulate the Great Recession II portfolio. Chevron has stayed in a relatively tight trading range for the past year, but there is reason to believe that it can break out of its range. The payout ratio has remained flat since 2010 and provides sufficient coverage at 55%. The dividend yield is currently slightly below average for the company over the past four years, and there is room for growth in this area. The share repurchase plan discussed above should continue to grow and further fuel interest in the stock. After underperforming the S&P 500 last year, I would consider adding to this position to take advantage of the relative weakness.
VF Corp. (VFC): Up 34.3%
VF Corp. is a self-described $9 billion apparel powerhouse, with an incredibly diverse, international portfolio of brands and products that reach consumers wherever they choose to shop. I have been recommending VFC since 2010, and it has doubled since that point; I highlighted it last month. Many investors have been hesitant to invest in VFC, because apparel typically underperforms in difficult economic climates, but the beauty of VFC is the multitude of price points. The portfolio of Jansport, Lee, Majestic, Nautica, Wrangler, The North Face and Timberland attracts budget-conscious consumers, luxury consumers, and every category in-between, thus, it should have no trouble thriving in all economic environments.

Before I close, I want to introduce you to one of my other favorite long-term picks which does not necessarily fit into the Great Recession II portfolio, as it is entwined with the economy. Western Digital (NYSE:WDC) produces hard-disk drives ("HDDs") that are used to store digital media such as pictures, Powerpoint presentations and home videos. The demand for storage is increasing at an exponential rate with no sign of slowing. HDDs are losing popularity for consumers, as solid-state drivers become more affordable, but HDDs are critical for cloud storage. I called WDC the best bargain in tech in June, and it quickly jumped over twenty percent.
Disclosure: I am long AAPL, CVX, ED, MO, PM, VFC, WDC. I have written various August 2012 covered calls against these underlying positions.