For the first time in 34 years, U.S. oil production has risen for three consecutive years. Since reaching a low in 2008, output has increased by 1.2 million barrels per day and America's reliance on imported oil has fallen to 66 percent of consumption from 75 percent.
America's 21st century energy boom is the result of aggressive development of unconventional U.S. oil plays such as the Bakken Shale in North Dakota and the Eagle Ford Shale in south Texas. Horizontal drilling and hydraulic fracturing, innovations that improve the flow of oil through shale rock, have enabled producers to unlock billions of barrels of new oil reserves (see "The U.S. Oil Gusher").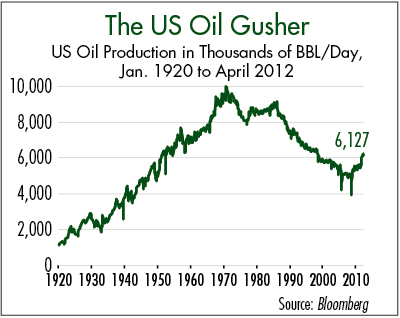 Although this upsurge in domestic U.S. oil production is a tremendous boon to the U.S. economy, non-OPEC oil production outside North America is expected to fall in 2012 because of production outages and project delays.
More than 1,400 onshore rigs are drilling for oil in the U.S. up from less than 180 units in mid- 2009. This unprecedented surge in activity was possible because producers in shale plays earn strong returns when oil prices are between $80 to $100 per barrel. But if oil prices were to drop below $70 per barrel for a prolonged period, producers would scale back their activity.
Although U.S. oil demand has declined because of the sluggish economy, China and other emerging markets continue to experience strong demand growth. Chinese oil imports hit an all-time high in early 2012.
The increase in global oil demand continues to exceed the growth in non-OPEC production, keeping the balance in global oil markets tight. Crude oil prices have already pulled back enough to reflect the slowdown in the global economy. Look for the price of West Texas Intermediate crude oil, the U.S. benchmark, to average between $90 and $100 per barrel in coming years. Brent crude oil, which better reflects global supply and demand, should average $100 to $110 per barrel.
The outlook for U.S. natural gas prices remains less sanguine. Although hot summer weather has led to robust demand and could push gas prices back up towards $4 per million British thermal units this summer, U.S. production capacity continues to outpace demand leading to a glut of gas in storage.
In contrast, I remain bullish on uranium prices. As the chart "Poised for a Rebound" shows, U.S. uranium prices fell sharply in the wake of the March 2011 accident at the Fukushima nuclear power plant in Japan. However, as I wrote in Global Conditions Are Conspiring For A Swift Upswing In Uranium Prices, the widespread notion that the accident will derail nuclear power is overblown.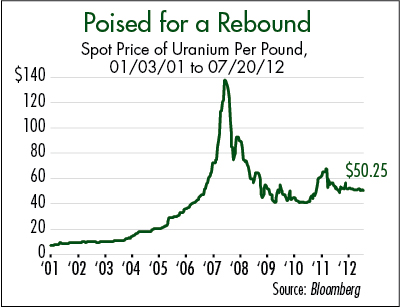 Since then, only two countries have significantly curbed their use of nuclear power: Japan and Germany. However, Germany has long been an anti-nuclear country and already planned to phase out the energy source. Japan has found it harder to wean itself from nuclear power than the government initially expected; in July, the country restarted two nuclear facilities to avoid summertime power shortages.
Meanwhile, emerging markets such as China, India and Russia have reaffirmed their commitment to building significant nuclear capacity in coming years. China plans to increase its nuclear generation capacity from 11.9 gigawatts (GW) in 2011 to as much as 70 GW by the end of the decade.
China has 26 nuclear reactors under construction and another 51 plants have reached advanced planning stages. If all proposed plants are built, Chinese nuclear capacity could surge to more than 200 GW over the coming 20 years.
Cameco Corp (NYSE:CCJ) is the largest pure-play uranium producer in the world. The company extracts more than 22 million pounds of uranium per year, accounting for roughly 16 percent of global production. Cameco's McArthur River mine in Canada is one of the world's lowest-cost operations. With ore grades that are 100 times higher than the world average, the company has to process far less ore to produce uranium than most of its peers.
Production is likely to rise sharply over the next few years, driven by the start-up of the massive Cigar Lake project toward the end of 2013. Cigar Lake has even higher ore grades than McArthur River and Cameco's share of production should top 9 million pounds per year at full capacity.
With the demand for uranium rising at a roughly 4 percent to 5 percent annualized pace, uranium prices will need to increase to incentivize new production. The coming upsurge in uranium prices will be a boon for the industry's lowest-cost producer.
Disclosure: I am long CCJ.