Business Background
Caterpillar's (NYSE:CAT) distinctive yellow machines are in service in nearly every country in the world. The company generated approximately 62% of its revenues from foreign markets in 2007. In addition, 71% of CAT's independent dealers are located outside of the United States.
CAT operates the following business units:

Market And Economic Trends
In the United States, the heavy equipment sector is likely to see recessionary trends in 2008 and 2009 as growth slows and the need for heavy equipment weakens. Seasonally adjusted annualized spending for residential, nonresidential and public construction fell 3.5% to $1,122 billion in February 2008, from $1,162 billion in February 2007.  The majority of the slowdown will be due to weakness in the residential sector. The nonresidential construction sector will likely not be hit as badly and may in fact spur a recovery in the overall construction industry; for example the renewed federal highway bill and the expected increase in demand for office space should result in growth in the US nonresidential construction market in 2009. The following is a look at the US construction spending over the past ten years. Clearly, we are seeing a slowdown in total construction driven by the private sector.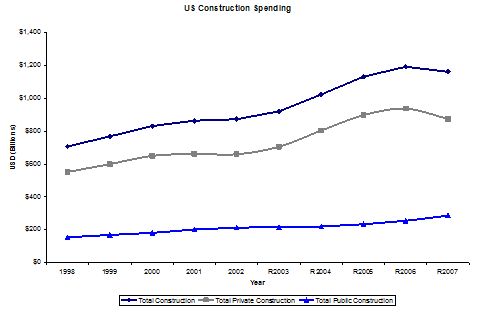 Looking outside the domestic market, burgeoning growth of markets like Russia, China, India and the Middle East will drive a majority of global construction sector growth in coming years. The global earthmoving equipment industry generated revenues of $70.3B in 2007 up by 12.5% from 2006, and we should expect this growth to continue in coming years. China for example is expected to overtake Japan as the second largest construction market in the World, next to the United States by 2009. India ranks second only to China in terms of projected construction growth over the next few years.
Investment Thesis
CAT is the largest producer of earthmoving equipment with approximately 40% market share; the largest competitor to CAT is Japanese company Komatsu with 21% market share
CAT's highly diversified position in foreign markets sets itself up for success. I expect the company to continue to make consistent revenue gains in 2009 due to strong infrastructure need for construction, energy development and mining.

Financial metrics have grown or remained flat: Revenue increased by 8.3% in 2007 versus 2006, operating profits increased by 3%, net income remained flat, cash flow grew by 4% and EPS grew by 4%.
CAT is relatively undervalued as it's trading at 14.6 P/E, well below the high 10's and mid 20's seen in the early half of the millennium. In addition, other companies in the heavy equipment sector are currently trading well above CAT's ratio, with the industry average trading around $17.7.
CAT has a gigantic independent dealer network that sells and markets CAT products to every market around the world. The deal network actually employs more people and has more assets than CAT itself. I believe this is a competitive advantage for CAT as it allows CAT to scale operations relatively quickly with little impact to the bottom line.
CAT recently beat Q1 analyst EPS estimate of $1.33 per share by coming out with $1.45 per share.
Caterpillar is a mature company with solid fundamentals that will continue to grow in face of a domestic real estate crisis due to its high international exposure.
Disclosure: None.