As Starbucks (NASDAQ:SBUX) struggles to find a bottom after a weaker than expected fiscal third quarter, investors should remain cautious about purchasing shares as this stock may still be too "bold" in price. You can see on page 19 and 20 of the most recent 10-Q that the company has lowered its fiscal fourth quarter estimates and fiscal 2013 full year outlook from what many Wall Street analyst had expected. FY13 EPS growth is expected to be 15-20% and capital expenditures are expected to increase to approximately $1 billion. Additionally the company is struggling with higher commodity costs.
One aspect that has made Starbucks so attractive to investors is the cash flow they can generate. In 2010 and 2011 cash flow from operations topped $1.7 billion and $1.6 billion, respectively. As of July 1, 2012 the balance sheet showed just under $2.5 billion in cash and short-term investments. Additionally the company likes to return this cash to shareholders; through an annual dividend of $0.68 per share and the share repurchase program which still has 24 million shares remaining. The chart below shows Price-to-Operating Cash Flow per share. Even after management's cautious comments regarding higher commodity prices and CapEx spending, you can see the shares still trade significantly above their five year average.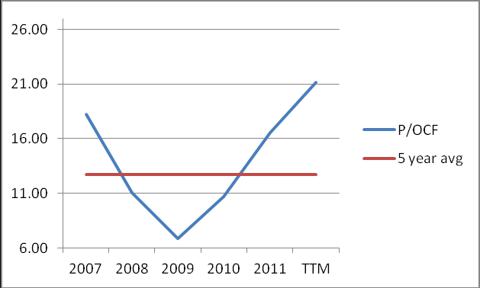 Starbucks has a couple of choices given the increased costs they are forced to deal with; absorb the costs internally or pass them on to consumers. While I am not trying to predict which choice management will make, going the route of increased consumer cost would likely hurt the company's top line, while the alternative could cripple bottom line growth. Below is a table showing the companies diluted EPS and EPS growth rates over the past few years.
| | | | | | |
| --- | --- | --- | --- | --- | --- |
| | 2008 | 2009 | 2010 | 2011 | TTM |
| Diluted EPS | $0.43 | $0.52 | $1.24 | $1.62 | $1.78 |
| Growth Rate from Prior Year | | 20.93% | 138.46% | 30.65% | 9.88% |
You can see why the stock performed so well over the past few years, EPS growth has been tremendous. Given management's guidance of 15-20% EPS growth in FY13 and a growing number of diluted shares over the past few fiscal years (see chart below), the current trailing twelve month P/E of 24x may be a bit high.
| | |
| --- | --- |
| Fiscal Year Ending | Diluted Share Count |
| TTM | 776,800,000 |
| 2-Oct-11 | 769,700,000 |
| 3-Oct-10 | 764,200,000 |
| 27-Sep-09 | 745,900,000 |
| 28-Sep-08 | 741,700,000 |
Many analysts feel a P/E multiple of 20X would be appropriate for Starbucks given recent quarterly earnings. A P/E multiple of 20x the trailing twelve month earnings would place a fair value on Starbucks somewhere around $35. Assuming the company reaches their top end goal of 20% EPS growth (roughly $2.14 per share), trades at a forward multiple of 20x, and no more diluted shares are outstanding, the stock would be worth roughly $43.
Depending on your investment goals and objectives would warrant whether or not this stock is attractively priced. Long term fundamental investors would point to the tremendous growth opportunity Starbucks has in China (revenue growth in China/Asia Pacific was 31% QoQ). With the company expected to open 1,200 stores next fiscal year, growth does not appear to be slowing down. Short term or technical traders may risk "catching a falling knife" by entering into positions at current price levels. Looking towards the $41 and $35 price levels as potential support could prove to be favorable entry points into the stock.
*Note: All data reported and graphed is pulled directly from Starbucks SEC filings and press releases then ran through proprietary valuation models. The stock price used was from 8/3/12.
Disclosure: I have no positions in any stocks mentioned, and no plans to initiate any positions within the next 72 hours.