Continued weakness in consumer credit and disappointing capital markets results caused by slower investment banking activity, poor trading results and losses from the tightening of structured credit liabilities are nothing new for banks these days. And, the second quarter has been no exception.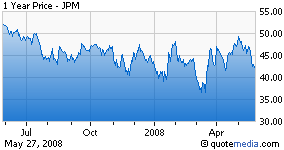 One company that faces these challenges is JPMorgan Chase & Co. (NYSE:JPM), according to Goldman Sachs analyst William Tanona, who lowered his earnings per share [EPS] estimates for the investment bank to incorporate higher losses on prime and subpime mortgages, write-downs on auction rate securities, lower-than-expected private equity gains and a lower-than-expected gain from the acquistion of Bear Stearns (NYSE:BSC). This came in at just $1-billion, versus Goldman's estimate and prior guidance for $5-billion.
Mr. Tanona told clients:
While JPM may be better positioned than peers, consumer credit trends are likely to be a significant headwind for the stock over the near-term.
His second quarter operating [EPS] forecast falls to $0.35 from $0.53, while his estimates for 2008 and 2009 decline to $2.40 and $3.50 from $2.44 and $3.70, respectively.
He also noted that JPM currently trades at 1.2 times book value, which is below its five-year average multiple of 1.4x. The analyst's six-month price target is $45 and he has a "neutral" rating on the stock.