It is by now common place to state that markets are driven by "fear" and "greed". I believe, though, that inserting between the two the notion of a market period driven by "hope" has not been done yet, although I do see lately the word "hope" appearing in many writings that I respect. However, I have not yet seen the term mentioned in the sense I am using it here.
From March 2009 till about late 2011, we did witness markets going up on fear or "climbing a wall of worries," to use another well-worn Wall-Street platitude. We had fear of a double-dip recession, fear of Greece, etc. The pundits fueled the fears appropriately to get shocking headlines, and thus the market went up in spurts, with the obligatory periods of decline that fear always generates.
But at the beginning of this year, fear subsided, and greed did not show its face yet, so room was made for a new driver: hope; it is a less used moniker, but as appropriate as the other two. In such periods, stocks tend to go up on "expectations," which is another way to spell "hope". Any company that gives even a whiff of potential disappointment is punished: severely.
Therefore, in such periods, the traditional stock-by-stock analysis comes into its own, and risk is best controlled by selling immediately any stock that exhibits a propensity to disappoint. A good example of such a stock is Apple (NASDAQ:AAPL). As tremendous as the performance of AAPL has been, the expectations for an encore are so high, that the risk for disappointment is well beyond what we would consider as reasonable for a conservatively managed portfolio. Two other examples are C.R Bard (NYSE:BCR) and WCC WESCO (NYSE:WCC).
Yes, the very learned mathematical risk control methods are not of much use here. Which is not to say that blind gut-feel (or intuition, if we want to be polite) takes over from quantitative or fundamental analysis methods. It does not. Both fundamental and quantitative methods have their role, and intuition is not to be disregarded either. However, each in its place and at its time; now is the time for fundamental analysis, i.e. traditional stock-picking, since quantitative analysis, at least the way it is being practiced where I come from, showed on June 29, 2012 to be a much more uniform sector distribution than what the same procedure was indicating not very long ago on December 30, 2011: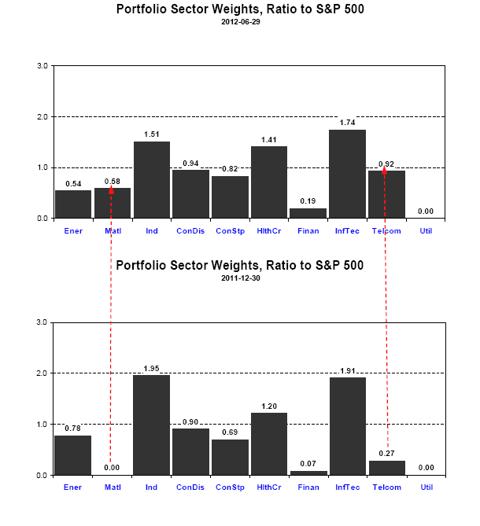 When sector allocation is unlikely to give you an edge, which it often does, stock-picking becomes the way to go.
The allocation illustrated in the graphs above has been reached by a very disciplined, bottom-up approach, and it is rewarding to see it confirmed in recently published, higher quality, macro (top-down) comments, like John Mauldin's for example. They are a recognition of the conclusions reached a few months earlier by the more sensitive bottom-up methods that we use.
Having followed this approach for almost 12 years, we are happy to keep pursuing a strategy that produced very satisfactory results: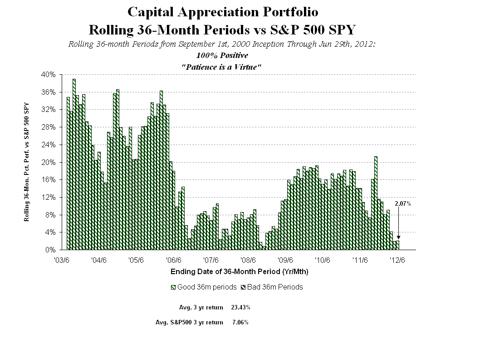 It should be noted that this article is for information purposes only and not a recommendation to buy or sell any security. Past performance is of course no guarantee for future results anyway.
Mauldin further agrees with us that a top in earnings - and with it, a top in the stock market - will be reached within a few years. What he does not seem to recognize, though, is that the oscillations of the earnings are steadily increasing. We looked at this worrying development here, and we believe that before that next top occurs, we will have the "greed" period set in and drive the market for a while. You may want to think of that as the "silly season" where everything will be going up. Seen that before, didn't we?
Between now and the top, careful stock selection should keep the risk-averse portfolio manager out of major trouble and, if s/he is lucky, such an approach may also give an above market return and, hopefully, a positive absolute return as well. A steady hand should guide any portfolio in sensing the impending top. The bottom-up approach we use may turn out to be a little early, as it has traditionally been. However, it is better to pull the trigger too soon before a coming decline than to be late. At least this is your humble author's opinion. Please feel free to disagree.
Disclosure: I have no positions in any stocks mentioned, and no plans to initiate any positions within the next 72 hours.