Technology in the cloud has been a hot topic in recent years, and it is obvious that as the demand for storage and off-site, remote access to documents continues to increase, businesses with a cloud platform could be poised to flourish. 8x8, Inc (NASDAQ:EGHT) is one such stock. The company has been recognized as a leading provider of telecommunications and data solutions. An overview and analysis of the company is warranted given these details.
Understanding the Business:
8x8, Inc "is a leading provider of cloud communications and cloud computing solutions". Established in 1987, 8x8 has been awarded 81 US patents and works with businesses of all sizes (though primarily small and medium sized businesses) in different areas such as Voice over Internet Protocol (VoIP) phone service, contact centers, hosting solutions, video conferencing, and unified communications. 8x8 aims to be a one-stop shop for everything cloud, and has been delivering cloud services since 2002. Its CEO, Bryan Martin, has been with 8x8 for over two decades and is quite familiar with the business; he was also named one of the "Top 100 Voices of IP Communications" by Internet Telephony magazine.
What is VoIP? VoIP is the primary method in which 8x8 delivers its services, so understanding how it functions is vital when considering the business as an investment opportunity. VoIP technology enables communications over the Internet through the compression of voice, video, and/or other media into data packets that can be efficiently transmitted over data networks and then converted back into the original media at its final destination. VoIP differs from traditional telephone networks in that it allows the packets to 'change'; traditional methods tend to use a fixed electrical path to carry voice signals through a series of switches. VoIP has experienced growth, as demand for lower cost telephone service has grown and VoIP calls have become more reliable and offer more services than traditional calls.
With VoIP, bandwidth, the primary 'resource consumed' when transferring data, is only consumed as needed. Generally, significantly more traffic can be transmitted over VoIP networks compared to traditional networks. The growth of VoIP is part of a broader movement by businesses towards the cloud. Previously, on-site IT systems were prevalent; now, with a globalized economy and with firms having offices across the world, the 'cloud' has experienced increased demand as firms need to access data from differing, remote areas of the world. VoIP is described in full on the company's annual report, found through its investor's website (linked above).
8x8 services begin with the business telephone service: launched in 2004, targeting small and medium-sized businesses. This service allows users to have any telephone number regardless of geographic location due to 8x8 running software that runs on computing platforms located in its data centers. Users with access to a high-speed Internet connection can partake in the platform from anywhere in the world. Next, the Virtual Contact Center, which requires no specialized hardware or software, allows companies to operate multi-channel contact centers. The company also offers 'virtual office pro', which allows users to control advanced business communications online, and IP Telephones, which are plug and play telephones. In May 2010, the company introduced managed hosting and cloud computing solutions.
While the company has made a name for itself for reliability and successful operations, it does have many competitors of many different sizes and specialties such as Cisco Systems, Inc (NASDAQ:CSCO), Avaya Holdings Corp., Mitel Networks Corporation (NASDAQ:MITL), Shoretel, Inc. (NASDAQ:SHOR), and Toshiba.
Q1 2012 Results:
8x8 reported $25.3 million in revenue in June, a 36% increase in revenue year over year and beating analyst expectations of $24.9 million. Meanwhile, its EPS was up to $.05 compared to an estimated $.03, growing nearly 100% from last year's $.03. Reasons for the revenue growth: average business customers paying $250 in average recurring monthly revenue, up from $200 a year ago, and business churn reduced to 1.7% from 2.1%. Thus, the company is keeping more customers while, on average, getting more sales from them. Furthermore, the company announced some key customer wins, fueling the top line. Frost & Sullivan, an industry research firm, has identified 8x8 as the company with the largest installed customer base with a market share of 7.9%, the "clear leader".
In a breakdown of revenues, service revenue from the cloud PBX business represented 70% of total revenue, an increase of 23% year over year. The company sees revenue growth accelerating, and noted in the Q1 call that only 8% of the US business market has adopted the improving cloud technologies, leaving a lot of room for future growth.
The takeaway: the headline here is churn, and 8x8 sees the number remaining where it was this quarter for the future (it mentions in Q&A that it's hired an individual, Eric Goffney, who's implemented a number of customer retaining initiatives). The Frost & Sullivan report points to a growing market with a number of competitors, but 8x8 has positioned itself well.
Financial Ratios:
8x8 currently trades at a P/E of 35, and is priced at a forward P/E of 26.25 for FY2013 and 19.44 for FY2014, if it meets analyst expectations. Management mentioned in the Q1 call that growth of 23% revenues in its core business is a fair number to look at moving forward, so investors are awarding the stock a higher P/E based on growth projections. In a different look at growth, the PEG ratio stands at 1.05 based on annual EPS growth of 33.3% ($.20 projected for the upcoming year compared to $.15) and the company is fairly valued based on this metric. Meanwhile, the company is very liquid at a current ratio of 3.43 based on the most recent quarterly balance sheet.
Perhaps a fair competitor to compare 8x8 to is Mitel, which boasts a similar market cap (236.5 million compared to 8x8's 387.4 million). Mitel currently earns revenues of 612 million compared to 8x8's 85.8 million and is poised for growth as well, trading at a PEG of .36 and a P/E of 4.93, both much lower than 8x8's although they occupy the same sector. Mitel's EPS growth, however, is significantly lower than 8x8's, and that is perhaps where the disparity comes into play. Mitel is expected to grow EPS by 13.5% this year, while 8x8 is expected to grow EPS 33.3%. 8x8 also has a stronger balance sheet and short-term liquidity with a current ratio of 3.43 compared to Mitel's 2.13.
DCF:
Free Cash Flow Section:
Sales growth is based on analyst estimates for FY 2012; I believe growth at 16% in FY 2013 is too low but will take it as a conservative estimate (management says it is too far out to predict based on sales cycle, there is no reason to think that growth should slow significantly given the strong position 8x8 holds in terms of market share, competitive edge). EBITDA % margin increases marginally to mid 12% by FY 2016, the company should be able to bump its margin up by a few points each year (and this is evidenced in the past few years EBITDA growth). Perpetuity growth rate is estimated at 6%, which is more than GDP growth but more than half of the forecast period's assumed growth rate.
Taxes are estimated at 40%, based on Q1 conference call. To handle the one-time gain on the patent sale, I add 12 million to EBIT. Then, I subtract the 12 million out of the tax estimate to get taxes on EBIT without the gain on sale, and subtract $450,000, as that is what management expects to pay in taxes for the gain on sale. It looks like this: (EBIT+12 million) = EBIT on DCF; Taxes = (EBIT on DCF-(Tax Rate * (EBIT on DCF - 12 million)) - $450,000.
Capital Expenditures are estimated at 2.4% of sales as per the conference call, an additional $400,000 is added to FY 2012 due to one-time tenant improvements for a facility in San Jose. Change in net working capital is based on recent large increases in current assets relative to total current liabilities and I foresee that continuing moving forward.
WACC Calculation:
The company currently carries no debt (taken from most recent balance sheet); equity to total capitalization is therefore 100%. Levered beta, in turn, is the same as the regular beta (1.65). WACC comes out to 13.7%, the same as the calculated cost of equity. This is below Bloomberg terminals' WACC of 14.6% for 8x8, but above Bloomberg terminal's WACC of 9.3% for competitor Mitel.
Implied Share Price: $9.69, representing nearly a doubling in value relative to 8x8's $5.25. This would put the stock at an extraordinarily high P/E of 64.6 and would double the PEG to around 2.
The Chart: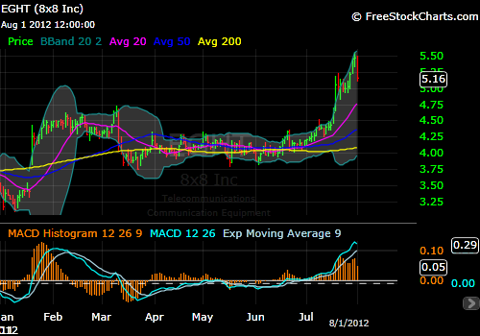 The stock has experienced a dramatic appreciation following beating earnings in July, rising nearly 40% in less than a month. Following this, both the 20 day and 50 day moving averages moved from testing the 200 day moving average to accelerating above it. The MACD reflects the rise, with the MACD creating some distance from its signal line. The stock has been trading in a general uptrend, and is trading near its top bollinger band, but in a market correction will most likely test $4.8, a dual support of the 20 day moving average and the low following the significant earnings beat related buying.
Conclusion:
After looking over the sector, 8x8's most recent results, and comparing it to a competitor in terms of valuation, 8x8 appears fairly valued when looking at the short term. Although 8x8 has a strong balance sheet and strong growth potential (solid results in a growing sector), the company trades at a very high P/E and a more or less average PEG, indicating that the expected growth of 24% is already priced into the stock. Further growth gains will propel the stock higher, but the sector is competitive and most near-term growth is priced in. One thing to keep in mind is that the company is currently tied to small and medium sized businesses, which have struggled in the floundering economy. Another note: analysts expect growth to decline to 16% two years out, while 8x8 did not offer projections because its sales cycle is too short to deliver any kind of forecast.
In sum, if 8x8 is able to produce growth at the current pace this year and next (which is not unreasonable considering that demand for cloud storage should increase and it has the largest market share according to an independent researcher) it will surpass analysts' current expectations, specifically in the long-term, and shine. However, in a 1-year time frame, much of its growth is baked into the stock and the stock is fairly valued (unless one believes a PEG of higher than 1 is warranted).
In the long-term, however, I believe that the DCF holds weight and a price target of $9.69 in as little as a year and a half (allowing this year's baked in growth to play out, and prove that growth for the coming years will remain strong) is feasible. Investors in the stock should be prepared to hold the stock for more than one year and should view the trade as a growth play. Waiting for a lower entry point is entirely reasonable, especially given the beta of 1.65 - if the market faces a correction for any reason and the stock tests $4.80, I will most likely initiate a position.
Note: After this analysis, I also believe a closer look at Mitel is warranted, and will do so in the near future.
Disclosure: I have no positions in any stocks mentioned, and no plans to initiate any positions within the next 72 hours.