There's no doubt that shale plays are sexy in the oil and gas realm these days, but prudent investors know all that really matters is return on investment. Valuations are high in South Texas' Eagle Ford Shale, where private equity firm Kohlberg, Kravis, Roberts & Co (NYSE:KKR) recently agreed to pay $25k per acre in a participation agreement for up to 1/3 of Comstock Resources' (NYSE:CRK) undeveloped Eagle Ford acreage. In North Dakota's Bakken Shale, Bakken pure-play Kodiak Oil & Gas (NYSE:KOG) paid $11,800 per acre in a deal late last year with two private companies. If investors are looking for a value play, they should turn their heads to the Mississippian Lime, where acquisition prices averaged $3,284 per acre1 during the past year.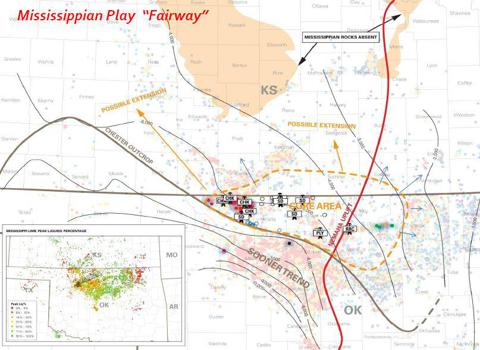 Source: Orion Exploration Partners August, 2011 Mississippi Lime Presentation
The Mississippian Lime, located in South-central Kansas and North-central Oklahoma (see map above), is a shallow carbonate play (mostly Limestone) with depths ranging from 3,000' to 6,000'. The Lime is not a new play, but an old producing field with more than 30 years of production and 14k vertical wells drilled. It's now being redeveloped using horizontal drilling and fracking techniques, and in that respect, could be compared to the Permian Basin of West Texas. While conventional production in the play stemmed from the "Mississippian Chat," a reservoir with high porosity and permeability above the Lime, new development is targeting the tighter Mississippian Lime that lies underneath the Chat (see cross-section below).
Mississippian Lime Cross-Section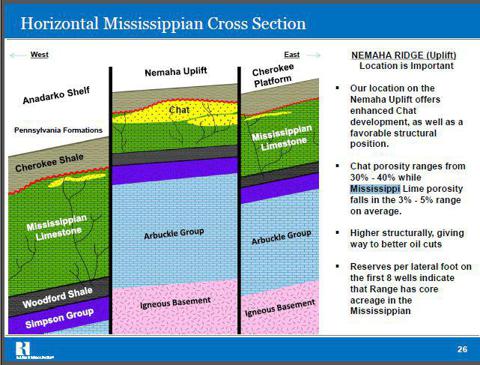 Source: Range Resources Corporate Presentation
Because the Lime is shallower than the Bakken and Eagle Ford, companies use smaller drilling rigs and cheaper proppants, which has led to drilling and completion costs between $3 and $3.5 million, less than half of what an operator would pay in the Bakken or Eagle Ford. The play is estimated to span 17 million acres with oil in place estimates ranging from 5.4 to 5.9 billion barrels of oil equivalent (BBOE). This impressive amount of oil in place has companies like SandRidge Energy (NYSE:SD) drilling three wells per section, which increases the recoverable reserves in the play. For a more complete view on the Lime's economics, let's take a look at its most experienced operator, the aforementioned Sandridge Energy.
An intelligent discussion on the Mississippian Lime can't be had without talking about Sandridge, which has drilled 382 horizontal wells, or 44% of the total horizontal wells drilled in the play. The company has amassed 1.7 million net acres in the Lime, from which it expects to generate estimated ultimate recoveries (EURs) of 456 thousand barrels of oil equivalent (MBOE) per well. These EURs are based on 30-day average IPs of 275 barrels of oil equivalent per day (BOEPD), or put another way, a well that produced at an average rate of 275 BOEPD for 30-days is expected to produce an EUR of 456 MBOE. How does this model out on a return basis? SD estimates that a well which produces at a 30-day average rate of 244 BOEPD will have an 80% rate of return (ROR), a solid rate for a company whose average 30-day production rate is 325 BOEPD per well (119% ROR). The table below shows how SD's EUR estimate in the Lime compares to those of operators in other prolific plays in the U.S.
Play Economics

1Includes liquids content which prices at a discount to oil
As you can see from the table above, the Mississippian is by far the cheapest formation to produce from with respect to the peer group. It's worth noting that EOG Resources (NYSE:EOG) and Continental Resources (NYSE:CLR) are two of the premier operators in their respective plays, and if you were to take a survey of average well costs across those plays, I would expect current costs to average between $7 and $10 million per well. The Mississippian is a play that produces more hydrocarbons per dollar than any of the above mentioned plays, with the main negative being a lower oil cut. Despite its lower oil cut, SD is still reporting an average rate of return of 119%, a rate that has plenty of natural gas pricing upside. The Lime also gets oilier as you move from East-to-West, and SD has reported several wells in Alfalfa County, Oklahoma with 30-day production rates in excess of 2,000 BOEPD (90%+ oil cut). So while it's a gassier oil play than some would like, oil cuts vary and returns are high.
These numbers aren't going unnoticed by the oil and gas industry, but have prompted industry titans such as Chesapeake Energy (NYSE:CHK), Apache (NYSE:APA), Devon Energy (NYSE:DVN), Encana (NYSE:ECA) and Repsol (REP) to accumulate large acreage positions in the play. CHK has approximately two million net acres in the Lime, making the play its top liquids play by acre, and a key component of its shift towards liquids production. The company plans to run 22 rigs in the Lime versus 30 in the Eagle Ford and 10 in the Utica during 2012, meaning this struggling company has levered itself to these three plays to resurrect its share price (down 73% from its high of $69.40 in July, 2008) and pay down its high debt levels. Acreage positions of other large caps in the Lime: APA: 580k, DVN: 545k, ECA: 360k, and REP: 363k (see map below).
Range Resources (NYSE:RRC) made its excitement for the Lime obvious during its second quarter earnings call, affirming its decision to market its Ardmore Woodford acreage to help finance the acceleration of its Mississippian development. On the call, Jeffrey Ventura, President and CEO of RRC, said regarding the planned divestiture:
Although the rate of return in the Ardmore Woodford is very good, the rate of return in our horizontal Mississippian play is even better.
RRC's excitement stems from two gushers it recently hit in the play, one which peaked at 1,363 BOEPD and a second which peaked at 1,950 BOEPD. The company hit these wells after modifying its drilling and completion techniques by lengthening its laterals and fracs to 3,468' and 17 stages versus 2,197' and 12 stages previously. For that reason, keep in mind that this is still an emerging play in its beginning stages with upside potential as companies tweak their completions.
Who's where in the Lime?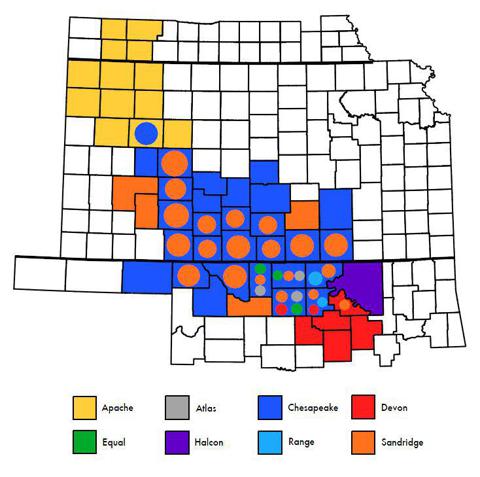 Source: Map data was prepared based on public data provided by companies. Please note that this map is only meant to show the acreage location of certain operators, and no precedence is given to companies based on format or color.
The above map (prepared by The Energy Harbinger) shows where certain operators own acreage by county. Because not all operators have disclosed where they're operating, and some companies have only partially disclosed the counties they operate in, this map is incomplete. However, it does show the extent of the play and some of the more popular counties. Net acreage by operator: APA: 580k; Atlas: 7.25k; Chesapeake: 2,000k; Devon: 545k; Equal: 7.25k; HK: 45.28k; Range: 152k; Sandridge: 1,700k.
Now we know the big operators that are in the Mississippian; however, there are plenty of smaller companies with large acreage positions there too, including Petro River Oil. This private company is interesting, not only because it has amassed 100k net acres in the Lime, but because of its strong leadership team. The company boasts two CEOs, Daniel Smith and Ruben Alba, who combined have several decades of experience in the oil and gas industry. Mr. Smith has experience growing companies to maturity, serving as the Operations Engineer at XTO Energy before it was bought by Exxon Mobil (NYSE:XOM) in December, 2009. Mr. Alba brings an extensive oil service resume to the company. Not only has he spent the majority of his career working for Halliburton Energy Services and Superior Well Services, but he also holds several patents in completion technology. These Co-CEOs are supported by Luis Vierma, who spent several decades at Venezuelan state-owned oil and gas company PDVSA, where he served as the VP of Exploration and Production. Bottom line, if there's a private company to keep an eye on in the Lime, it's Petro River.
If one of the negatives on the Lime is its lower oil cut, a second would be its high water content. Sandridge is reporting an average of 2k to 3k barrels of water per day during the first 30-days of production per well. To efficiently dispose of this water, companies must develop a network of salt water disposal wells (SWD) which they will inject produced water into for disposal in the Arbuckle Group formation (see Mississippian cross-section above). While SWD wells add complexity to the Lime, they are relatively cheap to drill (~$265k per well) and will service water for between six and eight producing wells. If we divide $265k by six (low end of estimate), we find that SWD wells add roughly $44k in expenses per well.
What can we expect from the Lime moving forward? Companies like Devon and Encana, who've recently added 400k and 220k net acres, respectively, will be ramping-up production to delineate and hold their acreage positions. The core of the play, lying in South-central Kansas and North-central Oklahoma (see map above), has been delineated for the most part, and has proven to be consistent. While the extension area hasn't been delineated with horizontal production, the area holds more than 7k producing vertical wells and is an oilier field than the core. SD is beginning to drill wells in the extension area of West-central Kansas (see above maps), where it holds 900k net acres. The company's initial extension wells are located in Hodgeman, Finney, Ford, Gray and Ness Counties, and the company expects to announce results from these wells later this year. Apache's entire acreage position (580k net) lies in the extension portion of the play (see map above), and its delineation will be important to pay attention to. If SD's and APA's wells prove to be as economic as the core, the land grab currently happening in the core will quickly spread North, creating one of the biggest plays in the United States.
1 Based on the following four deals:

Disclosure: I have no positions in any stocks mentioned, and no plans to initiate any positions within the next 72 hours.