Diligent chemistry students may remember vanadium as the 23rd element on the periodic table. Most investors, save those focused on the diversified metals and mining space, may remember vanadium not at all. Yet according to the press releases of American Vanadium (OTC:RMRCF), and a company presentation at the annual Metals and Mining Conference in New York, the titular substance is the "Critical Element." A material once considered a key strategic priority by the United States government has seemingly flown under the radar. As explained in a dramatic video presentation, there are many industrial applications of vanadium and reason to believe that global demand is growing.
Vanadium's primary end use is in High Strength Low Alloy Steel, which can increase the strength of steel relative to standard carbon steel by up to 100%, in addition to decreasing weight by around 30% and lowering energy consumption, shipping costs, and production of pollutants. A July 2011 change to building codes in China mandates a higher vanadium content in grade 2 rebar steel, which some estimate will lead to a 27,000 metric tonnage increase in global demand, or roughly a 40% increase therein. Already, vanadium steel is considered a necessary component for high speed tools, surgical steels, and many aerospace and defense products including aircraft, missiles and transport craft. According to metals consultant group TTP Squared, the average vanadium content in steel worldwide is just above .05 kg/ton with the highest rates in North America and Europe, and the BRIC countries averaging between .03 and .04. 92% of worldwide vanadium consumption is for the end use of steel.
The other 8% are split roughly equally between energy storage and chemical applications, with opportunities for growth that investors would be essentially be betting on in a vanadium play. According to Lux Research, Lithium grid storage represents 80% of the market but could go down to as little as 13% five years from now. They estimate that Vanadium Flow Batteries will pick up to represent fully one third of that same market by 2017. Obviously, the fulfillment of this predicted trend would be a boon for American Vanadium, which is currently building strategic partnerships to supply producers of vanadium flow batteries. TTP Squared is similarly bullish on these prospects, as seen here.
American Vanadium wholly owns the only advanced vanadium project in the US, the 7,000 acre Gibellini Hill property located in Nevada. A feasibility study conducted by AMEC E&C Services Limited found the following drill results: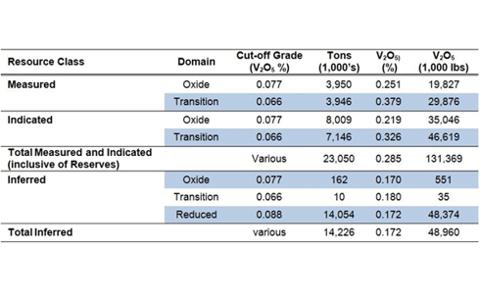 The financials of the project were further examined by Roskill Consulting, using an average net selling price of $10.95 per pound over the life of the mine and an average recovery rate of 60% for oxide material and 70% for transition material. As such, the project's IRR comes to about 43%, with a payback period of 2.4 years and an NPV of $170.1 Million using a 7% discount rate.
So what does all this mean? From a global supply standpoint, production of vanadium is very limited, concentrated almost exclusively in Venezuela (which currently holds about 35% of the global supply), China, Russia and South Africa. The Gibellini project would represent 5% of global output according to the numbers in its verified NI 43-101 and would represent a significant development in that the United States currently imports 100% of its Vanadium. Company representatives noted productive preliminary meetings with defense industry representatives. Given the United States' relationship with countries like Venezuela, there is little reason to doubt these reports. Furthermore, the political risk in such countries means that global supply shocks would dramatically increase the value of the Gibellini holdings.
Looking at the recent history of vanadium prices, one can see that they fell off a cliff during the financial crisis and have rebounded somewhat since then: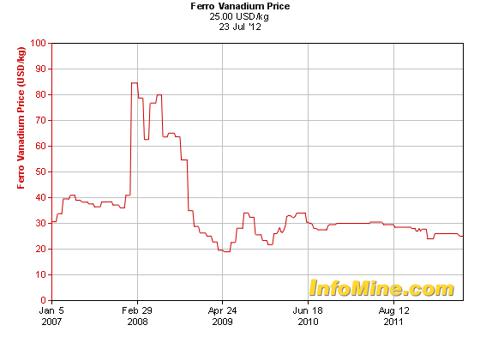 It is likely that they bottomed out in 2009, but the question surrounds the upside potential. With aforementioned groups like Lux and Roskill seeing a steady climb, and with China mentioning High Strength Low Alloy Steel specifically in its five year plan, investors bullish on these projects might be well served to look at American Vanadium as a proxy, given its low-risk location.
Of course, the diligent value-seeker will also take a look at the company's financials. Despite the difficulty of evaluating pre-production miners based on their annual filings, it is encouraging to note that the $17 million cap company finds itself with no debt, $2 million in working capital and 55% of the company in the hands of management, insiders and institutional investors. Obviously, bringing the Gilbellini project to production will require a significant upgrade in working capital, but given the company's zero debt load and encouraging prospects, they will likely find an institutional investor to float them the necessary cash. Junior miners with far more risky and speculative ventures have consistently found ways to raise money post-financial crisis.
A look at the recent trends in the stock price show a dispiriting decline in April and May, but a look at the candlestick chart notes that this decline was on relatively low volume, while the recovery to pre-dip prices reflected a much higher degree of investor confidence:

Source: Google Finance
In conclusion, those looking at industrial metal plays or a low-risk proxy for continued emerging market growth and demand would be well served to look at the "critical element" its potential in the heart of American mining country. With a management team that represents experience in some of the world's biggest miners, such as Barrick (ABX) and Kinross (KGC), the company is certainly in good hands.
To the south of these two in Arizona, lies the sole development property for American Manganese (OTCQB:AMYZF). The importance of the titular mineral can be summed up in a quote from Pallinghurst Resources Chairman (and former BHP Billiton LTD CEO) Brian Gilbertson "You can't make steel without manganese and if you can't make steel, the world stops." Not surprisingly, this quote appears on the masthead of the company's fact sheet and is a reasonable statement given the lack of a usable substitute for Manganese in the steel production process. Applications in the steel market account for almost three quarters of global demand, with 42% of end use in stainless steel.
Yet American Manganese's own CEO Larry Reaugh, in a telephone interview, was quick to stress that Manganese is "also in your dry cells and your lithium batteries." The company's in Artillery Peak is the largest known Manganese deposit in the US. According to Reaugh, it was exploited as long ago as World War II, and there is over 50 years' worth of subsequent research by the US Bureau of Mines to find further methods of economical extraction. Enter the company's patented hydrometallurgical process which has been verified by independent Geologists to exhibit the potential for profitable operations at Artillery Peak.
However, it was not just the lack of sufficiently advanced technology that has caused the US to stop producing Manganese. With the government and the department of defense deprioritizing domestic production of Manganese, much as it did with Vanadium, cheaper foreign sources, mainly in South Africa, Gabon, Australia and China took over global capacity. Today, China accounts for 99% of the global production of Manganese Ore. Yet unlike with Rare Earth production, where the opacity of China's production policy has frustrated analysts and investors alike, there are a number of clearly identifiable developments in Manganese production that are likely to push capacity down.
In addition to the same stricter building codes that I mentioned when discussing Vanadium, China has banned the use of selenium in the plating process of Manganese. Based on data from South African producers who are not allowed to use selenium, one can infer that its use decreases electricity costs by about 40% and the overall production cost by about 10%. Furthermore, China has already begun shutting down factories that produce less than 5,000 TPA of Manganese. Both of these trends, according to Reaugh, can be traced to falling ore grades around the world. "As they plummet towards and below 40%, global capacity will fall," he explained, "It will no longer be economical for China to export the product with a more cost-intensive refining process." This is not to mention the rising domestic demand within China.
After hitting a high of $2.41 in July of 2007, prices for Magnesium Flake dropped sharply during the economic downturn of the next two years. The North American FOB price has hovered around $1.50 since 2011. According to forecasts from the CPM group, demand from the steel sector is set to achieve a cumulative average growth rate of 6.7% until 2021, with overall numbers reaching 2.2 Mt in 2021, roughly twice last year's output. CPM also forecasts, based on rising costs in China and demand growth in other emerging markets, an annual average price of $1.77 over the next five years and $1.98 in the subsequent five year period.
Most of the significant fluctuations in American Manganese's stock price can be attributed to the volatility of the underlying commodity prices, in addition to the protracted length of the mine permitting process in America, often a source of frustration for domestic operators. Therefore, if CPM's forecasts are accurate, there is significant upside in the current entry point for American Manganese's stock.
The market for manganese sees five companies hold 53% of the global market share, namely BHP Billiton (BBL), Privat Goup, Comilog (OTCPK:ERMAF), Assmang LTD, and Vale (VALE). However, this is not as oligarchic a competitive space as we see in lithium and certainly allows for smaller producers to enter the market should they have reasonable capital costs. As an independent geologist noted in the company's most recent NI 43-101 filed this June, "[t]he main risks and challenges to the project are shared by many established producers worldwide and pertain to rising energy, environmental protection, labour and reagent costs."
If this is true, recent indicators from the major companies are a positive sign. In June, BHP Billiton reported a 12% year-over-year increase in Magnanese production and record annual sales. Comilog's Arnaud Tissidre predicted that the company's new manganese production in Gabon, set to go onstream in 2013, would be the "lowest-cost producer in the world" and that it would provide a viable alternative to Chinese production. South Africa-based Assmang LTD, which a year ago announced intentions to double its supply, announced a long-term target production target of 20 million TPA, which would make it the world's largest producer. Vale reported a quarter-over-quarter increase of 20.6% in Manganese production in Q2 2012 and its involvement marked the increased interest of global commodities giant Glencore in the Manganese space.
Clearly, the global majors are showing full confidence in rising demand for much the same reasons as American Manganese. However, these companies are large, diversified operations and while that's certainly not a negative by any means, it should be noted that they do not represent a pure Manganese play for investors. Those with the risk affinity and desire to speculate directly on the 25th element would be well served to look at smaller producers and American Manganese represents a high upside right at home.
Another company seeking to mine the vast mineral potential of the Great American West is Western Lithium Corporation (WLCDF.PK).
Lithium is likely more familiar than Vanadium or Manganese to a non-specialized finance readership. Known primarily for its applications in ion batteries, its pharmaceutical application in treating bipolar disorder, and perhaps for its chemical property as the lightest of all metals, there are a growing number of uses which posit lithium as an increasingly valuable commodity in spite of its abundance. The most relevant applications for investors, of course are the use of lithium batteries (both primary and non-rechargeable) in smartphones and electric cars. However, it should be noted that lithium is also used in lubricants, aluminum smelting, air treatment, glass, ceramics and steel and iron castings.
It should be noted that about 80% of the lithium market is controlled by a few industry majors, namely Talison, SQM, FMC and Chemetall. With no spot price for lithium, proxy investment in the market is usually done through the Lithium Global X ETF (LIT), which of course is heavily influenced by said majors:
In addition, lithium production is heavily concentrated in three South American countries: Chile, Argentina and Bolivia. Though Chile has generally had good relations with mining companies and a relatively stable political and economic environment, the same cannot be said for the other two. Argentina has seen a recent case of nationalization with YBF, and high inflation rates that are likely not even captured by the still double-digit official numbers. Bolivia has been caught in a cycle of political strife, decreased foreign investment and weak economic growth, causing many foreign companies (including virtually all oil and gas producers) to leave.
Between political concerns in the country's holding the major lithium deposits and an oligarchic market that provides strong incentive for new companies to provide more favorable off-take agreements, there lies an opportunity for junior miners. Western Lithium provides a number of encouraging signs that it can join the growing ranks of smaller lithium companies that seem poised to increase market share.
The prefeasibility study completed at its King's Valley Clay Project has shown some solid indicators, with Phase I production of 13,000 tons per annum, and Phase II (about 4 years into commercial production) yielding 26,000 tons per annum More importantly, the estimated operating costs of the project are around $968 per ton (assuming by-product credits of Potassium Sulphate and Sodium Sulphate (VI)), an operating level which would allow Western Lithium to sell at a competitive rate without getting squeezed by bigger producers.
Additionally, in November of 2011, Western Lithium signed an agreement with the Department of Energy's Argonne Laboratories to help develop the lithium carbonate from that project. This is a very important step for the company, as noted by House Mountain Partners founder Chris Berry, in an interview with The Energy Report in March: "That tells an investor that the company can successfully partner with research labs and produce battery-grade material, which is what end users like LG Chem and Samsung need. You can't just dig these resources out of the ground and then hand them off. Lithium carbonate is highly specific to the end user."
Finally, there are some notable positive statements in the company's NI 43-101, a filing in which a visit by a third party geologist makes qualified claims about a mine's viability in terms of resources contained and the overall economics of the project. While the following statement may seem like boilerplate, it is not in every case that a geologist states that multiple analyses "confirmed that the geologic resource model, the mining and the processing approaches were adequate, relevant and justified for economic extraction." Many properties evaluated in such instruments note reservations about capital expenditures and whether the mineral revenues contained in the property can sustain them.
Now it should be noted that the King's Valley property, strong as it seems, is still a ways away from commercial production (and therefore revenue production). And of course, the stock price has dropped significantly over the past year.

Source: Google Finance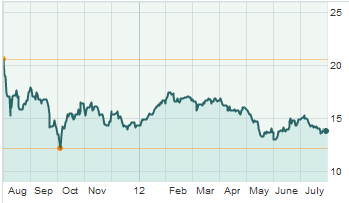 Source: Yahoo Finance
However, most of that can be seen in decline in the lithium fever that overtook the market in 2011. Many analysts who closely follow the applied metals space still believe strongly in the future of lithium, but it should be noted that the overall market enthusiasm has waned over the past year. Still, the fact that such an early stage company was once valued so highly is a good sign, not to mention the encouraging developments of the past eight months or so. The market has not reflected these positive developments, and a skeptical look at pre-production miners is certainly justifiable. However, for those with the risk tolerance for juniors, buying low on Western Lithium certainly holds some upside for those who believe in the product.
Disclosure: I have no positions in any stocks mentioned, and no plans to initiate any positions within the next 72 hours.