By Dee Gill
Apple (NASDAQ:AAPL) didn't sell nearly as many iPhones last quarter as Wall Street thought it should, and that misdeed knocked a chunk off its share price. Does this mean those 372 Apple stores are slacking off? Hardly. If every retailer did such a bad job, we could probably kiss the recession goodbye.
Even disappointing Apple stores beat the pants off other major retailers when it comes to producing cash for the bottom line. Crunch any of the metrics that measure retailer success, and Apple spits out a number that most store owners would kill for these days.
Apple probably pockets about twice as many dollars per square foot of retail space than anyone else. RetailSails, an independent research company that analyzes SEC filings of major retailers, puts Apple's per-square sales figure at $6,056 for the past 12 months.
Using other square-footage figures from RetailSails, we find that jeweler Tiffany's (NYSE:TIF) is getting about $3,415 in sales per square foot. (In past RetailSails analyses, Tiffany's came in a distant second to Apple.) By comparison, Best Buy (NYSE:BBY) gets about $853 per square foot, and Wal-Mart (NYSE:WMT) about $438. The average mall store -- and a lot of Apple stores are in malls -- gets about $350 a square foot, or roughly one-sixth of Apple's return.
At Apple, average sales per store rose 3% to $11.1 million in the quarter ended June 30. This is wimpy compared to typical performance and may reflect consumer expectations that Apple will soon offer a better iPhone or iPad. For the past nine months, average store sales are up 27%. Now consider similar data from Nordstrom (NYSE:JWN) and Limited Brands (LTD), two of the top-performing retailers in the country. Limited, with its popular Victoria's Secret and Bath & Body Works stores, reported same-store sales up 7% in its latest quarter and 10% in its previous year. Nordstrom, a standout in department stores, reported a 5.6% gain in its latest quarter comparable-store sales and a 7.2% gain in previous fiscal year.
Average sales per store is not the same metric as same-store sales, and perhaps Apple is particularly calculating in its refusal to calculate that standard measure. Same-store sales figures require comparisons of only stores open at least 13 months. Apple had 45 more stores at the end of the latest quarter compared to a year earlier, and those new stores, like everyone's new stores, perhaps had higher sales figures in the glory days most businesses see around grand openings. So the Apple-to-everyone-else's same-store sales is not exactly fair. But it's probably close enough to make other store owners jealous.
No matter how you slice Apple store sales figures, they're helping push up overall revenues at Apple more and more. Apple stores contributed 15% to overall revenues in the latest quarter, compared to 13% a year earlier.
Click to enlarge images.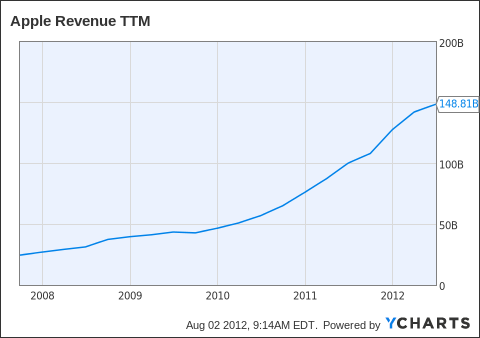 Those store sales also are doing wonders for Apple profits. In the past four quarters, Apple stores have brought the company $18.1 billion in revenues and operating profits of $4.7 billion, giving them one humongous profit margin of about 26%. We did find a couple of retailers making that much money off their products -- Lululemon Athletica (NASDAQ:LULU), for example, reports operating margins of about 28% -- but none that had anything approaching Apple store revenues. Really, even among the strongest retailers, few can compete with operating margins for Apple stores or Apple.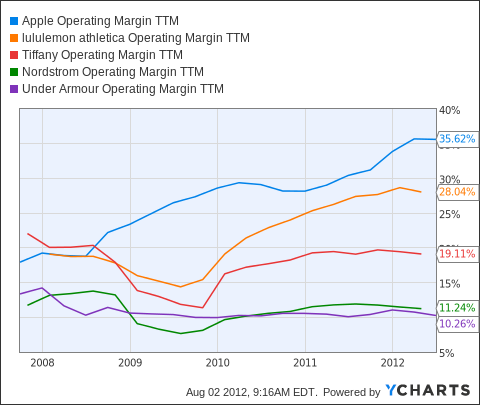 One reason Apple's margins are so great is that store employees are incredibly productive. Each of its 41,000 retail employees generates roughly $441,600 in revenues and $114,600 in operating profit, using the numbers from its 10-Q filed July 25. That's about twice what most electronics retailers can expect. In fact, Apple has done such a great job of wringing profits out of this pool of employees that it's become an embarrassment and a source of contention. Apple store employees don't get commissions, and there's a loud call for higher pay for all. Perhaps great stock options would make everyone happy, as this stock chart suggests.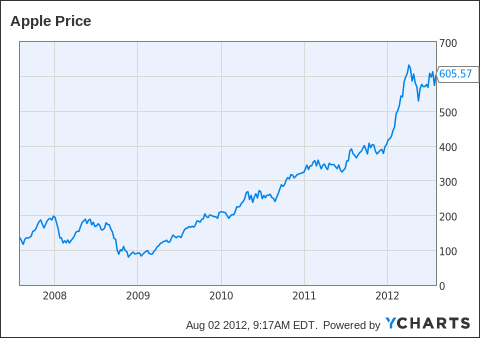 Apple stores reported another grand number: traffic, which it calculated at up 12% to 17,000 visitors a week last quarter. This is nice, but something of a geeky version of non-GAAP accounting that's hard to put into context … unless they really are retina-scanning each visitor to weed out repeats.
So if Apple stores are rocking, how did Apple so badly miss the market's iPhone sales forecasts? The company says it was solely due to an unexpected but temporary glitch that cut sales in China, which were way down on the quarter but up 48% on the year nonetheless. Apple notes that it launched the iPhone 4S in China in January, largely through resellers, and is just beginning to open stores there. Outsiders who dedicate their lives to interpreting Apple executive's cryptic comments expect new products, like a smaller iPad, to ramp up Apple store sales in China and beyond for months to come. Even a repeat performance of the latest results would be something to cheer.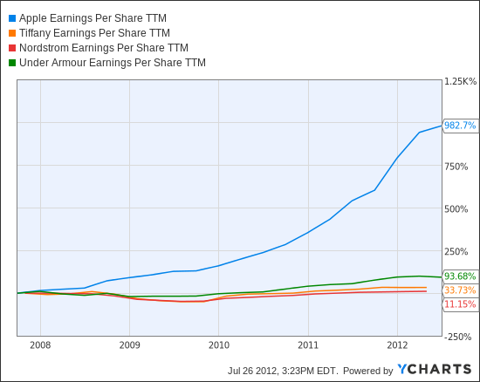 Disclosure: I have no positions in any stocks mentioned, and no plans to initiate any positions within the next 72 hours.