The rumor mill is again buzzing about the latest Apple (NASDAQ:AAPL) product waiting to be unveiled in their September 12th announcement. The iPhone 5 is basically a given, but rumors are churning about seeing a new iPad (again). This time however, some are expecting to the see the iPad's little brother, dubbed the 'iPad Mini.' If these rumors blossom into facts, what can we come to expect?
First and foremost, it has been made extremely clear that there is a market for a smaller tablet. While Steve Jobs was not a huge supporter of the smaller, 7.85" screen, instead favoring the 9.6" screen, does not mean he wasn't open to the idea. The iPad, though by far the clear favorite in the tablet market, does have some turn offs.
The first, in my opinion would be the lofty price tag. Though fun, easy and dynamic, many will not or cannot shell out $500 for the new device. Even $400 for the iPad 2 can be viewed as expensive to those who can spend only $200 for an Amazon Kindle Fire (NASDAQ:AMZN). The second, is the size. Though acceptable to many, some really do prefer the smaller screen. We all utilize tablets differently, but the fact remains that there is still a market for smaller, cheaper tablets.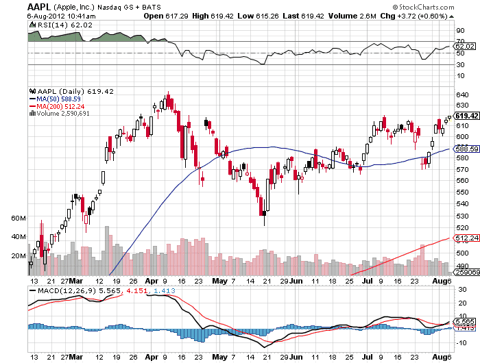 Six-month chart of Apple .
An excellent survey was conducted and released on July 19th of this year that revealed the complete usage of the iPad. There is a lot of data in the survey, which is displayed in a very quick and visual manner, allowing readers to quickly go from one statistic to the next, enhanced with graphs. The following statistics popped out the most to me:
The 'New iPad' was most popular amongst new users despite just being released.
47% of iPad-owning households have two or more, up from just 30.1% in 2011.
46.6% use their iPad between 2-5 hours per day.
46.7% now use the iPad as their primary computer, up from 29.1% in 2010.
These, along with the other statistics provided in the survey, show that not only do people love their iPads, but they are beginning to replace everything they do with it. From using it is as their primary computer source to reading books and watching movies, Apple's device is only increasing in popularity.
Probably the most startling fact for a competitor like Amazon, which is clenching onto the selling points of smaller and cheaper, may soon feel the wrath from Apple: In the study it was revealed that 71% of iPad owners read books on the device. Not that surprising. What is alarming, however, is iBooks, Apple's online bookstore that functions a lot like iTunes does for music. In 2010 the Kindle app received 50% of the viewers reading their books on the iPad, while iBooks only sported 42.4%. Now in 2012, that figure has reversed with only 36.5% of readers using the Kindle app and 51.3% using iBooks.
Also worth taking note, in an article depicting the iPhone retention rate, the iPad follows rather closely. Of the survey results, an astonishing 84.1% "have almost zero interest in rival tablets." This is essentially saying that when someone purchases an iPad, it is almost a guarantee that they will not even consider another tablet should they purchase another one. This a huge vote of confidence for Apple going forward.
One thing sticks out at the end of the survey, only 30% would be interested in a smaller tablet. It is noted to take this information with a grain of salt, since consumers have not seen or used a smaller version of the iPad, but still, this is discouraging. However, Apple's aim would not be to nudge their own product out of the way. It would be to take on the smaller-tablet market.
The smaller-tablet market, consisting of names such as the Google (NASDAQ:GOOG) Nexus 7 and the Amazon Kindle Fire, appeal to a different crowd. For one, they are a lot cheaper, only $250 for a Nexus 7 and $200 for a Kindle Fire. As mentioned above, the iPad 2 runs for $400. A smaller version of the iPad will ultimately allow it to be priced much cheaper than that, probably closer to the price of the Nexus 7. This will appeal to those struggling from a lackluster economy, college students, or those not willing to spend big bucks on the latest and greatest tech gadget. But it has proven that the smaller tablet does sell. If it came down to an Nexus 7 for $250 or an iPad Mini for the same price, which do you think consumers would flock to?
Once Apple has consumers in their hand, it has been proven and noted they do not want to leave. They have found a way to keep consumers craving them, instead of the other way around. A smaller tablet won't likely outperform its bigger brother, the New iPad, but it will cripple the efforts of Google, Amazon and anyone else in the mini tablet market. Just one final thought: Do you hear anyone raving about how great their Samsung Galaxy or Nexus 7 is? I didn't think so.
Disclosure: I have no positions in any stocks mentioned, and no plans to initiate any positions within the next 72 hours.