Commodity chart of the day - daily crude oil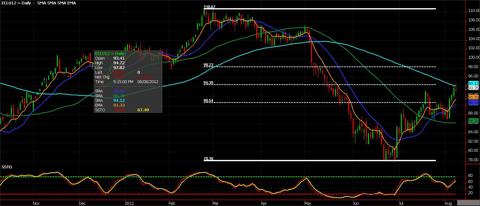 In the last six weeks crude oil has appreciated $16/barrel or just over 20%. Enough is enough ... incapable of picking an exact top I think prices are close enough to jump off the bull train. I would not say it is time to get short but it is time in my opinion to exit bullish trades.
The 100 day MA has capped the upside the last two days and we've completed a 50% Fibonacci retracement as seen on the chart above.
I think there is an outside chance we complete a 61.8% Fibonacci retracement that would add $5 to the current price but I do not see a high likelihood of that happening.
On signs of an interim top in the next few sessions expect bearish speculative trade ideas.
Risk Disclaimer: The opinions contained herein are for general information only and not tailored to any specific investor's needs or investment goals. Any opinions expressed in this article are as of the date indicated. Trading futures, options and Forex involves substantial risk of loss and is not suitable for all investors. Past performance is not necessarily indicative of future results.
Disclosure: I have no positions in any stocks mentioned, and no plans to initiate any positions within the next 72 hours.