I stand corrected. Readership on the Model has increased three-fold in two weeks, and new followers are forcing The Other Street doors. Thank you, thank you, this is a much appreciated show of support, enough to keep me going. I put the Model together in 1995, so it's been through a few cycles -- let's hope it continues to work…
I ran it today at 14:00 EST, when the DJII was at 13179 and the S&P was at 1401. We have hit the upper end of the Trading Range expected on 8/2, despite last week's hiccup. Indeed, the Dow is up 2.3% and, as usual, the standard deviation of the 30 components individual relative returns is big, at 2.9% (all numbers are intraday). Five stocks had a positive relative performance greater than 3%: Hewlett Packard (NYSE:HPQ) plus 8.4%, Cisco (NASDAQ:CSCO) plus 6.2%, Bank of America (NYSE:BAC) plus 4.8%, Alcoa (NYSE:AA) plus 4.6%, and JPMorgan (NYSE:JPM) plus 3.5%. On the downside, four stocks had a negative relative performance lower than minus 3%: McDonalds (NYSE:MCD) minus 4.2%, Verizon (NYSE:VZ) minus 3.4%, AT&T (NYSE:T) minus 3%, and Pfizer (NYSE:PFE) minus 3%.. Overall, 14 stocks broke resistance, notably Cisco and Procter & Gamble (NYSE:PG), and only one broke support, McDonalds. As a result, most individual Trading Ranges are revised upwards, with the exception of Coca Cola (NYSE:KO), McDonalds, Verizon and AT&T.
This yields an overall Trading Range of 12888/13468, up from 12626/13209 on 8/2. Stocks are smack in the middle, with an Overbought/Oversold Ratio (OB-OS) of 0.51, and the Momentum Ratios are still in positive mode, with MAC (exponential moving average convergence) at 1.87, and AA (our proprietary modified RSI Oscillator, not Alcoa), at 1.70 -- scale 1 to 4: 1 for bottom, 2 for uptrend, 3 for top, 4 for downtrend. The Objective is 13211 but as we have now seen several times, this simply indicates the trend -- in this case, plus 0.25%. The odds are we won't stop there.
Net net, on 7/14, with the DJII at 12777, we increased our net long exposure from 30% to 50%. On 7/28, at 13176, we increased it further to 60%, and we have maintained it there since then -- aside from a very short term trading call on the downside last week (see comments on Part I and Instablog).
That being said, do not get me wrong. I am not managing our portfolios with Dow stocks, by and large, even though I missed the obvious sell signal on McDonalds yesterday -- see below: first indicator is MAC, the red line is our modified RSI Oscillator.

I use the Model to help with the overall trend, and apply the same methodology to monitor our portfolios short term. However, I mostly pick stocks on a fundamental basis. They are usually listed in the disclosure statement at the bottom of the articles. I have been particularly pleased with Exterran (EXH) yesterday, Ion Geophysical (NYSE:IO) and URS (NYSE:URS) today, and Wesco (NYSE:WCC) before that. I have partially covered my Ultrashort Russell 2000 (NYSEARCA:TWM) hedge, and tomorrow will be another day.
(click image to enlarge )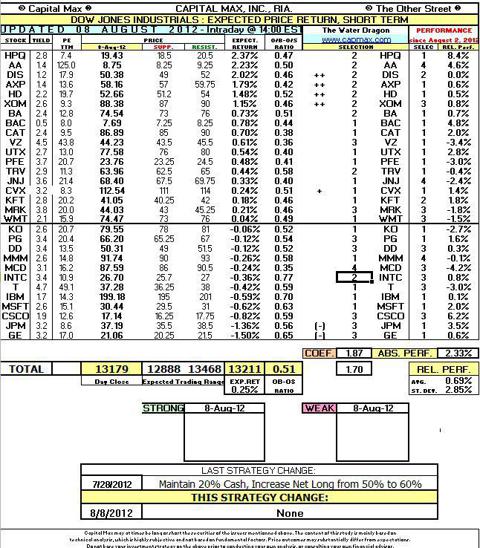 Disclaimer: As a Registered Investment Advisor, there are a few things we must tell you. We at Capital Max do not know your personal financial situation or investment objectives, so this article does not constitute a solicitation to purchase or sell any of the securities mentioned, nor is it intended to provide specific investment advice. Past performance is no guarantee of future performance. We live this every day, and you should know it too. The value of the securities mentioned herein may fall or rise and are not insured by any government or private company, even if it meant something. We believe what we write, and we take your audience quite seriously. However, since we cannot be held responsible for any loss or damage caused by reliance on the information and data herein, you should consult with your own advisor and/or do your own research before acting on any of our opinions, which we change without notice.
Disclosure: I am long ADES, AGM, EXH, EXTR, FIATY.PK, GVA, IMAX, IO, JOE, MXWL, ODP, PHM, PIKE, SANM, SLM, TIVO, TMO, URI, URS, VECO, WCC, WSBC, WTS, WWD, TWM, TOL.