Canada's bank analysts are broadly singing from the same song sheet when it comes to Bank of Montreal (NYSE:BMO) and Bank of Nova Scotia (NYSE:BNS) which both reported second quarter earnings Tuesday.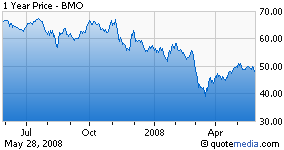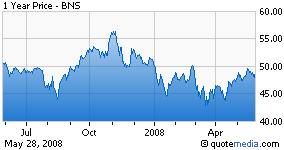 The two banks both saw profits decline from last year — BMO's earnings dipped from C$671-million to C$642-million, whereas Scotiabank's profits fell from C$1-billion to C$980-million — largely as a result of a sharp drop in investment banking activity. Both banks also delivered a quarter free of big write-downs. But that's about where the comparison stops.
As far as BMO is concerned, consensus seems to be that the bank's attempts to do better in domestic retail banking are paying off, but there are concerns about rising loan losses and there is still some uncertainty around the bank's exposure to the credit crunch.
In a note, Credit Suisse analyst Jim Bantis said:
Given the uncertainty surrounding the credit quality for its structured products and the bank's recent propensity for unusual surprises, multiple expansion is not foreseen in the near term.
Mr. Bantis shaved C$2 off his 12-month target for BMO's stock to C$54.00. He has a "neutral" rating on the bank.
At Scotiabank, loan losses were up from last quarter but most analysts are not yet concerned about the quality of the bank's loan book.
UBS analyst Peter Rozenberg said:
Growth in non-performing loans was mostly due to acquisitions, organic growth, and [loan] mix.
He rates the bank's stock a "buy" with a 12-month target price of C$57.00. Overall, Scotiabank's results were well received.
National Bank analyst Rob Sedran said:
We believe Scotiabank merits a premium based on its favourable geographic footprint, above-average earnings growth profile, strong profitability and the numerous options for deployment of its excess common equity, which we view as a sustainable competitive advantage over its domestic peers.
He bumped his 12-month target for the bank's stock price to C$55.00 from C$54.00.