Vanguard Natural Resources, LLC (NYSE:VNR) offers an 8.8% annual yield. On August 2nd, Vanguard Natural Resources announced monthly dividends versus quarterly dividends. A monthly income flow offers reliability of cash flow to retirees. I will highlight why retirees may consider this partnership for sustained monthly income stream. The comfort of a sustainable dividend is crucial to any investment.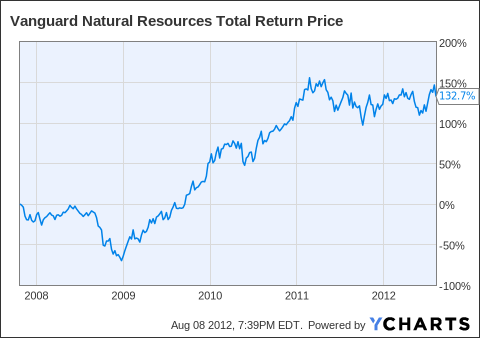 VNR Total Return Price data by YCharts
Limited Liability Corporation (LLC) versus a Master Limited Partnership (NYSE:MLP)
Per the above graph, Vanguard Natural Resources investors have earned a cumulative 132.7% over the past 5 years. The partnership is a Limited Liability Corporation (LLC). The entity is taxed as a Master Limited Partnership . The key difference is a LLC does not have a General Partner or the associated Incentive Distribution Rights. This provides additional cash distributions to unit holders. Typically a LLC has cheaper funding alternatives than a MLP.

Linn Energy, LLC (LINE) is the blue chip name in the upstream partnership space. They do have 100% of oil and natural gas positions hedged through 2017.
QR Energy (NYSE:QRE) is an upstream partnership too. The company has experienced significant insider buying. The partnership has significant hedges in place, and offers an 11.4% yield.
EV Energy Partners LP (NASDAQ:EVEP) has experienced significant oil and natural gas discoveries. EV Energy Partners continues to develop partnerships to exploit the financial gains of successful natural gas and oil discoveries.
Breitburn Energy Partners L.P. (BBEP) has significant producing wells in Los Angeles, the Powder River Basin in eastern Wyoming, the Evanston and Green River Basins in southwestern Wyoming, the Sunniland Trend in Florida, the Permian Basin in Texas, the Antrim Shale in Michigan, and the New Albany Shale in Indiana and Kentucky. Breitburn has returned 37.6% over the past 4 years.
Historical Distributions
On August 2nd Vanguard Natural Resources management announced plans to pay monthly distributions. Here is a look at the past quarterly distributions: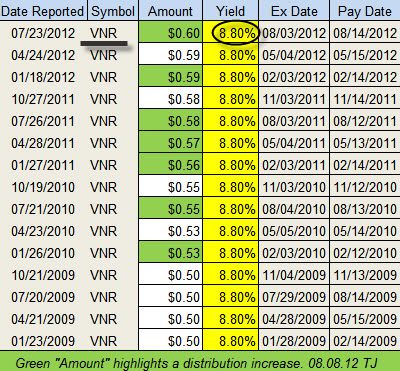 There have been 7 distribution increases since 2009. Per an August 6th presentation, the Vanguard Natural Resources' 41% distribution growth has exceeded other upstream partnerships' distribution growth. Upstream partnerships produce oil and natural gas. Midstream MLP's are toll booth operators. Midstream MLP's are less reliant upon hydrocarbon prices. I try to be opportunistic and buy value in any both upstream or midstream.
Production Hedges
The partnership has about 80% of anticipated oil production hedged through 2014 at a floor price of $90.89 per barrel.
The partnership has about 85% of expected natural gas production hedged through mid 2017. The hedged natural gas prices average $5.11 per MMBtu.
Action
Upstream partnerships can provide significant income and capital share appreciation. The oil and natural gas hedges are crucial to the sustainability of paying future distributions. If hydrocarbon prices decrease, an non hedged production can result in a decrease in future quarter distributions.