One of the stocks with the most loyal following on Seeking Alpha has to be Annaly Capital Management (NYSE:NLY). There are good reasons for this, namely strong management and higher yields. As a result, the company has been a compelling investment for many with an income objective.
With that said, I believe that American Capital Agency Corp (NASDAQ:AGNC) is a more compelling buy for yield investors.
The primary reason for the AGNC instead of Annaly thesis is quite simple: leverage. Many, including myself, have said that Annaly prudently manages risk, but is it over managing risk? We find ourselves in a low rate environment, which is not expected to change over the next year or so. The result: the lowest financing rates that corporation have seen in generations. As any investor in agency mREITs knows, the net spread has been narrowing, more as a result of declining asset spreads than increased financing rates. Given this, how does an mREIT maintain its dividend? Leverage.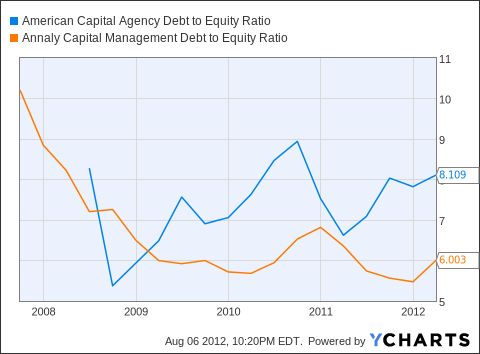 AGNC Debt to Equity Ratio data by YCharts
As an analyst, I can assure you that I am aware of the risks of leverage, and generally frown upon levered entities. These firms, however, are financial firms, designed to take advantage of cost/return of funds. Lever when times are stable, de-lever as they turn. American Capital Agency delevered going in to early 2011 and then re-levered going in to 2012. The recognition that short-term rates should stay low and returns will be driven by levering a narrowing spread has continued to help American Capital outperform Annaly Capital. This can also be seen by the uptick in Annaly's leverage during the most recent quarter. Why increase leverage? To maintain the dividend. If you can't increase your spread by buying credit risk, you hold prepayment risk down and lever.
Issuer Descriptions:
American Capital Agency Corp. operates as a real estate investment trust. It invests in residential mortgage pass-through securities and collateralized mortgage obligations for which the principal and interest payments are guaranteed by government-sponsored entities or by the United States government agency. The company funds its investments primarily through short-term borrowings structured as repurchase agreements.
Annaly Capital Management, Inc., a real estate investment trust, engages in the ownership, management, and financing of a portfolio of investment securities. The company invests primarily in mortgage pass-through certificates, collateralized mortgage obligations, agency callable debentures, and other mortgage-backed securities representing interests in or obligations backed by pools of mortgage loans.
Dividends:
As most buyers of mREITs are attracted to the dividends of the companies (and secondarily capital appreciation), when selecting an mREIT to invest in, the dividend yield - and the sustainability of that yield) have to be considered. American Capital Agency has out-yielded Annaly Capital for over two years.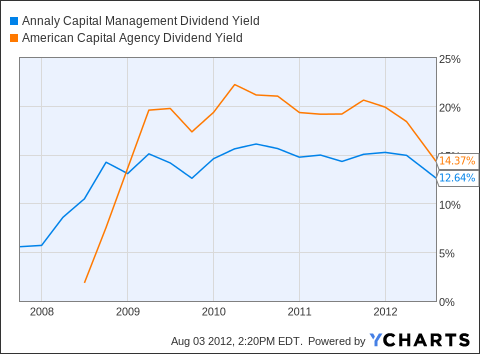 NLY Dividend Yield data by YCharts
American Capital Agency's dividend rate has also been more consistent than Annaly Capital's.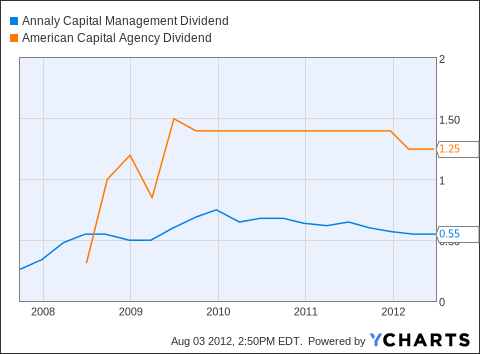 NLY Dividend data by YCharts
Guidance:
AGNC gave the following macro picture in its earnings call:
Mortgage spreads relative to swaps and treasuries are tighter than where they have been in the recent past. But valuations are generally warranted given the interest rate and prepayment outlook. Furthermore, the art of additional quantitative easing from the Fed have increased since last quarter when we reviewed the three scenarios that we were focused on. If we do get a QE3 that incorporates substantial purchases of Agency MBS, we would expect lower fund mortgage valuations to richen substantially and we would also anticipate the prepayment picture becoming even more challenging with only a few places to hide.
This outlook would normally favor Annaly, as it has more room to lever than does American Capital agency, but quite frankly, we have seen a reluctance on the part of Annaly to change its leverage policies significantly.
The Result:
Due to its use of leverage at the optimal time, American Capital Agency has increased its book value faster than Annaly.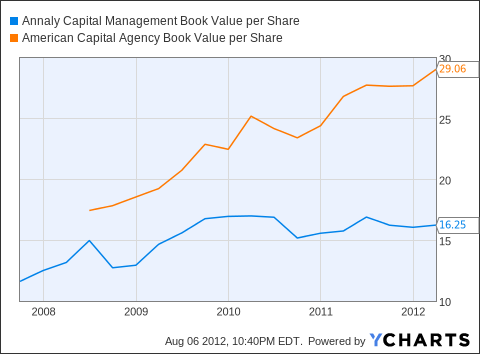 NLY Book Value per Share data by YCharts
Prices have also borne this out, where AGNC's price has increased 76% over the last three years (while paying a higher dividend yield), while Annaly's has fallen approximately 2%.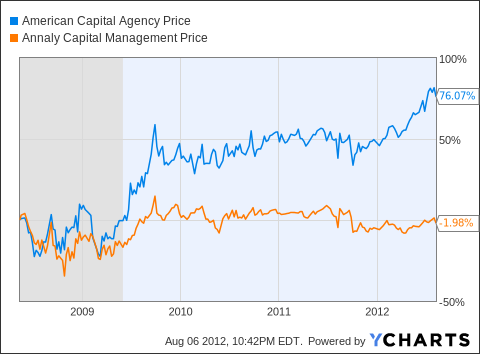 Ultimately, the total return will tell the story (1 yr).
American Capital Agency Corp.: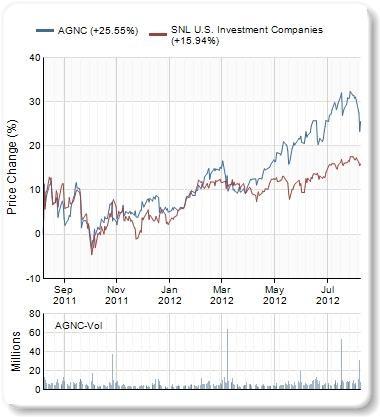 Source: SNL Financial
Annaly Capital Management: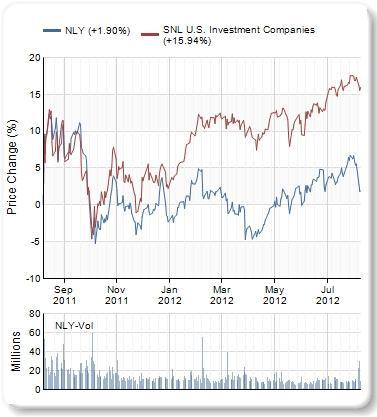 Source: SNL Financial
American Capital Agency Corp has given investors a 23.6% total return advantage over Annaly Capital Management.
Bottom Line: Many readers, I am sure, will accuse me of an overly simplistic argument. Perhaps, however, it is more straightforward than many would like to think. I could point to many fine articles by smart authors (not being sarcastic, I read them all and they are well done) that can give a remarkably in-depth analysis of the most recent financials or financials over time and point out potentially opposing viewpoints. I could bring up the lengthening of Annaly's borrowing duration as a sign of more conservative management, and it may be more conservative, but I do not think this is the time for being overly conservative. I believe we will see AGNC lengthen the duration of borrowing as well - just not right now. I could bring up CPR rates, but AGNC has done a remarkable job of managing them (if not bringing them down). I could bring up hedging strategies, but again the tide is in AGNC's favor. But the bottom line, the subtle sledgehammer is it comes down to leverage. This currently favors American Capital Agency. While Annaly has more flexibility when it comes to leverage (as it employs lower leverage), I do not believe this advantage will be exploited.
This view is not a long-term view, I cannot express this fact enough. This is a near-term view (1-1.5yrs) for investors who want to maximize the yield of their portfolio and are willing to watch for the turn and the response by American Capital Agency Corp.
Disclosure: I am long REM, NRF.
Additional disclosure: This article is for informational purposes only, it is not a recommendation to buy or sell any security and is strictly the opinion of Rubicon Associates LLC. Every investor is strongly encouraged to do their own research prior to investing.